She was three times zones, 3,000 kilometres, and nearly 13 years from where she started.
But for Argyle Secondary ringette player Jackie Lovelett, Bay City, Mich. was the only place to be last spring.
That's where 45 elite ringette players were assembled, each hoping  she would be among the 17 who would snipe and swipe for Team USA.
Bay City sits on the banks of Lake Huron where the United States juts north and Canada dips south. It was an appropriate setting for Lovelett to take a trip across the border.
At 16, Lovelett is two years from being eligible to suit up for Team Canada but, with two parents born in the U.S., she's just old enough to play for Team USA.
She remembers saying four words when she heard about the opportunity to play on an international stage: "OK, let's do it."
After arriving in Bay City the 45 athletes were put on teams for an informal tournament as coaches got an idea of skating technique and ringette knowledge.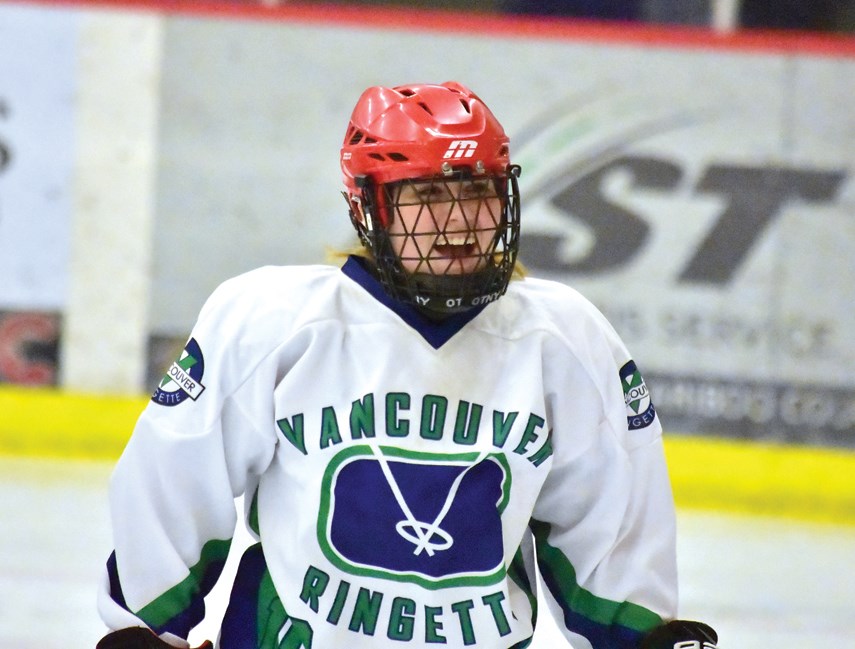 They were looking for competitors who could work with this team more than they were looking for someone who could make an all-star team, Lovelett explains.
It was a perfect environment for the Lynn Valley athlete, who prides herself on hitting the open player and making the right call on the ice.
"I like setting up plays," she says. "I think more for the team, not just myself."
Heading out of Michigan after the tryouts she thought she played well, she says. But she didn't know how well she played until she got the invitation.
Her family had plans to take a vacation in Europe but Lovelett and Team USA had other ideas, and Lovelett shot over to Philadelphia, Pa., for the second tryout.
"I think I have a shot," she remembers thinking.
And to make sure she had a shot, she set about perfecting her own.
Between homework, playing football on the boys team at Argyle, and delivering the North Shore News in her neighbourhood, Lovelett says she took 5,000 shots on her net at home.
The second tryout was more focused on drills and skills, Lovelett recalls.
She wasn't sure she'd made the team until a friend texted her after the roster was posted on Facebook.
"Congratulations, I'll be watching you," the text read.
But with her spot on the team came a cost.
Getting to the Ringette World Championships in Burnaby this November means spending about $4,000 on travel to get to practices in Toronto, Ont. as well as hotel rooms and equipment.
In order to pay that tab, Lovelett is running a GoFundMe page called: Team USA Ringette personal fundraising.
She's hoping there are enough people out there willing to open their wallet to "someone with a dream," she explains.
Lovelett has been playing ringette since she was four.
"It stuck with me," she says.
It wasn't just the sport's speed, emphasis on teamwork or the friends she made. Ringette offered her a chance to "do bigger things," she says.
In 2016, she was recruited to play against Sweden and Finland in the World Ringette Championships.
The game in Europe was faster, with great athletes and intricate passing plays.
"I came back and I was driven," she says. "I wanted to compete higher."
At first, playing for Team USA was almost like finding a loophole in a contract. But when Lovelett talks about ringette, she describes herself as an ambassador as much as an athlete.
"They already have a lot of people in Canada playing the sport," she says.
There are approximately 30,000 athletes playing on 2,000 ringette teams in Canada. But in the United States, she says, there's room to grow.
Ringette isn't yet played on the world's biggest stage, but Lovelett is trying to change that.
"I'm helping out, trying to promote the sport so that maybe one day it could be in the Olympics," she says. "I just want ... other little girls to play the sport and enjoy it just as much as I do."
Lovelett has watched some great ringette players leave the sport for hockey.
But for Lovelett, ringette is the only sport.
"Some of the boys at school are like, 'Why do you play ringette? That's such a girly sport,'" she explains. "You know what, I can still skate faster than you."