At a time when a pandemic has brought most of the sports world to a standstill, one North Vancouver athlete just earned a gold medal in a major international competition.
So how does that work? The competition in question happened to be held seven years ago.
Runner Chantelle Groenewoud recently received news that she is now the official winner and gold medal champion in steeplechase at the Universiade – a global games for university athletes – held in 2013 in Kazan, Russia.
Seven years ago, Groenewoud – who married last year and now goes by de Jong – finished fourth in the race, followed less than a second later by her friend, training partner and fellow Canadian Jessica Furlan.
In the ensuing years, however, all three medallists were busted for doping and stripped of their medals. And so it was that a few weeks ago Groenewoud got some wild news in an email that popped up out of the blue.
"I was completely shocked. I was not expecting that at all," she said about getting the message she was now the Universiade champion, with Furlan bumped up to silver. Once the shock wore off, other strong feelings sprang up as well.
"It was a combination of emotions," she said. "Excitement, like, 'wow, that's cool.' The idea of being a world champion for the University Games, I haven't been able to say that till now. I'm also just like, kind of sad. I wish that they hadn't been doping, so it could have been more of a fair race. If we had come fourth and fifth and it was a fair race, no problem, that's great. But if we could have beaten them being clean, and them being clean, and us being first and second, it would have been way more rewarding."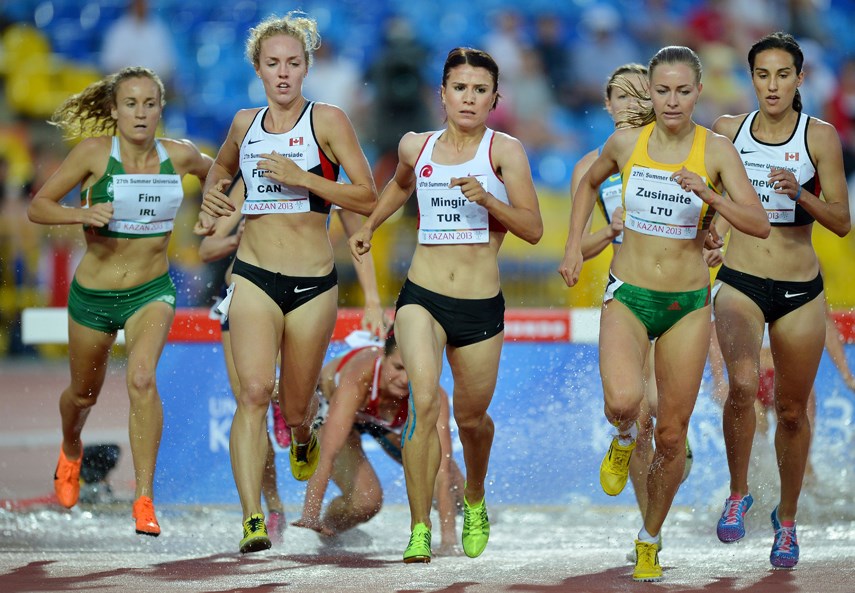 The Canadian racers were robbed of the experience of sharing those special moments together, said Groenewoud.  
"Getting that medal, having a memory of it in a race and then standing on the podium together, having the anthem played – it just would have felt a lot more real," she said.
The race itself was a brilliant one for Groenewoud and Furlan, both of whom finished within a second of the Canadian record at the time. 
"It was one of those races where everything just clicked," said Groenewoud, a Handsworth Secondary grad. "It's kind of a blur, like the races that have been my best are the ones that you almost don't even remember because you're so in the zone. I just remember with one lap to go thinking I'm going to give it every ounce of energy that I have left, and I think I moved up even a couple spots just in that last lap from that extra little push."
Little did she know at the time that her last push into fourth place would one day translate into a gold medal. She did, however, feel satisfied in knowing that she gave everything she had in the race.
"I just remember finishing and feeling really alive and excited and glad that I could share that whole experience with Jess," said Groenewoud.
The pair may have been deprived of their podium moment, but they have been handed an unexpected thrill during a time when the COVID-19 crisis has changed the sporting landscape in drastic ways.
Groenewoud no longer competes in track and field but still races competitively in road and trail races. Her most recent international showing came as a member of Canada's mountain running team. She hasn't been able to race recently, however, not just due to COVID-19 but because she is "very pregnant" with her first child, due in early December. Having this unexpected blast from the past appear now has added an interesting twist to this already strange year.  
"It was kind of a nice little trip down memory lane," she said. "It's kind of a balance of feeling nostalgic for a different time and also felling like that was another life ago. Preparing to be a mom and preparing for world universities are two very different things, yet both sort of feel like you're going into these huge moments in your life."