Inside Emily Miller's Grade 2/3 classroom, students are shouting with excitement. "It's a volcano," shouts one boy, as the room erupts into sound. Some students stare at the floor. Others crane their heads to the ceiling or point fingers into the air.
One girl describes a lava flow she's watching.
"When it cools down, what does it turn into?" Miller asks the class.
No, this is not a mass hallucination.
It's actually a typical scene when classes in West Vancouver's Hollyburn Elementary look at the world through a set of virtual reality goggles, one of the latest experiments with technology-enhanced learning.
This year, Hollyburn became the first school in the district to try out the set of 30 virtual reality headsets – bought by the West Vancouver school district for $10,000 – after teachers who are part of the school's technology team put together a plan for how they could be used to enhance regular classroom learning.
When they're immersed in virtual reality – whether they're staring up at the massive stone pyramid of El Castillo in Mexico's Chichen Itza or walking down the Hall of Mirrors at the Palace of Versailles – there's no doubt that students are "super engaged," says vice-principal and Grade 4/5 teacher Nathan Blackburn, who is part of the technology teaching team.
The headsets allow students to share a virtual experience that's more powerful than simply reading about a topic, or having a teacher tell them about it, says Blackburn.
"They come out with deep questions. They want to know more."
Another goal was to allow kids to experience a technology "that will be transformative in years to come," explains principal Jody Billingsley, pointing out that it's already trickling into areas of industry and training. "Virtual reality's not really going away."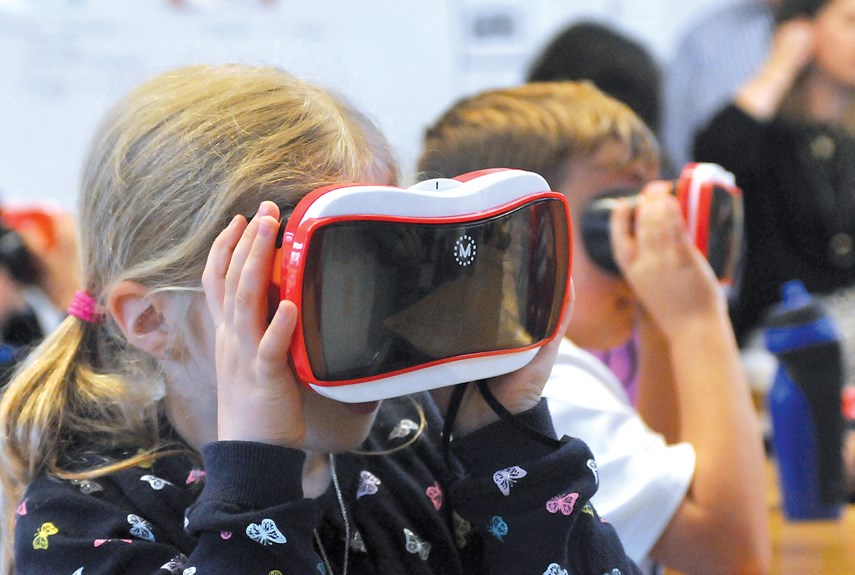 The headsets themselves are actually quite simple. Essentially, they consist of a pair of plastic goggles with a dedicated smartphone inside, loaded with the app Google Expeditions.
Developed for classroom teachers, the experience is controlled by a teacher's tablet, which allows the teacher to call up a particular "expedition" which provides students with an immersive 360-degree view while allowing teachers to direct attention to particular features, ask questions and supply background information.
Before they got started, the team of technology teachers at Hollyburn traded notes via Skype with a teacher in Ontario about how he had incorporated the VR sets into the curriculum.
The teachers then catalogued many of the expeditions that might tie into the elementary curriculum. Teachers who are covering those topics can sign up for a virtual reality session.
Not surprisingly, it's proved popular with the kids.
"The first time I saw students using it, it was amazing," says Billingsley. "I think they were looking at outer space. One of the Grade 2 students was saying, 'Oh my gosh, there's the moon! There's the moon!'"
Among the more popular expeditions, students have explored inside the body of a whale, sat in the House of Commons and even travelled through the human digestive system as a virtual piece of food.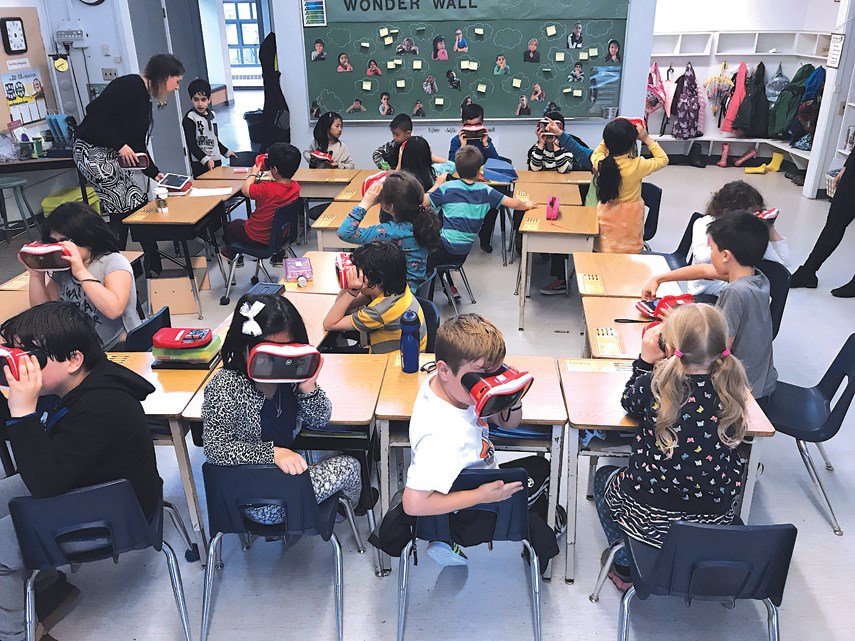 Oliver Young, 10, is one of the students who's been on that virtual journey.
"It was a little bit unpleasant but it was a bit funny when we got to look at the very end of the digestive system," he volunteers, adding his teacher advised them, "'Don't say gross, say wow.'"
Oliver said it does cross his mind occasionally after lunch. "I can't believe this is all happening in my body right now."
Connie Kidman, 9, said seeing the parliament up close also came in handy when her class set up a mock parliament in the school library. "We set it up so there were two rows facing each other," she said.
Virtual reality – even the fairly basic experience offered by the school app – isn't intended to replace hands-on learning and real field trips, says Billingsley. Students at Hollyburn, for instance, will still get a chance to visit places like UBC's Beaty Biodiversity Museum.
But for places that some students may never get to visit, virtual reality levels the playing field a bit and allows kids to explore – virtually – together.
"This is for experiences that we otherwise couldn't ever really attain as a class," he says.
"It allows for that collective experience."