More than two years after a horrific stabbing spree in North Vancouver's Lynn Valley library plaza left one woman dead and six others injured, the court case connected to the events of that day will get underway Monday in B.C. Supreme Court in New Westminster.
Yannick Bandaogo, 30, faces one charge of second-degree murder as well as five counts of attempted murder and one count of aggravated assault in relation to the stabbings of seven people that occurred at the Lynn Valley Village library complex on March 27, 2021.
He has elected to be tried by judge, without a jury.
The case is likely to stir up complicated emotions in the tight-knit Lynn Valley neighbourhood of North Vancouver, where many people know friends, family and colleagues who were among the victims, those witnessed the attack or who stopped to help the injured.
On that Saturday afternoon, just before 1:40 p.m., the North Vancouver RCMP received a report of multiple victims of a stabbing at Lynn Valley Village. When officers arrived at the scene, they found multiple victims in and around the library complex, ranging in age from 22 to 78, suffering from stab wounds.
Victims included a high school teacher, a North Vancouver mother of three and a young woman who was a student at Simon Fraser University. One woman in her late 20s later died of her injuries.
In the days that followed the attack, stories emerged of both horror and heroism. Witnesses described helping guide a woman covered in blood to safety after she was stabbed multiple times while walking with her child near the library. A teacher who saw the suspect stab a woman inside the library picked up an umbrella and attempted to beat back the attacker before being slashed herself.
Range of emotions surrounding court case
Jacquie McCarnan, the founder of North Van Cares, was among those who established fundraisers to help victims in the aftermath of the attacks and has kept in contact with several of them.
There's a range of emotions about the upcoming court case, she said.
"I think some people have the opinion that they're just not going to think about it ever," she said. "And others are happy that there's a potential for justice to be done."
In a statement, District of North Vancouver Mayor Mike Little described the attacks as "a deeply impactful, shocking event" that continues to reverberate in the community.
"The healing continues even now, two years later, and this trial will be upsetting to some people all over again. Our thoughts are with the victims and the families that still grieve and deal every day with the impact of that attack. We want justice for them and for everyone in the community that was affected," he said.
Bandaogo, who is from Montreal, had no connection with any of the victims and no home in B.C., according to statements made police at the time.
At the time of the attack, he was wanted on warrants in Quebec and Manitoba, according to the Integrated Homicide Investigation Team.
Homicide investigators said at the time they didn't know what motivated the knife attack.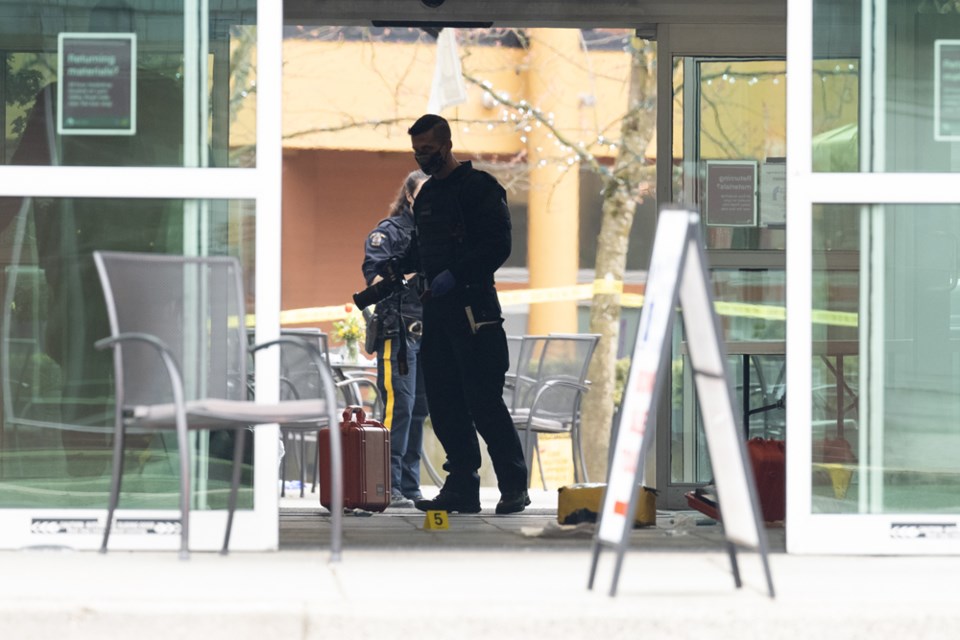 Accused remains in custody
Bandaogo has remained in custody at North Fraser Pre-Trial Centre since his arrest more than two years ago.
The case has been scheduled for a 10-week trial at B.C. Supreme Court in New Westminster, starting on Monday morning.
But it's also still possible the case may be resolved without a trial.
Crown and defence lawyers remained tight-lipped about how the case is expected to proceed ahead of Monday's court appearance.
While the case is still set for trial, "the accused can enter a plea at any moment," said Jean-Benoit Deschamps, the Crown prosecutor in the case.
Court case to proceed in French
One unusual aspect of the case is that Bandaogo – a Francophone – has elected to have his case heard in French. Those accused of crimes in Canada can choose to have their trials in either English or French.
In this case, the Crown and defence lawyers and the judge will conduct most of the trial – including the opening statement – in French, with translation provided as needed for English-speaking witnesses. There will be no translation for members of the public.
But both the prosecutor and defence have indicated they will likely take questions from reporters in English outside the court.
"I understand that people want to know what's happening," said Deschamps. "We understand the impact it's had on the community."
People 'moving forward with their lives'
McCarnan said the big question left unanswered so far is why. "Why did he do this? What led him to this? Why would he just choose people at random and go absolutely bananas? … Nobody has any answers about his state of mind."
The other question is, "Why Lynn Valley?" she said. "Why was he there? I think people want to know the answers to those questions. I don't know that they'll get them."
McCarnan said of the surviving victims she's in contact with, most are doing well with their physical recoveries. "The mental scars are much more difficult to figure out."
"I do think that people are moving forward with their lives," she said. "I think in a general sense, they are not allowing this man to continue to hurt them.
"I think in a general sense, people want to not let him have any more of our bandwidth. He took a lot from our community. And I don't think people are willing to give him one iota more."