Sometimes there's a moment, just before the world tumbles, when they only feel off-balance.
Earthquake survivors recount that moment as the fleeting one that precedes the realization: the ground is shifting.
The Earth's stability is marbled into the English language: "Reach for the stars and keep your feet on the ground." "My family keeps me grounded." "You have no grounds to charge my client."
But in those moments it bucks like a bull trying to lose a cowboy. The continental shelf drops and rises, threatening to deposit what used to be prime real estate onto the ocean floor, raising a wall of seawater that reminds us why the ancient Greeks grovelled before Poseidon.
Those who've lived through it recall screams, a cloud of dust obscuring their city, as well as something that happens with time.
Accounts of the San Francisco earthquake of 1906, the Alaska earthquake of 1964 and the Nepal quake of 2015 have a commonality: the quake felt longer than it was. In fact, a few chroniclers have used the very same phrase: "it seemed to last forever."
Bordering on disaster
But earthquakes don't last forever. Once the world stops shaking itself to pieces, the goal for emergency response teams is to have people in place who are ready to start putting it back together. On our patch of earth that task falls to North Shore Emergency Management.
Earthquakes, floods and wildfires can do something no politician can: erase the borders that separate the City of North Vancouver from the District of North Vancouver from West Vancouver.
"In a disaster situation, we actually become one integrated command and control structure across the entire North Shore," explains NSEM deputy director Mike Andrews.
The emergency office has three of almost everything but only one director, and that director is charged with making decisions "for the greatest good of the North Shore," says NSEM director Fiona Dercole.
"We're all geographically co-located. We're all bridge-dependent," Andrews says.
That tenuous dependency was addressed in a 2015 drill that brought a Vancouver search and rescue squad to the North Shore aboard a barge.
The drill proved that police, paramedics, and firefighters who live on the other side of the reach could get to the North Shore in an emergency, Andrews says.
If bridges are compromised, rescue workers might scramble in and out of locations including Horseshoe Bay, Cates Park, and the DFO lab in West Vancouver.
The three sites are big enough to land a helicopter and load trucks. They're also spots with a harbour that has the "breadth of berth" and relatively tame tidal conditions required for a hovercraft and rescue boats.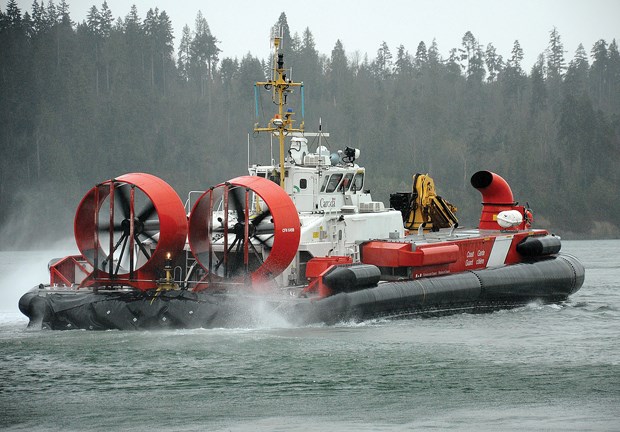 The locations also have one of the most elusive elements on the North Shore: parking.
It's those elements that make an area fitting for a command and control centre.
NSEM is examining four more sites as well as a spot off the North Shore that could be used as a pickup point for staff.
In the event the bridges tumble, the plan is to essentially fold the Port of Vancouver into NSEM and redirect ships that are already on the water to wherever they need to be to best aid in emergency response efforts.
"It wouldn't be a matter of getting a hold of some captain and having him run down to the tugboat and fire it up," Andrews says.
More than 80 per cent of British Columbians don't have an emergency kit or an emergency plan. Those numbers need to improve, as Andrews and Dercole each explained that in an emergency, resources will be concentrated on the people who are most severely impacted.
"If you're prepared for an earthquake, you're prepared for just about any kind of emergency," Andrews says.
Higher education
Emergencies and the way people behave in extreme environments are a source of fascination for Capilano University psychology instructor Deyar Asmaro.
Using a hyperbaric/hypobaric chamber, Asmaro studied how people think at high altitudes.
"It's similar in some ways to being in a really stressful situation and having some of your higher-order decision-making impaired," he explains.
In a simulation that drew on volunteers involved in aviation, including prospective and former pilots, Asmaro would have some of the air sucked out of the chamber to simulate an altitude of 25,000 feet. At that height, Asmaro might assign a task like reporting the numbers they saw by typing them on an iPad.
"Some of them couldn't even do three in a row," Asmaro reports
The same thing happened when the high flyers were asked to connect dots to form a pattern like 1a, 2b, 3c.
"Any grown adult with fairly good cognitive functioning shouldn't have a problem with this," he said. "Many of them, I stopped them because they couldn't do it."
But what was most peculiar about the study was that while cognitive ability suffered, confidence seemed untouched.
"Many of them didn't really remember how poorly they did. That was the other strange thing," he says. "They literally thought they did much better."
Something happens at altitude where the prefrontal cortex – possibly due to lack of oxygen – seems to go on a coffee break, compromising the brain's ability to make decisions.
"People don't really realize how impaired they actually are, and that's why it's so dangerous."
However, the brain can be trained to function in a highly stressful situation.
"I think one of the things you have to do is actually go through some sort of simulation . . . not just an earthquake shakeout drill that happens once a year."
The idea is for training scenarios to feel as realistic as possible, he says. That way they can preserve "cognitive resources to make good decisions in the heat of the moment."
The last major earthquake hit this region in 1700. In a psychological sense, North Shore residents may be at greater risk than regions that face disasters more often, he reasons.
"If you look at a country like Japan where they're frequently having earthquakes, what you notice is people don't really panic," he says. "It's not something that just happens once in a blue moon, they're constantly getting ready."
Patients and virtue
Mark Phillips doesn't know how many patients Lions Gate Hospital could treat in an emergency.
"We don't have a set number of patients for maximum capacity," explains Phillips, the manager for Lower Mainland acute care sites.
But that capacity is certainly greater than the 268 beds that currently fill the facility.
In the event of an emergency, elective procedures would get cancelled, some patients would be discharged and the hospital could be expanded to include rehab areas and a gymnasium, he explains.
"North Shore Emergency Management Office may have some space where we could provide care," he says.
Lions Gate Hospital has 1,801 Vancouver Coastal Health employees, 46 per cent of whom live off the North Shore.
LGH isn't unique in that regard, says VCH public affairs director Gavin Wilson.
"The same could be said of any hospital in the Lower Mainland – due to the geography, only a certain percentage live close enough to work that they don't need to take a bridge."
In an emergency, the plan is for the region's hospitals to form a singular response, meaning that if the bridges are damaged or roads are flooded, hospital employees would be asked to report to whichever health care facility is nearest to their home. Staff on duty would also be encouraged to stay on duty until they could be relieved, Wilson explains.
In the event of a staff shortage, VCH would likely put out the call for doctors and nurses on radio stations, Phillips says.
The LGH's south acute tower was built in 1961, leading to some concern about its stability in an earthquake.
"VCH facilities all meet seismic requirements of the building code at the time that they were constructed," Wilson states.
The south tower got a few upgrades in 2002 and is set for renovation when the new acute care building opens, he adds.
After the aftershocks
In his book, The Million Death Quake, seismologist Roger Musson ponders the reason 316,000 people died in the 2010 Port-au-Prince earthquake.
Geologically, the quake was "unexceptional," he writes, explaining that dozens of earthquakes approximately the same size occur every year. What exacerbated the Haiti quake was poverty, buildings constructed of mud bricks, but also perhaps a sense of complacency, Musson argues.
The last time Port-au-Prince was affected by a major quake was in 1770.
"Who in modern Haiti knew anything about that?" he asks.
Lindsay Hammond is one of several LGH employees who has seen the effects of that earthquake firsthand.
As part of Broken Earth, Hammond made the trip to Port-au-Prince, Haiti, earlier this year.
"I've always wanted to do some type of volunteering," she says. "That's initially why I got into nursing."
Hammond was part of a team that would run an operating room, intensive care unit, and clinic, starting work at 7:30 a.m. and sometimes finishing as late as midnight. A lot of the procedures involved reconstructive surgery on patients who lost limbs during the earthquake, Hammond says.
"You knew that these people were getting care that they otherwise wouldn't receive, so the fact we're able to provide that was motivating and kept us going," she says.
Even seven years later there were roads that looked chewed up and a lack of traffic lights.
"You could still see evidence of the earthquake," she reports, adding the proviso that she didn't see the areas before the quake.
The North Shore seems more prepared than Haiti was, but any area struggles to recover from a catastrophic event, she says.
There's also a concern that people's willingness to help others, like those in Haiti, and vigilance to prepare for local disasters can quickly wane after the initial shock following a massive quake.
"I do think it sort of gets forgotten when big disasters like (Haiti) happen," says Hammond.
Leaving normal
In NSEM headquarters, a lot of time is spent remembering the 2011 earthquake in Christchurch, New Zealand.
"There are a lot of parallels to the Christchurch earthquake," Dercole says, explaining that the municipal engineering staff from Christchurch have shored notes with North Shore engineering staff.
"There's building policies that we can study," she says. "There's many lessons to be learned."
But as much as NSEM may train and plan, there's still a great need for neighbours to check on neighbours, Dercole says, discussing the challenges of reaching residents on Eagle Island or up Indian Arm.
"I suspect that some of those people are quite well-prepared because they're used to having to stock up on supplies."
The need to help each other is especially true with the North Shore's homeless population.
In a disaster, NSEM would rely on Lookout and other shelters to check on their clients.
"Everybody should be prepared for as long as they can be prepared for," Dercole says.
But there's still an element of unpredictability to any emergency.
"What you may predict may not happen," Andrews says.
While there are risks associated with the North Shore – chemical plants, bridge dependency, and a diverse geography hemmed in by mountains, there are advantages as well.
One of them is water.
The Capilano and Seymour reservoirs provide about two-thirds of Metro Vancouver's drinking water. In addition, Eagle Lake provides water for a goodly portion of West Vancouverites, Andrews notes.
It's a complex network, "but at least we have supply here," Dercole adds.
However, Andrews sounds a note of caution to anyone who plans to purify water in an emergency, explaining that it can be an "inexact science" that often doesn't compare with the industrial purification process of bottled water.
NSEM has a rapid notify system, but with the White Pages getting slimmer as cellphones become ubiquitous, there's no central registry to tap into, Andrews says.
He suspects fewer than 10,000 North Shore residents have registered for the system.
But in the event of an emergency, there's always radio.
The North Shore Amateur Radio Club keeps equipment at NSEM's offices, Andrews says, gesturing to the area reserved for hobbyists to "tinker and play."
With the aid of satellites that shift with the rotation of the Earth and phone switches in Quebec and Texas, there's always a way to communicate, Andrews says.
"They can talk around the world, probably two or three different ways, they can bounce radio waves off the moon or off the ionosphere."
But despite every safeguard, Andrews and Dercole are realistic about the effects of a widespread disaster. Six years after the Christchurch quake the community is still recovering, they note, and sometimes, a full recovery simply doesn't happen.
"We're never back to normal," Andrews says. "We're back to what's called the new normal."
To sign up for emergency alerts, visit nsem.info.