Police are asking West Vancouver residents to be vigilant and report any suspicious activity following an increase in break and enters this month.
Twenty-nine residential break and enters were reported in July, according to the West Vancouver Police Department, and there have been 108 break and enters so far this year – a 65 per cent increase over the year-to-date five-year average.
"These people are targeting homes when they assume people are away," said Const. Kevin Goodmurphy, West Vancouver police spokesman. "They're looking for property."
While the 29 break and enters recorded this month occurred across the district, the majority were in the British Properties neighbourhood, according to Goodmurphy. The people responsible for the break-ins were typically in search of high value items such as jewelry, electronic devices, sports equipment and other personal accessories, he added.
Police have deployed forensic investigators, its major investigations team, and criminal intelligence officers to investigate these incidents. Investigators are now reviewing security camera footage from multiple locations that show suspects wearing hoods and gloves, said Goodmurphy.
"Our investigators are working diligently to try to gather enough evidence to link them back to a person or a group of people," he said.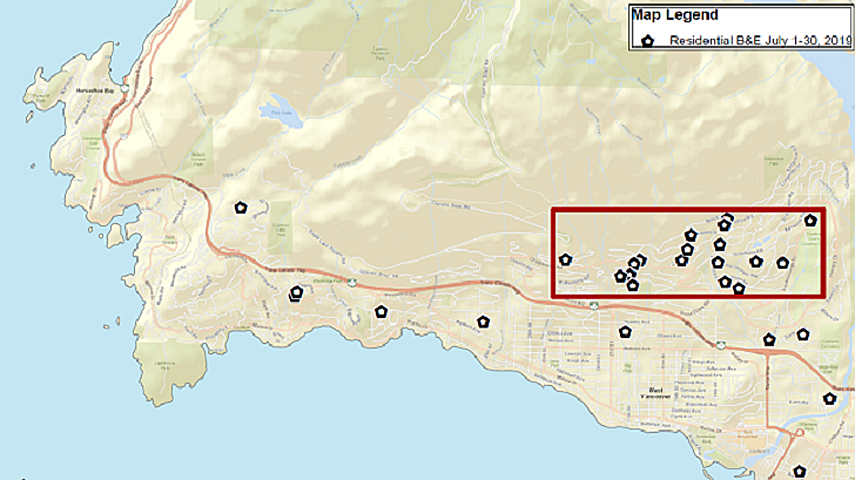 Police are advising people to properly secure their residences when they're away from home, including making sure to lock all doors and windows, ensuring home alarm systems are operating properly, having adequate exterior lighting and not leaving easily accessible ladders on their properties.
"If anything seems suspicious to them, we really want to hear about it. If it's that person knocking on your door that you don't recognize or you're speaking to somebody that doesn't quite seem to fit in the area, or your gut is telling you that something may be out of place, it probably is," said Goodmurphy.
Anyone who can identify the suspects seen in the captured images, or who has other relevant information, is asked to call West Vancouver police at 604-925-7300. Anyone wishing to remain anonymous can contact Crime Stoppers at 1-800-222-TIPS or go to solvecrime.ca.