Things need to slow down around here – and fast!
The expedient rate of growth in the City of North Vancouver was one of several key issues that 22 council hopefuls sounded off on during an all-candidates meeting hosted by the Grand Boulevard Residents Association Wednesday night.
"It's been frustrating for the last four years to be part of too many 4-3 votes in which I was one of the three," said incumbent Coun. Don Bell, addressing a packed-to-the-rafters gym at Ridgeway Elementary. "I was concerned about the rate of development. I don't think we can or need to stop it, but we need to slow it down. We need to allow infrastructure to catch up."
With regards to developers, the city shouldn't "roll out the red carpet for them," noted business owner Alborz Jaberolansar. "You make them earn their place in the City of North Vancouver."
Citing the need to address the city's myriad traffic and parking problems, business owner and former city councillor Bill Bell stated: "It's time to slow things down. Increasing density is not the answer."
A sizable number of council candidates talked about the need for more rental options in the city, including Mack McCorkindale, who encouraged more affordable housing projects so that people could continue to live and work in the community.
"You have to approve the projects that have affordable components to them," he said. "Prioritize rental projects so that they're at the front of the line. We don't need more market condos, we need to build affordable rental housing."
Jessica McIlroy, a renewable energy and sustainability consultant, noted that the "appropriate housing issue" was paramount in the city. "That means housing that our seniors can age in, housing that our working staff can stay in our community, housing that allows young people to move into their first homes."
Almost all the candidates got involved when it came to talking about motor vehicles – whether it was bemoaning a lack of parking in the city or brainstorming how to get them moving swiftly through traffic again.
"We are in a sorry state of traffic, affordability and shrinking personal spaces," said planning manager Shervin Shahriari.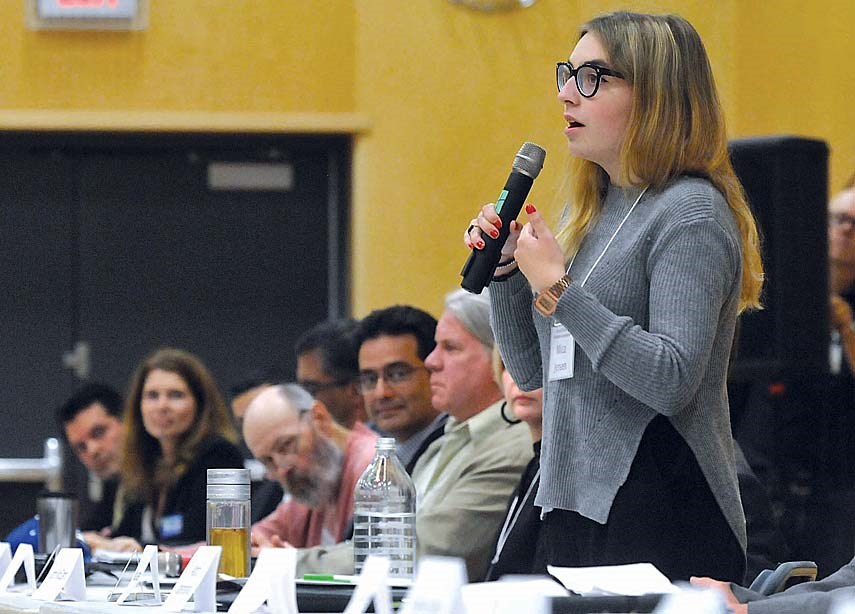 Sales consultant Kenneth Izatt suggested pushing developers to include more underground parking in their projects in an effort to stop so many people from leaving their cars on the streets, clogging residential neighbourhoods and affecting businesses along Lonsdale.
"It's just not a very good situation," he said. "One of the ways I think we can do it is to make sure that there's a one-to-one ratio between development, condominiums and parking."
"The reason I vote against many of the developments that come before council is because they're not providing ample parking," added Coun. Don Bell.
Candidate Bob Fearnley suggested the city look into a free shuttle bus that traverses Lonsdale and other busy areas as a way to "reduce the need for us to always use a car. It would be a simple solution to parking."
Seniors' transportation advocate John McCann, when referring to an earlier moment in the meeting when candidates were discussing how to combat climate change, said he thought it was ironic that the conversation then turned to motor vehicles. "On one hand we were talking about greenhouse gas emissions, and we got to get the cars off the road, and now we want more parking spots," he said. "It just doesn't sit well with me."
University student Mica Jensen said in order to solve the parking issue, the number of cars being used needed to be reduced. She offered the upcoming Main-Marine B-Line and other transit options as a possible remedy to this. "That could really work for our community," she said.
Most candidates observed that the new $237-million Harry Jerome rec centre would be a benefit to the city, with some reservations.
"I'm very excited that Harry Jerome is finally going to get rebuilt. It's been 15 years in the planning and we've done report after report after report," said incumbent Coun. Holly Back. "The meeting spaces for all ages, from daycares to seniors, are going to be amazing."
The new rec centre, which will replace the more than 50-year-old building, will include curling and skating rinks, two pools, the Silver Harbour Seniors' Centre, a fitness centre, gym, as well as housing in the form of the nearby Harry Jerome neighbourhood lands that will include an 802-unit Upper Lonsdale development.
Immigration consultant Thomas Tofigh said he "totally and completely" supported the new rec centre, but said parts of it needed to go back to the drawing board since Flicka Gymnastics, a youth sports organization with more than 2,000 members, was left out of latest plans for the rebuild.
Business consultant Tina Hu said she wanted to bring her "financial expertise" to council in order to help with the new rec centre. "I think it's going to be a great community centre for all to share," she said. "I know it comes with a price tag and I know there's a huge financial commitment."
With regards to the rec centre, Joe Heilman said he thought it would be a "great thing for all of us," but he bemoaned the number of residential units – which will include one 30-storey tower and one 26-storey tower in addition to three six-storey buildings and one five-storey – being built along with the project at 21st and 23rd streets along Lonsdale Avenue.
Candidate Angela Girard raised the issue of child care. "Our great city has attracted many young families to it, but now we're faced with a lack of child care," she said. "We need to build child care in new developments where families are living."
Elsewhere throughout the meeting, environmental researcher Anna Boltenko talked about how there's a discrepancy between the definition of affordable housing and what's actually affordable; Ron Sostad talked about his desire for more social housing in the community; and Ron Polly talked about protecting city parkland and the environment.
Brett Thorburn said he felt that the city has a responsibility to create vibrant public spaces in order to attract people to nearby local small businesses; Tony Valente said the city must prioritize public transit and provide a variety of housing forms; and Antje Wilson, referring to the recently released Integrated North Shore Transportation Planning Project report, said she was in favour of making the city even more pedestrian friendly. "I want to continue to encourage people to walk and we can do this by building sustainable, complete communities so people don't need to go off the Shore to get what they need," she said.
If elected, candidate Max Zehedi talked about introducing a motion to ban all single-use plastics "as soon as possible."
Candidates Pooneh Alizadeh and Aaron Lobo did not attend Wednesday's all-candidates meeting.
The election is Oct. 20.