The country may be divided but the North Shore was unified on election night as all three ridings remained Liberal red.
Newcomer Patrick Weiler is set to represent West Vancouver-Sunshine Coast-Sea to Sky Country after notching 22,135 votes, edging Conservative challenger Gabrielle Loren by more than 5,000 votes.
A crowd of jubilant supporters and campaign volunteers gathered at Amici Restaurant on Marine Drive in West Vancouver to celebrate after election polls closed Monday evening. Weiler emerged to greet his supporters shortly after.
Weiler, whose campaign focused on touting the Liberals' $55-billion national housing strategy and bringing effective public transportation options connecting Sea to Sky and across Howe Sound, has stated that the most pressing issue facing the Canadian economy was transitioning from a fossil fuel-based economy to a clean energy economy.
"Transportation and housing are major priorities throughout the riding, and so that's really what I'm going to be focused on," Weiler said in an interview after addressing his supporters. "For me, I've been very, very encouraged to see the progress of the Pan-Canadian Framework on Clean Growth and Climate Change. It's an incredible foundation to build from and I really look forward to working with the rest of the party … to really take this to the next level."
The outcome was a disappointment for former West Vancouver Chamber of Commerce president Gabrielle Loren, who spent the evening chatting, joking and occasionally comforting disappointed supporters at her campaign headquarters in Park Royal.
By 10:30 p.m., with Weiler's lead growing and the Coors Light and Jackson-Triggs wine running dry, Loren attempted to call Weiler to concede.
Not able to get him on the phone, Loren hopped into her daughter/campaign manager's VW bug and made a beeline for Weiler's Marine Drive gathering.
While she was too late to catch Weiler, Loren was greeted outside by a team of Weiler's supporters as well as his parents, UBC law professor Joe Weiler and former Sechelt municipal councillor Beverly Tanchak.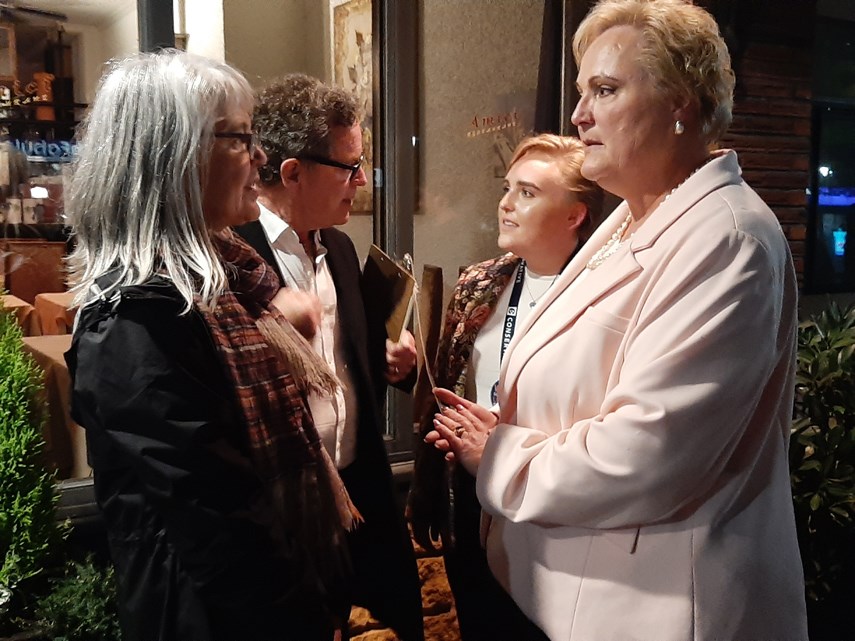 Standing under the restaurant awning as drizzle fell on West Vancouver at 11 p.m., Tanchak smiled as she discussed the moment when she realized her son would be the riding's next MP.
"I don't think you can describe it," she said. "I'm inspired."
Joe embraced Loren, thanking her for keeping the mud on the ground during the campaign.
"It was such a relief as his father that it wouldn't be like that," he said.
"We're all going to be living in the riding at the end of the day," Loren replied.
"These are great people that step up to serve their community," Joe said. "Which is a magic that we want to keep going."
Discussing political division throughout Canada, Loren said other candidates could've learned from the campaign for West Vancouver.
"We kept our cool. We kept our respect," she said.
The sidewalk discussion was briefly interrupted when a Conservative voter asked about the result.
"Patrick won. There's only one winner," Loren told her.
The supporter thanked for having such a good spirit. "That's the Canadian way."
Following the meeting, Loren and Samantha drove back to campaign headquarters, discussing the need for sleep and the job of cleaning out the office and picking up campaign signs.
"That was quite the endeavour," Loren said.
"But worth it?" her daughter asked.
"I think so."
With 266 of 267 polls reporting, Green Party candidate Dana Taylor was in third place after taking 22.1 per cent of the vote, the party's best ever showing in the riding.
"We were all hoping for something better but third place is an improvement over what we did in the past, so that we're certainly grateful for," said Taylor. 
NDP candidate Judith Wilson finished fourth with 13.9 per cent of the vote. She said that although her party didn't win, the overall result would be good for Canada.
"We've got a minority government and a minority government is a time when things get done," she said.
The riding was once considered a Conservative stronghold but during the past 15 years it has swung between the Conservative and Liberal parties.
Weiler's campaign received a boost over the weekend when Prime Minister Justin Trudeau visited the battleground riding Sunday during a whirlwind trip through B.C. where the party leader stopped by Weiler's campaign headquarters.
"It really says a lot that the prime minister came here," said Weiler.
While the federal Liberals won the riding in 2015 as well, there was no incumbent candidate this election after Liberal MP Pamela Goldsmith-Jones announced she wouldn't be seeking re-election back in May.
Political newcomer Weiler, flanked by family, addressed supporters after it was apparent he'd won the riding. 
"This is where the real work starts," he said.
People's Party of Canada candidate Robert Douglas Bebb ended with 1.5 per cent of the vote.
Voter turnout in the riding was 67.2 per cent, a six per cent dip from 2015.
With a population of 119,000 – more than a third of whom live in West Vancouver – the demographically and geographically diverse riding includes the communities of West Vancouver, Gibsons, Sechelt, Squamish, Whistler, Pemberton and Bowen Island.
All vote counts unofficial until certified by Elections Canada.