It's understandable that the majority of seniors want to remain in their homes as long as possible, thinking that independence is the gold standard for successful aging. But it's important as a senior to understand that moving into a retirement community doesn't necessarily mean forgoing your independence entirely.
Ultimately, it's important to have those life decisions type of conversations with your family, the ones that all families need to have—sooner rather than later—before it's too late.
"Too many people are waiting far too long to explore retirement housing, both seniors and their children alike," says Nicole Shandler, sales consultant, Hollyburn House. "Don't wait until you're in crisis mode; that's not when you want to be starting your research."
Since 1987, Hollyburn House has established itself on the North Shore as the epitome of elevated West Coast senior living, offering a continuum of support, including 66 beautifully appointed contemporary suites in independent and assisted living, so you can maintain your independence, while aging in place safely. Additionally, a care centre, with 36 comfortable long-term care suites, ensures your long-term care needs will be met in the future.
You have the opportunity to select from a variety of flexible services —whether that includes an extra luxury or a little more support. "Maybe as things change for you, and you start to need a little bit of help, that doesn't necessarily mean you need care," explains Shandler. "Our assisted living team can help with scheduled supportive services, assist with medication, showering, dressing and grooming. These supports help keep you as independent as possible, for as long as possible."
New look, same rewarding lifestyle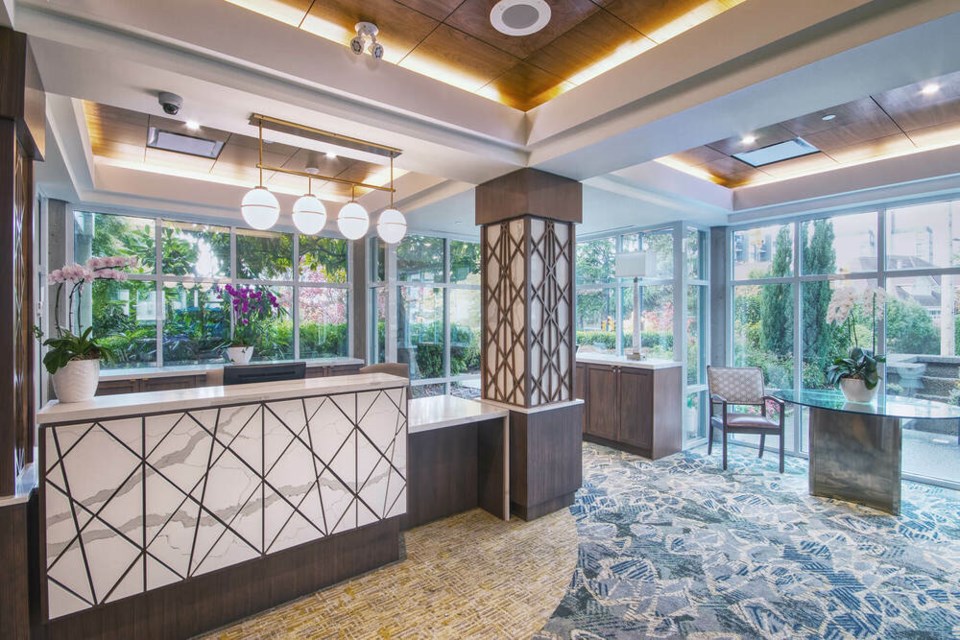 Building on the warm and inviting energy Hollyburn House has carried through the decades, a recent renovation has transformed the interiors to be brighter, with intentional design that reflects a stylish boutique hotel, still intimate and cozy, but with a fresh, vibrant air. The floorplan was tweaked to incorporate a bar (the best seat in the house for World Cup viewing) and a larger, brighter dining space to allow for a more comfortable dining experience.
"The designer worked hard to try and include the feel of West Vancouver; there's a wood detail, fretting, like lattice, that reflects the design look of the Lions Gate Bridge," explains Shandler. "The carpet is leaf pattern, and lots of warm wood tones and greens that gives a natural feel to the space, with a little retro twist."
Living in a nurturing environment, surrounded by friends and a supported care team, contributes positively to a healthy lifestyle and your social and mental well-being. You won't be saddled with the fear of isolation or loneliness, especially with all the activities and recreation offerings to keep you engaged and active. Share a chef-prepared meal together in the elegant Caulfield dining room or enjoy good food and good company in the Cypress private dining room, a lovely space for family celebrations and birthday dinners.
"We offer lots of opportunities for physical fitness, bus outings and activities," says Shandler. "Music is central for us. Typically, we have a Tuesday evening concert and a music therapy program, too."
Mary Ann relishes her enriching experience as a resident: "I love the location of Hollyburn House, the healthy and delicious meals, and the opportunity to learn new things. I appreciate the staff that listens. I am worry-free and content here at Hollyburn House."
Community amenities, fulfilling friendships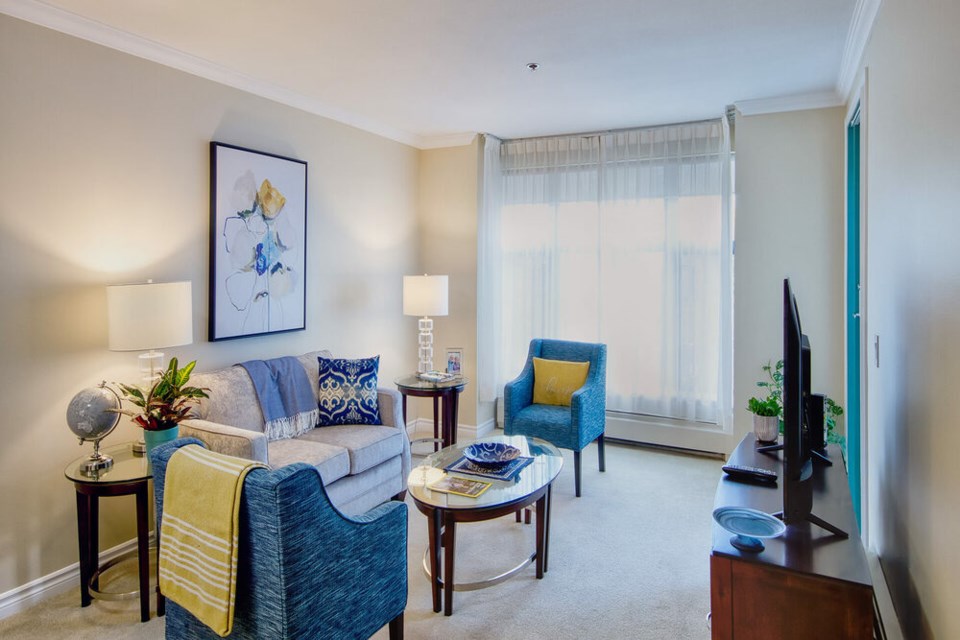 "There's a true sense of community here, reveals Shandler. "It's a real family feel between our seniors and our team; we get to know our residents and their families, and they get to know us."
That inspiring community feel extends beyond the walls of Hollyburn House, where you can stay connected with your friends and family enjoying your favourite nearby spots, whether a stroll on the West Van Centennial Seawalk, a coffee on a sun-dappled patio in Dundarave Village or a picnic in Ambleside Park. There's lots of walkable spaces to enjoy the outdoors.
"We invite you to come and visit and explore our community and all that it has to offer," says Shandler. "Empower yourself with information: we'll answer all your questions and concerns. Pre-plan your future homelife now; it will really help and serve you well."
For more information, visit reveraliving.com.