Dana Rousseau, CP(c), is in the business of changing lives for the better.
And in the process of doing so, Rousseau gets the same life-affirming results in return.
It's this relationship between client and clinician that is but one facet of the numerous advantages offered by Pentland's Prosthetics & Orthotics Clinic, a fully accredited prosthetic and orthotic services facility.
A cornerstone of healthcare in B.C. since 1954, Pentland's provides top-notch prosthetic and orthotic services. This is a team that is deeply passionate and takes immense pride in its mission to transform lives and revolutionize mobility for clients.
"I've learned so much from my clients about resilience and having a positive attitude," explains Rousseau, a certified prosthetist who has worked at Pentland's for three decades. "Our clients are trusting us to help, so I see this line of work as a two-way street because it's also a gift to me."
Pentland's is staffed by a team of highly skilled and experienced certified prosthetists & orthotists, remarkable technicians and proactive administrative staff that excel in addressing diverse aspects of care, from government funding, insurance queries and clinical service to healthcare paperwork, paving the way for a stress-free experience.
Pentland's range of services includes on-site initial evaluations, castings, fittings, adjustments and follow-up treatments that are customized to each patient's unique needs. All prosthetics are created in house, without a reliance on third parties or outsourcing.
A massive component of the Pentland's care continuum is the staff's attention to empathy and relationship building, it's a team approach.
"If a person is coming to see me and they're new to this type of situation, this is the first time that somebody's going to talk to them and say 'I'm going to give you something back,'" Rousseau explains. "They've gone through stages of grief and loss, their function(*s) have been impacted, and so when they come to see us, we are ready to start them on a path of rehabilitation."
In Pentland's Prosthetics & Orthotics Clinic, every client, like Gaston Ouellet, carries a distinct narrative. Born in Quebec, Ouellet moved from orphanages to foster homes, faced a life-changing accident at 18, which resulted in the loss of his left limb below the knee. The loss of his limb did not slow him down. He remains active; plays tennis ardently, swims, bikes, hikes, and has journeyed across the globe—living life to the fullest..He has also authored several books, and his newest inspiration is the educational game inspired by Hawaiian culture, Hulahu.
Despite living in various regions, Ouellet's 40-year trust in Pentland's hasn't wavered. His journey, shaped by resilience and innovation, began with company founder Arnet Pentland in 1978, and the bond persists with Dana Rousseau today.
Such is the trust that Ouellet has in Pentland's that he has consistently travelled back to Vancouver for his prosthetic care, even while living in the U.S., Europe and now Quebec.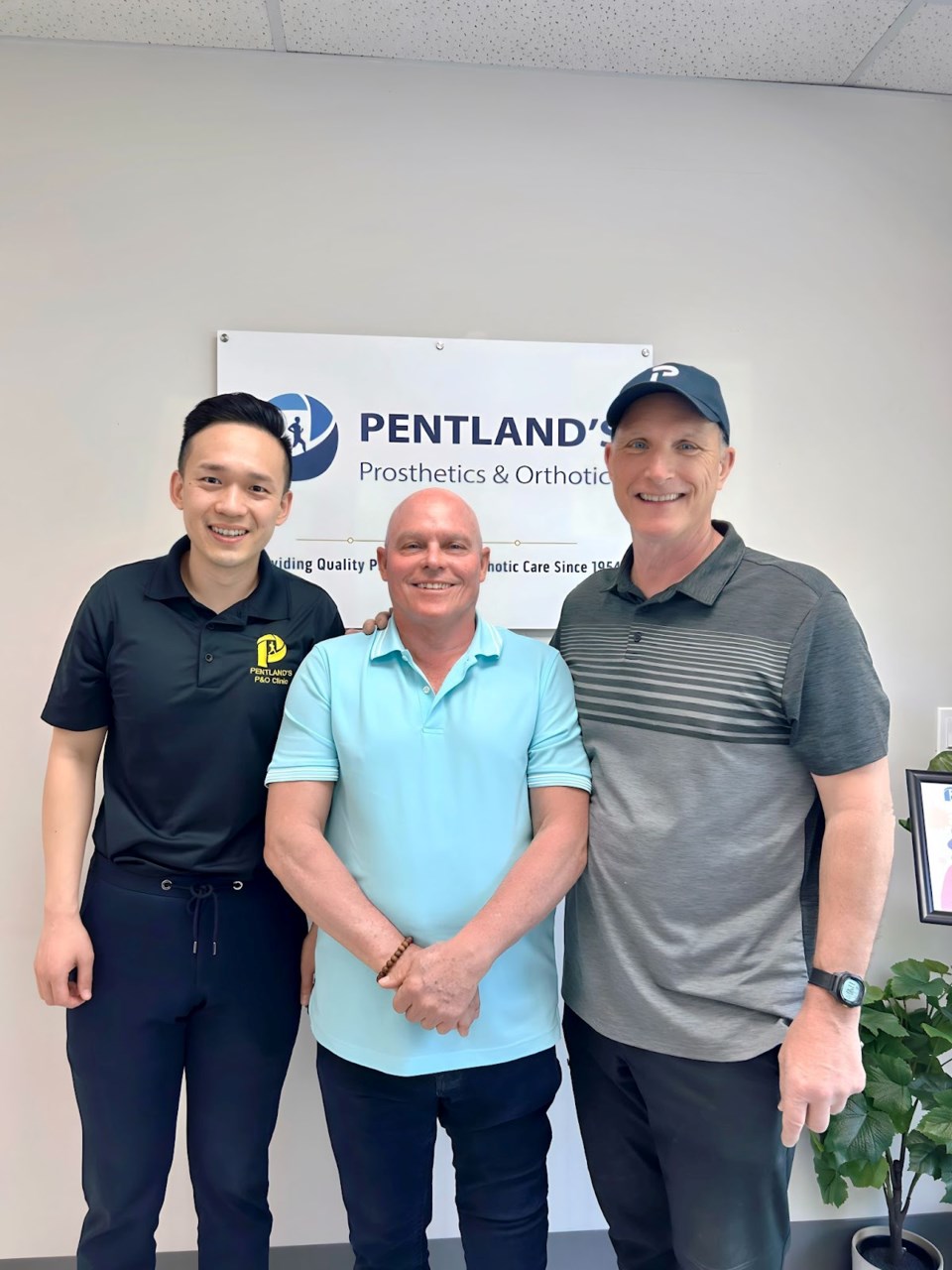 "When you go through these trials and tribulations as a handicapped person, you need to have tools to go through this traumatic experience," Ouellet explains. "The expertise they have and how Mr. Pentland passed his legacy down to others with the company has changed my life."
Expert care, a quick turnaround and decades of invaluable knowledge are what keep Ouellet coming back.
"The Pentland's staff is extremely well informed in how to approach any client who is living with a disability," Ouellet says.
For North Shore residents seeking Pentland's services, the Vancouver clinic is conveniently located just a bridge away – a mere five-minute drive from the Ironworkers Memorial Bridge, they also offer multi-language services in English, Cantonese, Czech, Farsi, Hindi, Mandarin, Tagalog, and Urdu.
We're here, close and ready, to support your journey towards improved functionality and renewed confidence; if you need anything, whether it's an initial evaluation or consultation for your current situation, there is no charge and simply give us a call at (604) 324-4011 to book an appointment," says Pentland's general manager and president Tim Yang.