Few sports touch all corners of society in the way tennis does.
The required elements are universal and straightforward: two feet and a heartbeat, two racquets, a bucket of balls and an open court.
Both North and West Vancouver are uniquely blessed with a long-standing tennis culture that caters to all, with dozens of locations available across the area for anyone of any age or tax bracket.
Premiere destinations such as the West Van Tennis Club, Capilano Tennis Club, North Shore Winter Club and the Hollyburn Country Club are all found in the area.
Then there's the Odlum Brown tournament, which plays host to Canada's best players, right in our backyard. This year's tourney runs from Aug. 14 to 21.
The North Shore can also lay claim to being home to one of Canada's preeminent tennis players. Born in Regina and raised in North Vancouver, Grant Connell played professionally for 12 years from 1986-97, reaching No. 67 in the world in men's singles.
The left-hander made his biggest mark in doubles, reaching the world No. 1 overall ranking for doubles players in 1993. He won 22 tour doubles titles in his career and reached at least the semifinals at all four Grand Slam tournaments in doubles. He was a doubles finalist three times at Wimbledon and once at the Australian Open.
It's with this rich history in mind that the North Shore News is throwing it back to one of the older and most beloved tennis facilities in the community.
Available exclusively through the North Shore News's Vintage Shop, the commemorative Lions Gate Tennis Club T-shirt is coming in hot. Available in four colours – kelly green, black, tan and royal – the T-shirts feature an uber-stylish graphic depicting a racket set against the Lions Gate Bridge alongside the afternoon sun at its highest point.
The T-shirts stylishly recall the year that was 1978: it was a time when Superman first made his way onto the big screen, and recently-deceased hockey icon Guy Lafleur put up his one and only 60-goal season.
Sizes range from small to 3XL, and our apparel is designed to weather and fade with each wash to give you that truly vintage look.
The T-shirts are printed in and shipped from Vancouver. The North Shore News has partnered with custom clothing company, Coastal Reign, whose twentysomething co-founders, Eddison Ng and Boaz Chan, have printed more than 200,000 shirts for their Canadian customers.
All T-shirts are 100% cotton, preshrunk jersey knit, and available in a variety of colours and sizes, priced at $35 plus tax. Shipping is free.
And there's a whole to like about the fact that all proceeds go to support local journalism at the North Shore News. Since 1980, the North Shore News has received more than 200 provincial, national and international awards for newspaper and website excellence, including the Canadian Community Newspaper Association's "Newspaper of the Year" award in 2019, along with golden awards in the Ma Murray Community Newspaper Awards category for Newspaper Excellence for three consecutive years spanning 2017 to 2019.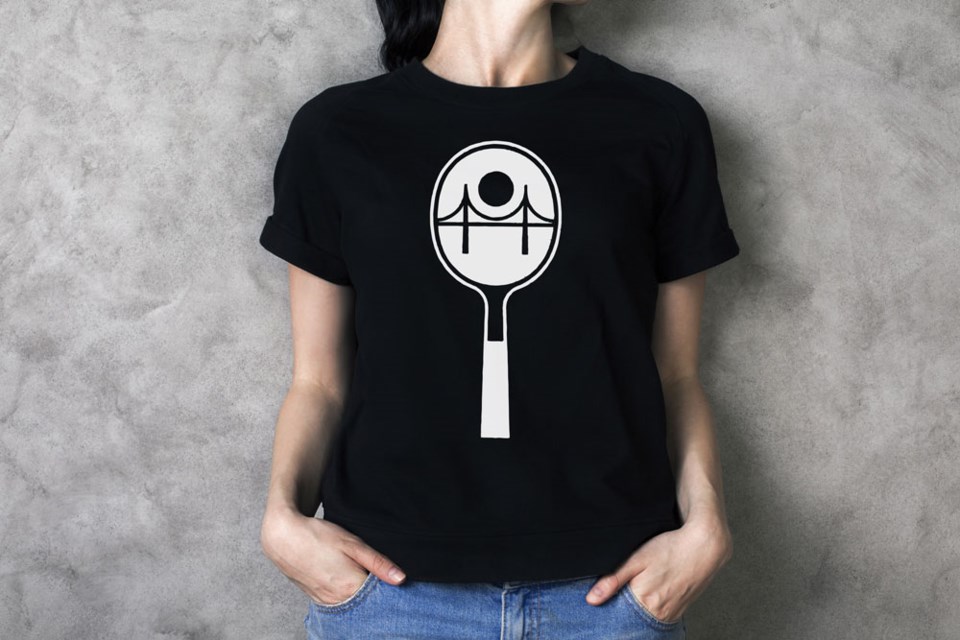 The commemorative Lions Gate Tennis Club shirts will be one of many throwback offerings available at the Vintage Shop, where nostalgia, along with celebrating this unique corner of the planet we call home, is the name of the game.
More than a dozen shirts in a range of sizes and colours burst with appeal across any age group. Long-time community fixtures featured on those nostalgic shirts include the former Olympic Hotel – aka the Big O – along with Lynn Valley and the Norvans hockey team, among others.
Five different collector totes are now available online that feature art and insignias dating back to the 1960s. Those totes include artwork featuring the B.C. coat of arms; The Seven Seas Floating Seafood restaurant; West and North Van Varsity throwback designs, and a fifth design proclaiming "I Heart North Van."
Each tote is 100 per cent cotton, with 20 1/2" self-fabric handles and a 9 1/2" handle drop. With more municipalities across the region banning single-use plastics, they'll be a game-changer for any trip to the grocery store.
And that's just the start - the Vintage Store's roster of cool and quirky collectibles will be ever-expanding in the coming months.
The exclusive shirts and totes can be purchased online at shop.nsnews.com.