"How many raindrops fill the river?" The question isn't necessarily surprising, given the environment in which it was asked.
An elementary school-aged child posed it to their teacher, while testing the pH levels during a puddle science class.
It's just a typical day, and one example of inquiry-based learning—the curiosity spurred through direct exploration of nature that happens in an outdoor classroom at Saplings Nature School.
"It's beautiful, because outside, students are really able to think about it in their experience, as it's happening," says Heather Fraser, founder and director, Saplings Nature School.
"We don't just learn science, we do science. We're fully immersed in our B.C. curriculum, which supports this kind of learning because it's very competency focused, and we're able to show how we're doing these competencies. Our curriculum is done through project-based learning, so cross-curriculum is happening."
When children spend significant time learning in, with and from nature, it has countless benefits for a student's motivation, mental health, overall engagement in life-long learning and a commitment to creating a sustainable future.
New nature-based elementary school
An early childhood educator, Fraser wanted to provide an opportunity for children to explore and experience the natural world through practical involvement, and established Saplings Preschool in 2012 for her children, now grown kids.
The enthusiasm received from the preschool, plus their afterschool programs, helped to lay the groundwork, fuelling the launch of Saplings K-4 Learning Centre. Operating a little more than two years, it's now officially Saplings Nature School.
"The feedback has been very positive," reveals Fraser. "Parents tell me their kids aren't fighting with them to go to school and look forward to bringing their ideas home. They say, 'I really want to work on this; I'm so excited about this.'"
"September marks our first year officially opening as a B.C.-certified nature school."
Employing a holistic approach, Saplings Nature School students' learn to connect deeply to place, become active citizens, and engage inquisitively and critically in the world around them.
"Students are developing real-world connections, discovering their passions, while focusing on interpersonal relationships and emotional intelligence," explains Fraser.
She adds, "Learning is happening everywhere." The curriculum is both indoor and outdoor, made up of full days, where students learn to appreciate and care for themselves, one another, their community and environment through hands-on, student-centred and multi-age experiences.
"We take our students outside of the traditional four walls and provide relationship building opportunities with our local environment," says Fraser. "This allows them to learn with, in and from the living world around them, creating citizens who are community-based, and sustainability minded."
Four fun ways to learn (when you're a Sapling)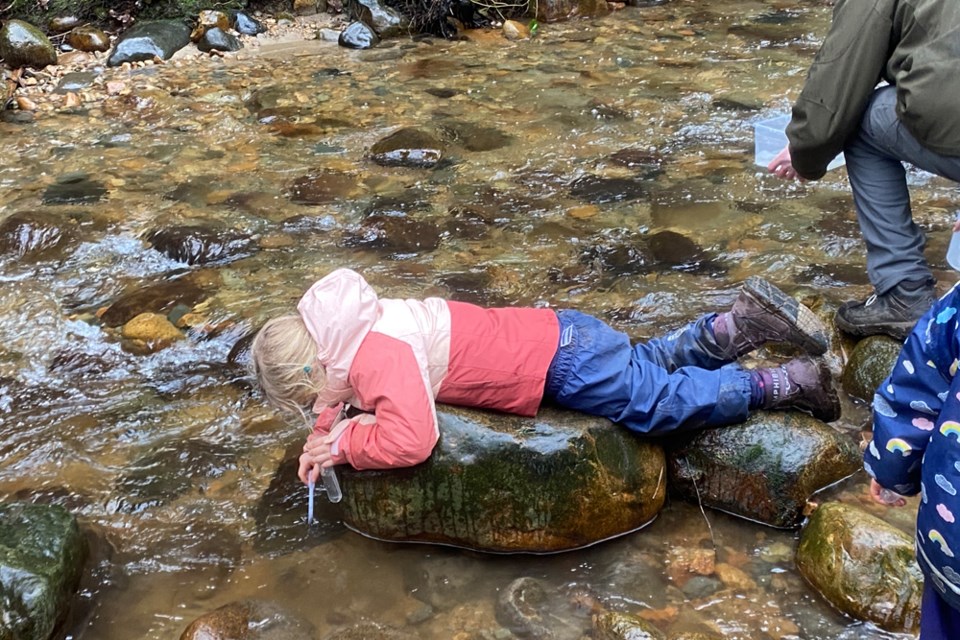 1. Ready for anything
Be ready to go no matter what you may get up to! You'll learn to be adaptable and responsive in the natural world and its many communities in your daily inquiries, both inside and out.
2. River science
Expect first-hand daily exploratory experiences about your environment and seek answers to your own questions. Explore your personal curiosities while at the same time gain awareness of your roles and responsibilities toward this planet and all its creatures.
3. Meeting a tree
Learning from all your neighbours is an important part of your immersive experience. You'll embrace and appreciate diversity in all its forms, from traditional usage of plants, to understanding the community that lies beneath, lives in, or resides nearby your daily entanglements.
4. Community building
Exploring indoor spaces helps you synthesize and showcase your learning. Through creating large, long-term projects, you'll build the important life skills of self-awareness, self-advocacy, question-posing, observation, research, thinking critically, and individual and group work.
"Saplings get to apply what they know to hands-on, memorable experiences," says Fraser. "The children are working on mapping the community using technology to make sure we have included all the streets and important points in our big community map."
"We're so excited to offer this opportunity at our nature-based school for families and give children this authentic learning experience," Fraser says. "We look forward to registering kids for the 2022 and 2023 school year, to learn outside in our beautiful environment."
For more information, visit saplingsnatureschool.ca.