Gift-giving should be a meaningful act, no matter what time of year, but especially during the holidays. Not to mention, it's particularly significant when your purchase positively impacts the community by supporting local businesses and creatives.
It's the perfect partnership: you, the yuletide spirit, and The Polygon Gallery's Holiday Shop, an annual tradition featuring Little Mountain's holiday pop-up on the gallery's main floor from November 16 to December 24, with a spotlight on Meet the Makers.
Floor-to-ceiling glass windows tease the eclectic inventory to outside onlookers, and the green and gold retro-inspired '70s shop decal signals a fun vibe among the interior's beautiful holiday decorations, bedecked by Bespoke Décor.
"We're very excited to host Natasha Neale's Little Mountain Shop Holiday Pop-Up and an expanded set of Meet the Maker events on weekends this year from 11 a.m. to 4 p.m.," says Asia Harvey, manager, guest services and retail operations for The Polygon Gallery.
"Little Mountain features an all-Canadian lineup of mostly local, women-lead, BIPOC vendors and creatives, and it's been a kind of go-to destination for sustainably-minded products for our clients."
Sought-after makers, guest vendors
An exceptional shopping experience awaits, plus interactive happenings like Ian Azariah's photobooth (think vintage four-pic strip) and immersive demos during Meet the Makers (eight in all), which feature:
Hello Aura, personalized polaroids of your aura, helping you understand the energy you're sharing with the world.
After a brief consult with poet Elliott Slinn, he'll compose a custom poem for you.
Sita Fine Jewelry, elegant gold bracelets permanently fused on your wrist.
Amara Blue, personalized charms for bracelets and necklaces.
Also appearing, Perennial Gatherings & Neets, unique holiday arrangements complemented by an illustrated original artwork, Neets, custom gift wrapping using traditional Japanese furoshiki fabric, artist LeLe Chan's exquisite custom calligraphy works, and LOA, sample their latest skin elixirs and products.
For maker's dates, see the comprehensive calendar of events.
There's no shortage of gift options to satisfy your holiday list, with Little Mountain Shop acting as host to 21 vendors. Additionally, make sure to check out The Polygon Bookstore (upper level).
"The Bookstore is an excellent space to buy special art and photo books," describes Harvey. "We're probably one of the best-kept secrets for art books in the city."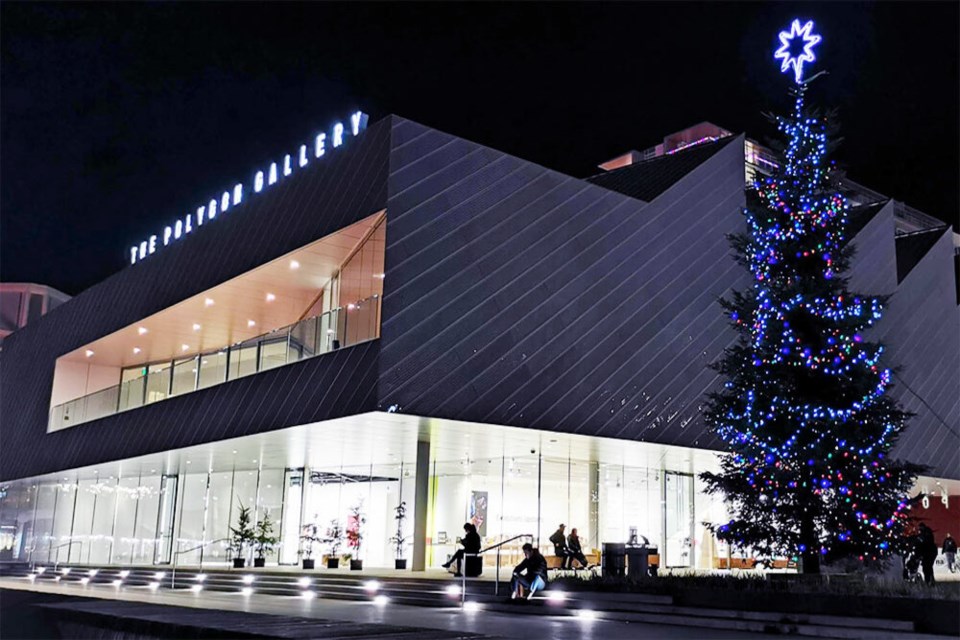 Your feel-good feeling will continue, knowing 100% of the not-for-profit retailer's proceeds support the gallery's exhibitions and education programs.
"We have a lot of amazing programs, like the Kids First art-making program, for example, so you're helping support programs like that and our exhibitions when you shop in the store," Harvey continues.
Two such exhibitions are on view at The Polygon throughout the holidays, which include: Home Sweet Home, a solo exhibition by Vancouver artist Rydel Cerezo (now until Jan. 9), and The Lind Prize 2022, the gallery's annual showcase of vital emerging artists from across B.C. (opening Dec. 10).
"Holidays are our favourite time of year," admits Harvey. "We love to create a welcoming space for our community to come together to get festive with us while we're supporting independent artist makers. It's something we're really excited to do again this year."
Harvey adds, "We want to acknowledge, too, that The Little Mountain Shop Holiday Pop-Up is made possible thanks to key sponsors, Local Practice Architecture + Design and the North Shore News."
For more information, visit thepolygon.ca.