This is reclamation and reconciliation in real-time – and it's likely a first for Vancouver, if not Canada.
The Squamish Nation's ongoing cultural revitalization will be personified at the upcoming 2023 Indigenous Partnerships Success Showcase (IPSS), when three members of a family from the nation hold a panel discussion entirely in the Sḵwx̱wú7mesh language.
Sponsored by TELUS, this historic discussion will include Squamish Hereditary Chief Ian Campbell alongside his aunt, Elder Vanessa Campbell and Chief Campbell's sister, Tsitsáyxemaat (Rebecca Duncan).
The trio will speak to the impacts of colonization and how Canadians across the nation can bridge the gap between Indigenous and non-Indigenous residents in both cultural and economic pursuits.
"We believe this will be a historic experience and we're certain this is the first time the Squamish language will be featured this way in a Canadian business conference," Chief Campbell, who also serves as chair of IPSS. "This is a very interesting, empowering and historic moment about cultural reclamation for our people and all Indigenous peoples."
Showcase attendees will be handed headsets as they enter the hall for the panel, through which they will hear a real-time English translation.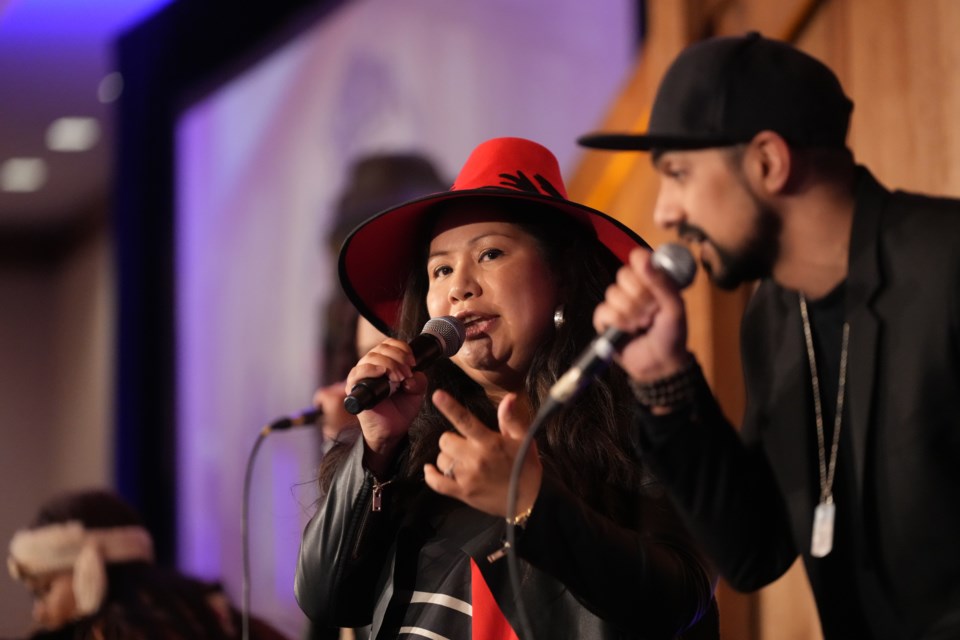 Elder Vanessa Campbell will handle the real-time English interpretation during the panel. She is among a handful of Squamish Nation members from her generation who have worked to revitalize the Sḵwx̱wú7mesh language. She was an associate editor of the Skwx̱wú7mesh-English Dictionary and continues to work as an advisor to the Squamish Language Program. Encore Canada will handle the technical aspects of the translation, providing the headphones and other technology.
Tsitsáyxemaat has been involved in the innovative language revitalization program over the last decade, developing curriculum for and teaching the language in an immersion program at the nation's K-7 on-reserve school.
Together, Chief Campbell and Tsitsáyxemaat will speak about the impact of colonization and residential schools on the nation's culture and language, in addition to the revitalization efforts underway and how it will impact the next generation.
They will highlight the importance of the nation's community and history, their relationship with the land and each other and how economic reconciliation goes hand-in-hand with language and cultural revitalization.
"Holding a panel in our language is both reclaiming and sharing our rich culture," says Chief Campbell, who also serves as chair of IPSS. "I think it's well known that over the last decade, the Squamish Nation has been revitalizing our economy, pursuing developments and businesses that are creating prosperity and good jobs for our people, often in partnership. Perhaps it is not as well known that we have simultaneously been revitalizing our culture, including the Sḵwx̱wú7mesh language. How we do business is grounded in our culture and cannot be disentangled from it."
Now in its fourth year, IPSS runs June 1 and 2 at the Vancouver Convention Centre.
The conference highlights the critical role of establishing cultural recognition and respect prior to achieving truly successful partnerships in business and beyond.
The showcase will include dozens of speakers and cultural performers, with keynote speeches, panel discussions and breakaway sessions planned over the two-day event.
Speakers will address a mix of urban and rural topics, including salmon farming, mining, environmental stewardship, youth leadership, urban development, export and trade, capitalizing Indigenous business, healthcare, Treaty 8, the digital economy and more.
Tickets for the 2023 Indigenous Partnerships Success Showcase are available here.