President, and self-proclaimed Door Diva, Colleen Mooney was born and raised on the North Shore and "loves doing business in [her] own community." She presently lives in the Blueridge area with her teenage son.
Well-known and respected for both customer and staff relationships, the Canadian Doormaster president tells us proudly that after thirty years in business, "we still have our same key staff answering the phones helping customers find solutions to their needs. We don't use automated systems, and one of our knowledgeable daytime staff is on call 24/7/365 for customer emergencies."
Owned by Hans Hart, the business started out of his home in North Vancouver. Hart got the business off the ground while raising a family with just one truck and some tools. The company eventually grew to have an office space in Burnaby, as well as one on the Sunshine Coast.
Always up to date on garage door trends, Canadian Doormaster carries the latest makes and models by Clopay garage doors. The company sells, services, and installs residential garage doors, driveway gates, commercial overhead and rolling doors and gates, plus associated operators, and access controls.
Thanks to so many home renovation television shows currently on air, we all possess increased awareness surrounding how curb appeal is a key factor in selling one's home. In this realm, you should never underestimate the power of an upgraded garage door in helping your home stand out.
Doormaster is an accredited business through the Institute of Door Dealer Education and Accreditation, and many of their staff hold certifications through the Canadian Door Institute. These credentials provide customers with peace of mind knowing the products they are purchasing are made and installed with integrity and the highest level of professionalism.
With the COVID-19 pandemic impacting businesses globally, Mooney has learned to roll with issues she never anticipated.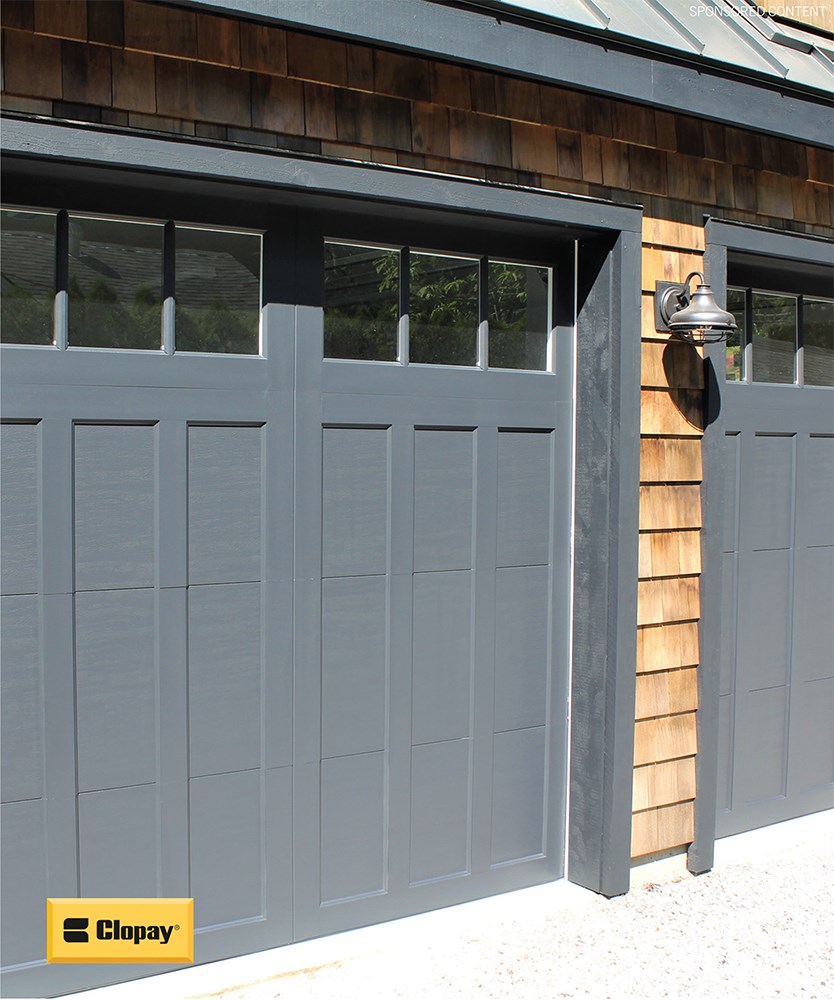 "During the beginning stages of the pandemic, our industry was declared essential. We do a great deal of work with the fire departments, police, and other city and district buildings across the Lower Mainland," she explains. We followed the strictest COVID safety regime, even suiting up in Hazmat suits to visit some of the facilities! As the safety restrictions were lifted, we were faced with new challenges.
"The lead time on products extended to lengths that were previously unheard of. A special-order door used to be a three-week maximum turnaround time from the factory. At its worst, our lead time was over 22 weeks. We weren't able to get many of our key parts, and we had to improvise a lot. Lead times are still not great, but they have come down."
"We have used Canadian Doormaster as a supplier for several of our custom home projects over the past few years. They consistently provide great products, installations and ongoing service as required," says a spokesperson for Averra Developments.
Chiming in with another endorsement is customer Ross, who says "I had Doormaster install an automatic door on my older stand-alone garage approximately ten years ago. It has worked efficiently without ever needing servicing ever since. I do not hesitate in recommending them."
Says Mooney, "I am honoured to extend our Blueridge Promotion to all North and West Vancouver for the month of November. You must mention "North Shore News" to get the discount.
Here's how it works: Mention 'North Shore News' and receive a discounted residential garage door preventative maintenance rate of $175 for the first door, plus $50 for any additional garage doors on site. Please note, tax is not included.
Note: The standard pricing for the first door is $200, plus $67.50 additional doors. Preventative maintenance includes llubrication, checking of all door components for wear and tear, tightening of nuts and bolts, alignment, and other minor adjustments. Any parts and lubricants required will be at an additional fee for materials and labour. Discount pricing is applicable on monthly pre-scheduled days in the area only.
To book or receive further information contact Colleen Mooney at Colleen@canadiandoormaster.com, call 604-421-3603, or visit www.canadiandoormaster.com.