For most people looking to relax, convenience is an essential element when considering where or how to get pampered. These days, however, people have busier schedules than ever before. Therefore, convenience, customization and quality are vital requirements when looking to book a spa, salon, or brow service.
At Ritual Spa, owner Dave Gera offers services to meet all your needs in a relaxing environment, conveniently under one roof at two locations: The Amazing Brentwood in Burnaby and Highstreet Shopping Centre in Abbotsford.
Their roots are strong, with beginnings in Paris Studio brow bar at Burnaby's Lougheed Mall, one of the mall's longest standing services, open for more than 30 years. Gera says, "We are the pioneers that introduced the brow bar business to malls in British Columbia. We brought convenience to customers while shopping and running errands, so that we don't have to be the destination spot."
Their stand-alone sister company, Premier Brow Bar, located in Coquitlam Centre and Metropolis at Metrotown, also provides services inside Ritual Spa's Burnaby and Abbotsford locations. At Premier Brow Bar in Metrotown, they now have the Soprano ICE Platinum machine for laser hair removal. It is top of the line and the best laser hair removal treatment, virtually painless as well.
Gera has put his clients' needs at the forefront while crafting his services. For this reason he established a fusion between a salon, spa and brow bar, where clients can receive a holistic approach to beauty and relaxation all under one roof. At Ritual Spa Burnaby and Abbotsford, they have luxurious packages and monthly discounts to help clients cater to all their beauty and wellness needs.
"We prioritize our customer's convenience," Gera says, "We have a self-serve check-in machine; you can reserve your spot, so you can run errands at the mall. We will text you when your spot is available, and we will even hold your spot for up to 20 minutes. Customers love this technology, because it's so easy and convenient."
Gera explains, "We have a very loyal customer base, they will visit us at our multiple mall locations – because they know that they will get the same quality of service no matter which location they go to."
It's clear their treatments and service meet their customer's expectations, especially because Ritual's repeat business reflects their customer satisfaction. At one time, they tracked their loyal customers and found out that they provided over 85,000 individual services to 19,000-plus clients at just one location.
"Those numbers are a good way to measure how we have built trust over the years with our customers," Gera says.
"When you come to Ritual Spa, we're not just about pampering—we're more than that— we're therapeutic, too. We use the latest technology in spa services, so if somebody requires a targeted action for something, we have a lot of treatments that could fit according to whatever our customer's specific need."
Three spa packages to help de-stress, hydrate and rejuvenate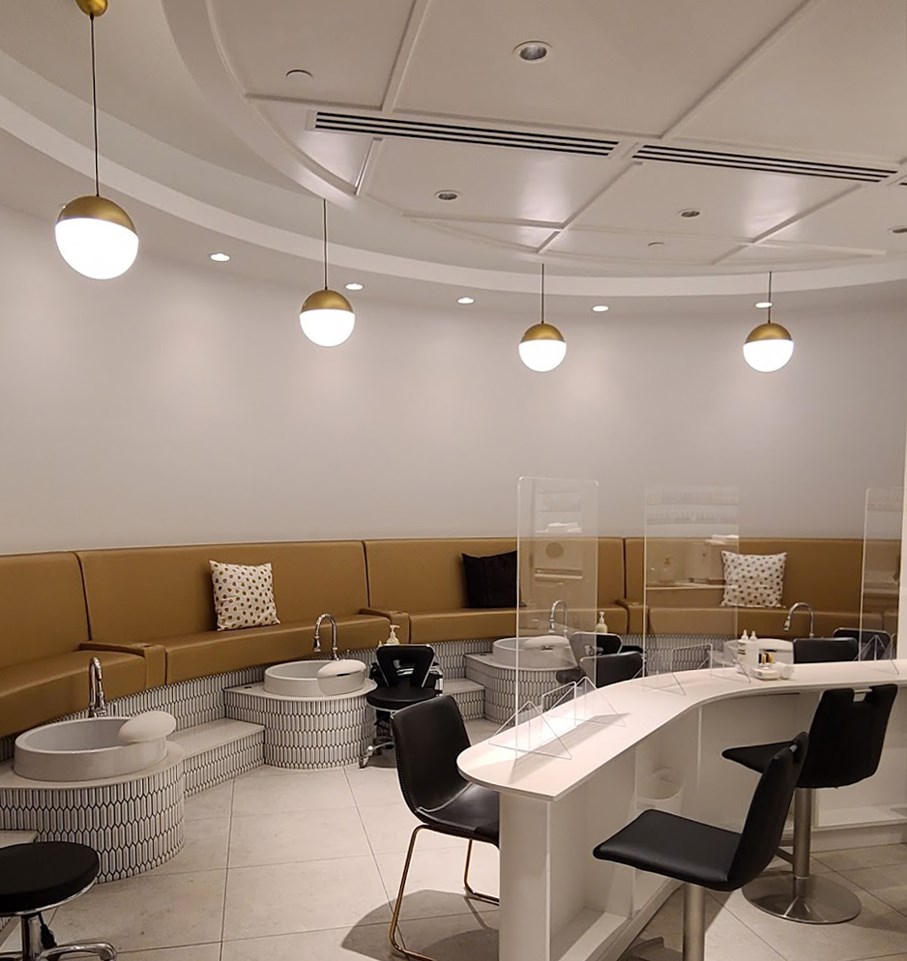 Walk into Ritual Spa and it will awaken all five senses, according to Gera. Scent is a big proponent of creating a lasting memory, and they capitalize on this element to ensure your experience is memorable and unique.
"We have three treatment rooms and seating for eight people who could get a pedicure or manicure at the same time," says Gera.
"We also offer couple massages and couple treatments, with a shower attached to the room (at Brentwood); at Abbotsford, we have a Vichy shower, which induces relaxation."
Three standout packages that will help you de-stress as well as nourish your skin, range from facials to head-to-toe treatments.
1. Tranquil Tuesday: Full body scrub and 50-minute massage combo. Rid dead skin cells and improve skin hydration with this treatment that will polish and smooth your skin to a healthy glow, and rejuvenate your muscles. Receive $20 off (limited appointments).
2. Wax off Wednesdays: Take off unwanted hair and get 10% off when you book two or more body wax services at The Amazing Brentwood location. If you're looking for a little primping after your wax, the spa has two hairdressers for some on-trend styling.
3. #Selfcare Sundays: If you dedicate some wellness for yourself on the weekend, this hydration facial and 50-minute massage combo will hit the spot. Receive $20 off (limited appointments). "People usually experience this treatment in small groups, like sisters, mom's and daughters, or with two or more friends," says Gera. "It's one of our most popular packages."
High-quality spa and hair products
Ritual Spa uses Yon-Ka and G.M. Collin for their spa treatments, Canadian brands that originated in France, and Kevin.Murphy hair products, which combine high-tech scientific knowledge with the best natural ingredients available.
"What we offer isn't available at very many places, collectively," says Gera. "We put everything together under one roof for people, for their convenience and at reasonable prices. We believe that matters."
For more information about Ritual Spa and their services, visit ritualspa.ca