It may be a called the Tree House but don't expect this one to come with a rope ladder and trap door.
West Vancouver council has given approval to developer British Pacific Properties for a new 12-storey condo tower off Cypress Bowl Road.
When completed, the "tree house" project will include 37 market condos on Lot 1 of the long-approved Rodgers Creek Area Plan 6.
Much was made by councillors about the design of the project by Seattle-based Olson Kundig, and Kasian Architecture
The structure consists of two "totems" 12- and 11-storeys tall, with modular units jutting out and a two-storey connecting bridge. The design is intended to blend in with the surrounding natural landscape, rather than dominate it.
"I am partial to the architecture. I think it's very thoughtful. I think it's potentially quite iconic," Coun. Craig Cameron said.
Coun. Nora Gambioli said she ran the designs by her 14-year-old son who assured her the building was indeed "sick" and "dope" (both good things in the context).
Jason Wexler, vice-president of design and development for the company, said this will likely be a preview of what's to come for the remaining developments in the British Properties.
 Still in the planning stages is Cypress Village, a "mountain village" on the slopes of Hollyburn but it won't have the alpine resort look, like Whistler, mimicking European-style steep roofs.
Instead, the developer will be looking for more designs inspired by West Coast Modernism as seen in the Tree House.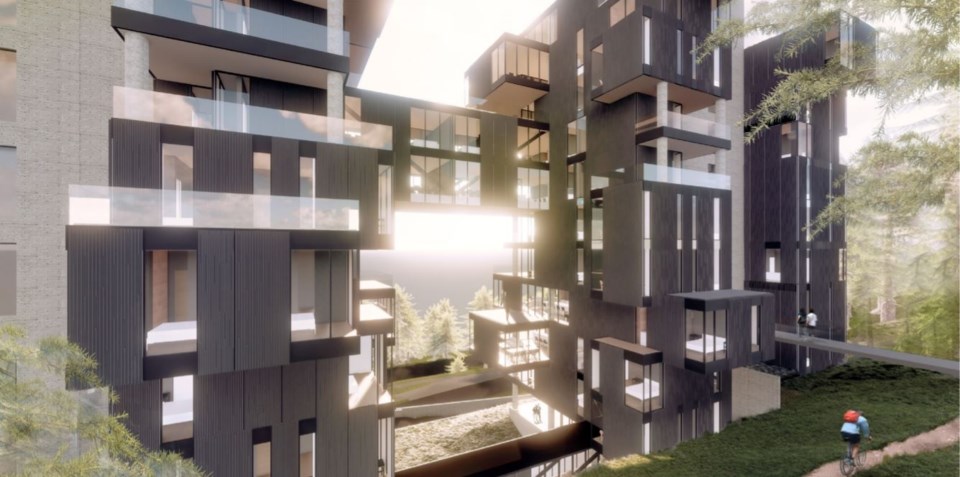 "We thought that we should take a look at what some of the West Vancouver masters like Erikson, Thom and Pratt were doing, and try to develop an architecture that was truly indigenous to our climate, our environment," Wexler said. "I think it's probably going to be a theme moving forward."
Members of council were under no illusion that the Tree House would do anything to alleviate the affordable housing crisis, but they did agree it would fill a need in giving wealthy downsizers from the British Properties a way to stay in the community.
"There is a full spectrum of residents' needs that need to be met, one of which is our downsizers," said Coun. Mary-Ann Booth, adding she hopes to see the units marketed and sold locally. "The market is not the offshore buyer. That's not what our houses are for. That market should be looking at commercial real estate, not residential real estate, in my mind."