Dramatic changes in the real estate market have shifted areas of the North Shore that were multiple-offer territory into a buyer's arena.
What went up in a spectacular rise in the run-up to the real estate peak of 2016 is now on its way back down. The most dramatic changes have been in the market for detached homes, particularly for the priciest mansions in West Vancouver.
A combination of increases to the foreign buyers' tax, and new speculation and school tax on luxury properties combined with changes in international currency rates and rules mean "foreign buyers have almost disappeared," said Satnam Sidhu, with Re/max Crest Realty in North Vancouver.
There are still homes selling at the high end of the market, but "not like they used to be," said Sidhu.
Some homeowners who thought they could sell their houses for $3 million and cash out and have discovered they can't, are deciding to stay put, he said.
Those who gambled on a market continuing to rise are taking a financial hit, he said. "If you bought a home in 2016 and you have to sell it now, you're going to lose money."
Sidhu said he has one home listed in Carisbrooke for $1.65 million across the street from where a vacant lot sold for $2.35 million after multiple offers in 2016.
According to statistics released last week by BC Assessment, an average single-family home in West Vancouver fell 12 per cent in value in 12 months, from just under $3.2 million in July 2017 to $2.8 million in July 2018.
But the change varied among neighbourhoods.
Expensive properties in Altamont saw the biggest decline – 17 per cent – in assessed value with homes valued at more than $6 million falling about $1 million, according to data analyzed by Landcor Data Corp. Single-family homes in the British Properties were down about 13 per cent – to an average of $3.9 million. Houses in tony West Bay were down 12.5 per cent while homes in Chartwell, Ambleside and Dundarave were down between nine and 10 per cent in assessed value.
Assessed values of homes in North Vancouver fell at a slower pace.
Again, detached houses at the higher end of the market dropped more, with homes in Edgemont and Delbrook falling about seven per cent. Elsewhere, in areas like Lynn Valley, Grand Boulevard and Capilano, values were down about two and three per cent.
In Lynnmour, house prices even went up by six per cent – to an average of $1.6 million.
Realtors say the market has continued to fall since the July assessment date, however.
Brent Eilers of Remax Masters Realty said in some high-end West Vancouver neighbourhoods, houses have sold in the past few months for $1 million under their assessed values.
The number of sales in both North and West Vancouver "are at the lowest levels we've seen since the early 1980s," said Eilers.
Assessed values for condos, on the other hand, rose in the last year in all three municipalities. Condos in Lower and Central Lonsdale, the Marine Drive corridor and Lynn Valley were all up by between eight and 10 per cent. The average value of condos in Lynnmour jumped 20 per cent from just under $580,000 to $700,000.
At the higher end of the market, the average value of condos in Roche Point and Ambleside climbed 17 per cent.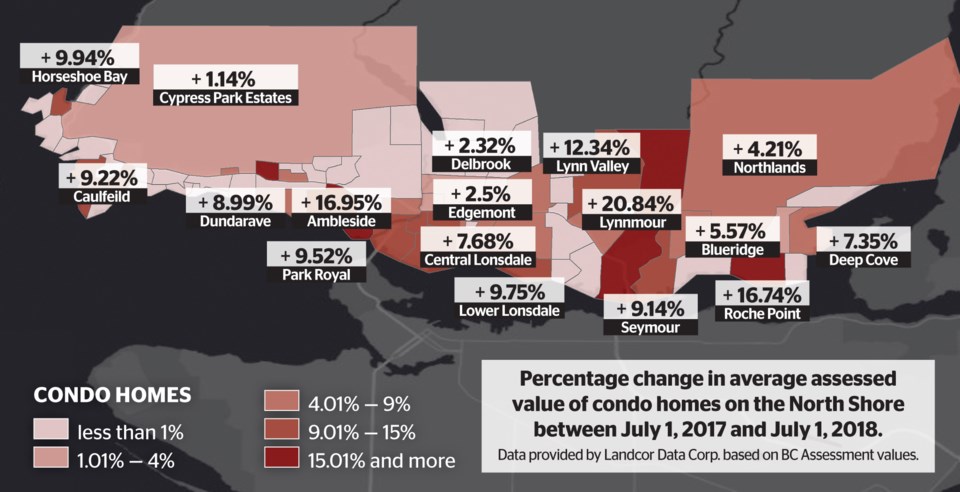 But both Sidhu and Eilers say that since July, the condo market has also been falling on the North Shore.
In some cases, people bought condo pre-sales at the peak of the market, said Sidhu, hoping to flip the sale contract for a profit. "Now they're trying to get out of the sale."
One impact of the falling real estate assessments is more homeowners on the North Shore will qualify for the full homeowners grant this year.
According to information provided by Landcor, using BC Assessment figures, 36,190 owners will qualify for the full grant this year – 3,484 more than qualified last year.
Property owners in parts of West Vancouver can still expect to pay significant school tax this year based on their assessments.