A proposal to replace 61 apartments and townhomes with a 411-unit development at Emery Place is headed to public hearing following an unusually contentious District of North Vancouver council meeting Monday.
Council voted 4-3 to give the project first reading as Mayor Richard Walton explained that Mosaic's proposal conforms with the district's official community plan.
"This is not a process that just happened overnight," he said, elucidating the seven years of consultation that preceded the OCP.
Walton also addressed criticism about the density of Mosaic's proposal, which includes four buildings between five and 12 storeys. It's impossible to add more affordable rental without also adding height and density, Walton said.
The mayor stopped short of endorsing the proposal, only saying: "My mind is open."
In voting against the project, Coun. Jim Hanson said his vote was less about the development and more about the families displaced by the development.
"I don't believe it's acceptable to come up with a development plan that casts them asunder," he said.
Hanson also questioned the intent of the district's OCP.
"Did it really envision that we would disband these historic North Van communities?" he asked.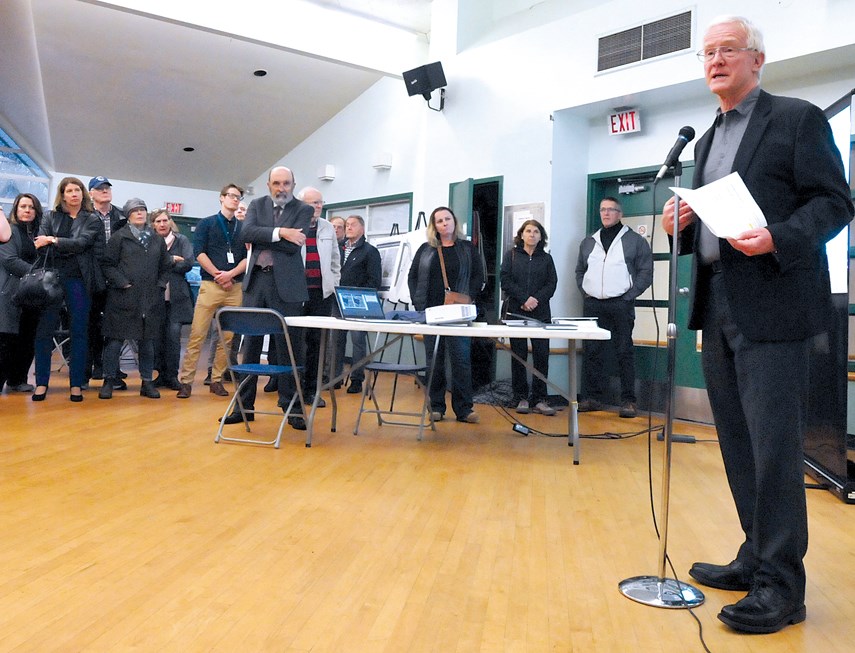 In order to create a more inclusive community council needs to add density, countered Coun. Robin Hicks, who supported the project.
Failing to provide new housing will "drive a nail in the coffin" in the hopes of young people hoping to live in the district, Hicks said.
"If we don't allow more appropriate development on the North Shore now, such as this proposal, we're continuing to exclude many more young families."
Coun. Mathew Bond focused his comments on the "critical state" of affordable housing on the North Shore.
Bond noted the relative controversy inherent in each method council might use to create affordable housing, including raising taxes, density bonusing, and using district-owned lots in single-family neighbourhoods for future development.
Council has struggled to find a consensus on: "if, where, and how to provide affordable housing," Bond said before voting in favour of sending the project to public hearing.
After noting district policy calling for the retention of older rental homes, Coun. Lisa Muri called for help from senior levels of government.
"We can't simply leave it up to the private sector . . . the units will never be enough, the land will never be given up and so far the money (in the district's affordable housing fund) has resulted in a total of $110,000 earmarked to buy land in town centres. At that rate we might be able to afford a front door."
Coun. Roger Bassam voted to send the project to a public hearing, only stating that council needed to hear from a greater cross-section of concerned parties.
Coun. Doug MacKay-Dunn voted against advancing the development, suggesting the project's approval would result in "too many losers."
Emery Village's residents are "part of our family," MacKay-Dunn said. "I do not like to evict my family members." MacKay-Dunn also lauded his colleagues for their passion and eloquence.
"We may disagree but we're not disagreeable -- well, maybe not all the time."
Following council's split vote, Muri attempted to put forth a motion involving temporary modular housing in Maplewood. Walton said her motion was out of order but that district staff could report back on the idea, prompting Muri to become irate. "Why do you not want to try to find solutions for people that are being displaced, Mayor Walton?" she shouted.
Muri apologized later in the meeting.
Mosaic's development won an endorsement from the Community Housing Action Committee, with chairman Don Peters lauding the proposed 84 rental units.
Those units include 23 units to be rented at 85 per cent of market rates and 19 units to be rented at 75 per cent.
For a two-bedroom unit, the discounted rates would represent an increase of $371 or $594 per month over current rents, based on 2017 market rental figures.
Those 42 units will remain rental in perpetuity, noted Mosaic senior vice-president of development Luciano Zago.
"Currently, we have 47 households to relocate," Zago said, explaining that Mosaic has looked as far afield as White Rock at the request of the tenants.
Escalating rents would create an untenable situation for Emery's residents, according to tenant Terry Wagner.
"We all work for wages paid in scale within our employment and are not in a position to vote ourselves an increase," he said. Advancing the project will spell: "the death of our community."
The project's advancement was good news for resident Eric Miura, who noted previous projects that resulted in tenant displacement.
"From that displacement we've also seen a greater diversity of people who call Lynn Valley home," he said.
Graham Tutti concurred, noting the commuting employees who would like to live in North Vancouver. "There's a distinct lack of skilled labour in North Vancouver because of the lack of housing," he said.
The proposal also includes an $11.9-million community amenity contribution.