Anyone who uses a wrench or a welding torch at work stands to be among those most impacted by skyrocketing industrial assessments on the North Shore. While increases for single-family residential property cooled in the past year, assessments for business and industrial land are headed into the stratosphere.
In the District of North Vancouver, assessments for light industrial property are up an average of almost 51 per cent this year, according to BC Assessment. It's not much different in the City of North Vancouver, where light industrial is up almost 39 per cent.
Other business property is also up significantly – values of commercial property in the district rose an average of almost 31 per cent in the district and 16 per cent in the city. Even in West Vancouver, the value of business properties rose by an average of almost 14 per cent.
Similar trends are seen across urban areas of the Lower Mainland. But the increases in North Vancouver have far outstripped those in areas like the City of Vancouver, Burnaby, New Westminster and Coquitlam.
"It's absolutely blown up in the past year," said Ross Forman, a commercial Realtor with Remax in North Vancouver.
Forman said the underlying issue is a shrinking supply of industrial land.
The cascading land swap between the port authority and Darwin Properties set in motion by development of the new G3 grain terminal had the effect of knocking out a number of small industrial properties. "That definitely tightened the market," said Forman.
Close to 40 industrial tenants currently occupying land slated for redevelopment as a condominium tower on Hunter Street are also on the hunt for space that's in short supply.
"They're out looking right now and there's nowhere to put them," said Forman.
"If you're a tenant and you came to me looking for 2,000 square feet of warehouse space, two years ago I could have showed you six or seven units," said Forman. "Today if I worked very hard at it I'd be lucky to find one."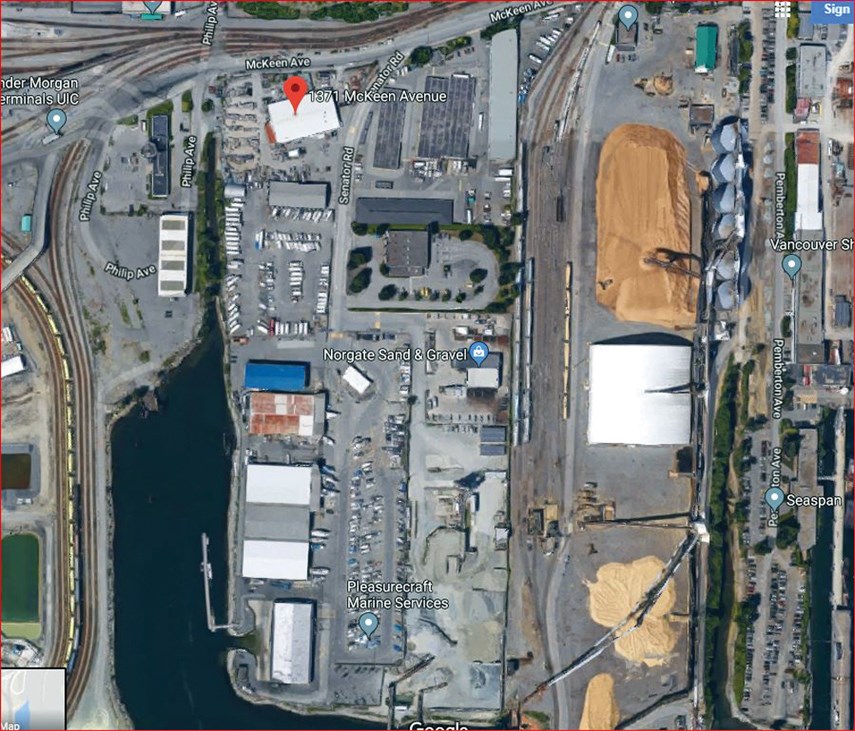 Lack of industrial land has pushed prices – for those who can afford it – into the stratosphere. One massive deal completed last year saw 27 acres of waterfront industrial property on McKeen Avenue sell to Wesbild Holdings Ltd. for $115 million – over three times its previously assessed value.
As purchase prices rise, rental rates are also going up, said Forman. Tenants who might have been paying $11 per square foot in the past are being asked to renew their leases at $18 a square foot, he said. The end result, he said, is "You've got a bunch of people who can't afford to stay here."
That worries District of North Vancouver Coun. Lisa Muri, who has been vocal about the need to retain industrial land. "Small mom and pop shops aren't able to stay anymore," she said. "The industrial space that's been lost is going to impact our community hugely."
Muri said some of the plans to convert light industrial areas into condo towers were drawn up before politicians knew about changes to port and industrial lands.
"We need places for small businesses to invest – the dirty businesses," she said. "They're pretty important. Does everyone want to drive to Burnaby to get their
car fixed?"
"I think the district needs to take a pause and recognize the issues and challenges this community is facing."
"Definitely there's a shortage of industrial space," said Patrick Stafford-Smith, chief executive officer for the North Vancouver Chamber of Commerce. "We need to protect that."
Similar pressures are evident in the rest of the commercial market on the North Shore, said Terry Thies, a commercial Realtor with Avison Young.
"We've virtually run out of commercial zoned land to build on," he said.
"Go up and down Lonsdale and try to find a vacancy," said Forman. "It's not like it was two years ago. All the good stuff is gone."