The American architect who came up with the word "cohousing" is questioning the Vancouver-born version of the concept dubbed "cohousing lite."
"I don't want it to be called cohousing, for one thing. Since I coined the word, I don't want it to get adulterated," Charles Durrett told the Courier. "They can call it cohousing-inspired or whatever, but I'd rather they call it something else altogether because as soon as you call it cohousing-inspired or cohousing lite, then it gets truncated to cohousing and then you end up with more not truth in advertising."
In the traditional form of cohousing, which is a collaborative style of living, a group of like-minded people find and buy land, work together to design a development, and steer the project through the complicated rezoning and construction process.
Cohousing developments feature individual units that members purchase, as well as large, shared indoor and outdoor spaces. Residents hold regular communal meals, make decisions by consensus and have responsibilities around the building. Fostering social relationships throughout the process, from the design to the live-in stage, and making sure the architectural design encourages interaction, are key elements, Durrett said.
Vancouver's first cohousing complex, which he helped design, opened in East Vancouver 2016, while another one in Riley Park is expected to open in 2019.
On July 17, Vancouver council approved rezoning for the first project in the city that the founders describe as "cohousing lite."
Cohousing lite
The plan is to build a 12-unit, three-and-a-half-storey complex with about 2,000 square feet of common space on a site on Main Street at Ontario Place. Our Urban Village, the group behind the project, formed in 2015 and currently includes eight member households. They dreamed up the "lite" version of the concept in an attempt to streamline and speed up the process by having a developer  — in this case Tomo Spaces Inc. — take on the development details, the approval process and construction plans.
Our Urban Village picked Tomo, which stands for "together more," as the developer because members see the firm as socially progressive.
Although Tomo has control over the design and plans for the building, there was some consultation. During the design phase, Tomo held occasional workshops with group members on key matters such as anticipated uses for the common space.
Our Urban Village also formed a site and design committee to give input as requested, and group members have met regularly for social and planning events to help gel the community. Their main requests for their complex were that it feature open-concept units, lots of natural light and nine-foot ceilings.
While Tomo owns the land, Our Urban Village will take over ownership once the building is finished and function like a traditional cohousing complex.
Part of the rationale behind their decision to modify cohousing was that some cohousing groups fall apart before a project is realized because it involves a years-long commitment, a complicated development process and, in Vancouver's case, finding land in an expensive market.
But Durrett maintains skipping any part of the process won't yield proper results. He doesn't think groups should give design control to a developer and insists all members should be personally involved from start to finish.
"The most important component in a cohousing community is the participation in designing and developing a project," he said. "Basically, groups of people will take risks that no developer will ever take."
Durrett also said the hands-on process will weed people out who aren't meant for cohousing, help those who are committed to figure out how to get along, and it will reveal what they'll have to deal with once they move in.
Durrett is not convinced a tweaked version of cohousing will result in a faster process, and he said dozens of cohousing lite projects would have to be completed and evaluated to prove that to be true.
"My overarching feeling is that there are no magic bullets. There's no need to take shortcuts because they simply take longer and there's no reason to take shortcuts because you don't get the same value," he said.
"It's like saying, 'I'm going to do organic gardening but I'm just going to use some chemicals.' There's too much to be gained by participation to not do it… [Shortcuts] might get a quicker result in one or two cases… It'll never get a better result."
Traditional cohousing
Durrett, whose firm McCamant and Durrett Architects focuses on cohousing, lives in Nevada City, California.
He brought the concept of cohousing from Europe to North America decades ago. In 1988, Durrett and Kathryn McCamant introduced the idea through the book Cohousing: A Contemporary Approach to Housing Ourselves. More recently, they published Creating Cohousing: Building Sustainable Communities.
Cohousing, Durrett explained, originated in Denmark where it's called "Bofaelleskaber."
"I didn't think Bofaelleskaber was going to work well in the USA," he said. "One day, when I was living in Denmark, the Danish government called me up and said, 'Chuck, we're translating an article about Bofaelleskaber tomorrow, so we need a word tomorrow' so I spent the evening coming up with a word."
He's lived in three cohousing communities over the past 25 years and has been involved in helping build 55, including five in Canada. Among them is Vancouver Cohousing on East 33rd Avenue, which includes 6,200 square feet of shared space — a size that's nearly impossible to re-produce in Vancouver these days given the high price of land.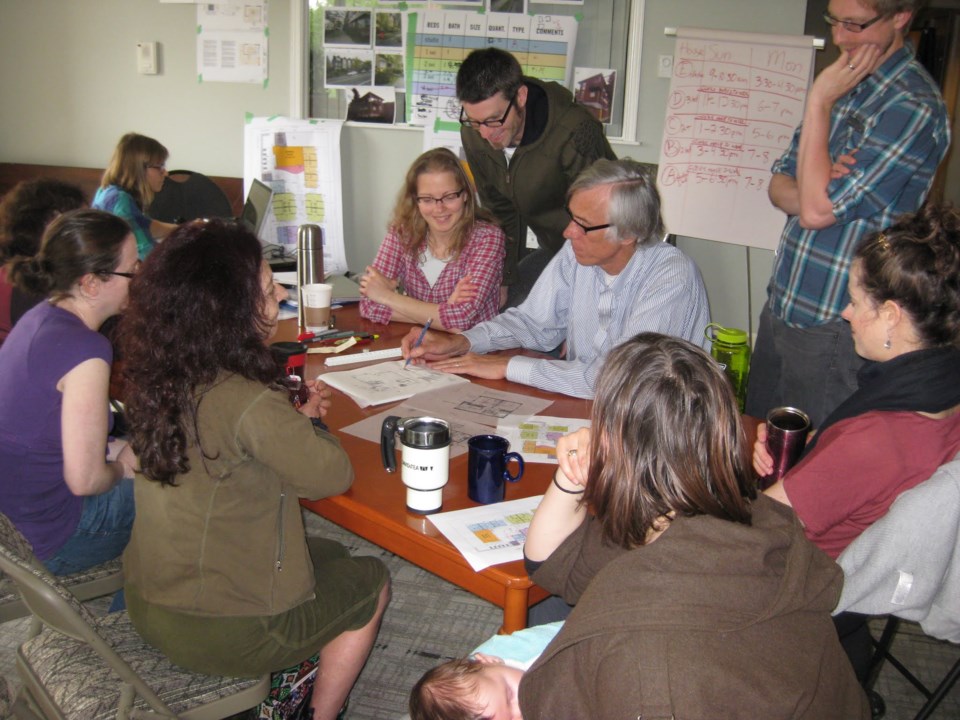 Durrett was involved in several workshops with members of Vancouver Cohousing from which all the preliminary designs were produced. They were then handed over to a local architect who did the working drawings.
During the workshops, numerous details, such as reducing the number of parking places, were nailed down. 
Durrett maintains the design details that are developed and the relationships that are formed through a hands-on process with the entire cohousing group helps create the foundation for, and the culture for, how the complex will function once everyone moves in. That includes how residents get along and how much time is spent in shared spaces, especially after the honeymoon phase wears off.
"My cohousing community has about 450 people-hours a week and I'm sure it's pretty similar in Vancouver Cohousing because it was a very hands-on design," he said. "Even a badly designed cohousing has about 100 people-hours and in non-cohousing [development] it's 50 people hours a week," he said.
The night before speaking to the Courier, Durrett said his cohousing complex held a dinner with about 50 members in attendance, followed by a game night and music in the common house, after which people played pool until midnight.
"There's a real heartbeat there and it's partially because all these people knew each other quite well when they moved in. They're a community when they move in. That's the big difference — what participation brings to the table. One of the many big differences," he said.
Durrett doesn't believe a design committee is as effective. He also suspects it would take longer because of the back-and-forth.
"It just adds another step — the notion you're going to take the whole group's concerns, give it to a design committee and they're going to translate it. Because when they translate it, they're going to have forgotten some stuff. Anyway, I'm very curious to see how it turns out," he said.
Durrett also thinks the idea comes from a place of mistrust based on a perception that involving everyone will make the process too long.
"It never works for some people in the group to think that they're protecting the interests of others in the group. Every time that happens, it makes everything a lot more conservative…," he said.
"Basically, you're precluding possibilities. … You never know where the good ideas are going to come from. I can tell you, because I've designed 55 cohousing now, that that meek and mild, quiet voice in the corner, who never says anything, sometimes comes up with a watershed [idea]. They would never, ever be on the design committee because [they think they] don't have enough confidence or [they're] not that hip to design and these other guys have been reading all the magazines and they know enough to be dangerous. But the reality is there are a lot of quiet voices that bring a lot of wisdom to the table — real values, real experiences and I want to hear from them. They get things done."
The future
Despite his reservations, Durrett said he hopes "for the best" for cohousing lite, although he wondered how success would be measured.
In fact, Our Urban Village and the developer plan to continue their relationship beyond build-out. They're working with the organization Happy City, led by Charles Montgomery who wrote the 2013 book Happy City, Transforming Our Lives Through Urban Design. Happy City will track how the community functions for a couple years after move-in, including interviewing members and conducting focus groups to see what's working, what's not working and what can be tweaked.
Durrett, meanwhile, remains concerned about how the project evolved.
"If they're hands off, they're not going to get what they want. The way to mold the clay is to have your hand on the clay. So we'll see if they're happy, semi-happy, unhappy… it's going to be somewhere along there," he said.
@naoibh