Taking shape in North Vancouver's desirable Central Lonsdale is a much-needed new development – a dual-tower, purpose-built rental complex named The Royals.
Created by award-winning Chard Development, The Royals comprises a renovated 16-storey tower that has been taken down to its shell and rebuilt with modern renters in mind, along with a brand-new 23-storey tower offering incredible amenities.
Byron Chard, president and CEO of Chard Development, says the addition of a new tower on the same site maximizes the supply of rental units while minimizing the environmental and neighbourhood impact.
"Tower 1, our 16-storey renovated building, presents a great opportunity for tenants as the suites are larger than you'd typically find in a new building," says Chard. "With Tower 2, we saw an opportunity to do an infill development on the same site, creating an additional 152 units as well as our amenity spaces on the penthouse floor."
The Royals is 100 per cent pet-friendly and is designed to offer flexible choice for all renter groups, from singles to families. Between the two towers, it has a total of 256 rental units ranging from 480-square-foot studios through to three bedrooms plus den at 1,318 square feet, all of which include in-suite laundry facilities. What's more, all homes have private outdoor spaces ranging from 33-square-foot balconies all the way to a 571-square-foot terrace.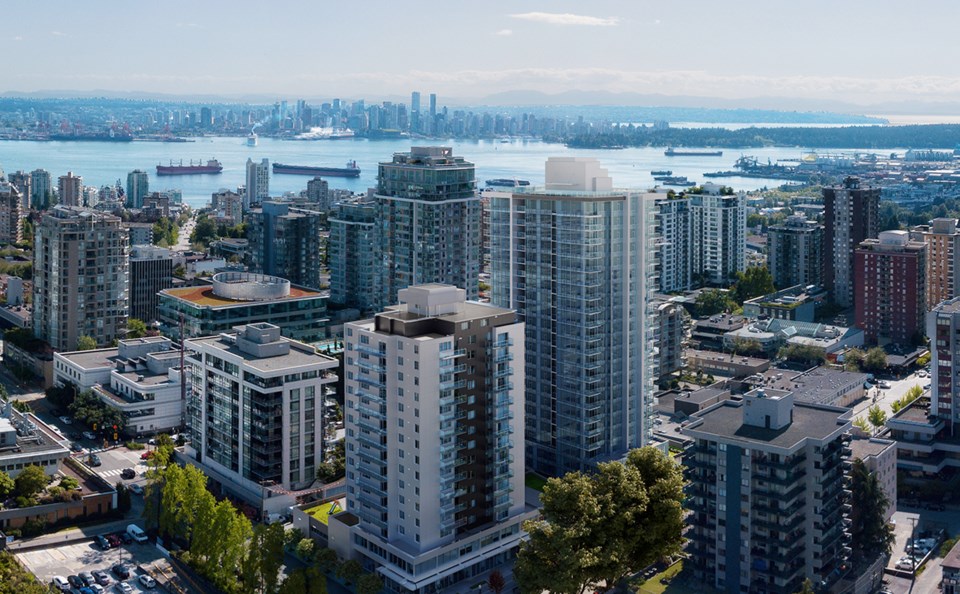 Chard says the current market is in desperate need of new purpose-built rentals, of which there are very few across Metro Vancouver. "There's a security to purpose-built rental housing that you don't get with secondary condo rentals," he explains. "This security aspect, as well as the professional management of the building, makes for a much better experience as a renter. In today's environment with the pandemic, security and flexible housing choice are even more important."
Residents of both towers will be greeted by beautifully designed foyers and elevator lobbies with wood-slat feature walls and signature light fixtures. Inside the units, the interior design is soft and neutral, keeping the focus on the amazing views. The kitchens have elegant white cabinetry, chrome faucets, GE and Haier stainless-steel appliances and quartz-composite counters, which are echoed in the bathrooms. Warm-toned vinyl plank flooring throughout will complement anybody's furniture, says Alissa Foss, interior designer at Proscenium Architecture + Interiors who designed the project. "We chose a design aesthetic with neutral tones that will suit all renters and allow them to bring their own style," adds Foss.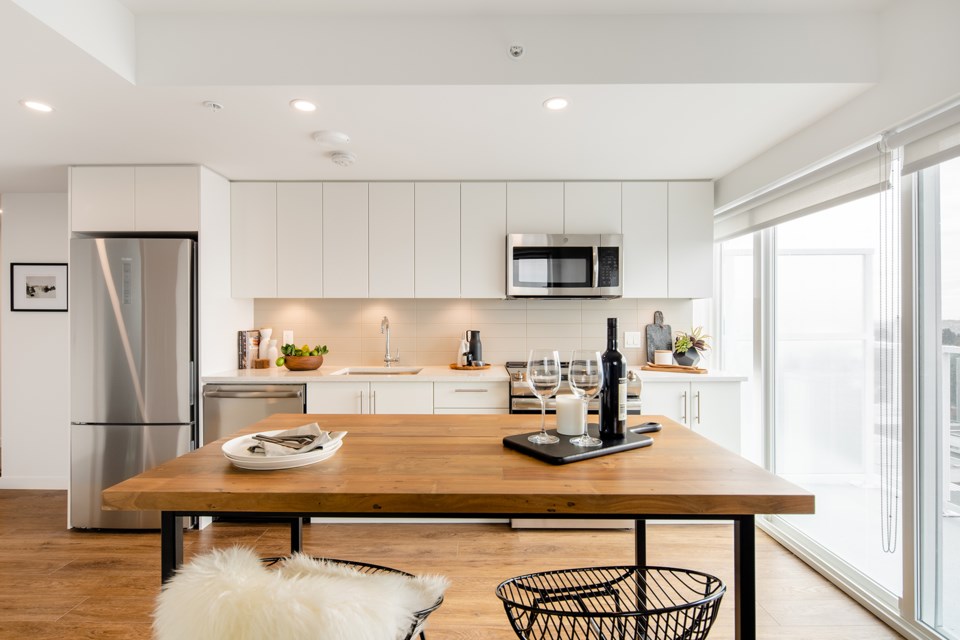 Luxury condo-style amenities
Renters at The Royals will have no need for a gym or private club membership. The project's crowning jewel is the near-8,000 square feet of amenity space atop Tower 2. The 23rd floor will house a penthouse-like living room with fireplace, dining room and gourmet chef's kitchen. There will also be a high-spec gym that will include Peloton bikes, a media/games room and a study, and two studio apartments will be available for short-term guest stays.
On the 24th-floor rooftop, 5,000 square feet of space will offer residents expansive outdoor living. This includes lounging areas with a firepit, outdoor kitchen with gas BBQs and extensive dining spaces, children's play area and, of course, epic 360-degree views. "We are so excited about our amenities," says Chard. "It really brings the community together. This is not just condo-level amenities, but better, which is incredibly rare in a rental building."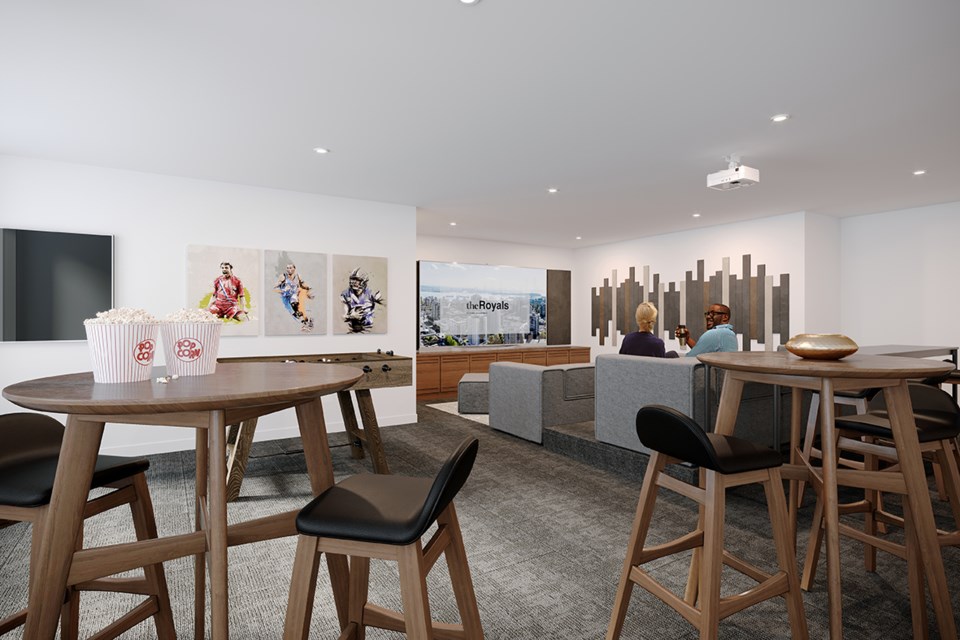 The two towers also offer slightly different lifestyles with varying renters in mind. Tower 1 benefits from larger interior floorplans and outdoor spaces, while Tower 2, which is under construction, will offer residents direct access to the amenities and rooftop deck.
Lifestyle is also what the neighbourhood is all about. The Royals is on a leafy street close to the restaurants, coffee shops and stores of Central Lonsdale, with great access to outdoor activities and nature. It's also a 10-minute bus hop to Lonsdale Quay and the SeaBus to downtown Vancouver, making it an easy commute without the downtown pricetag.
Prices are competitive for North Vancouver, particularly considering the amazing amenities and finishes. Monthly rents for studios start at $1,700, with starting rents of $2,100 for one-bed homes and $2,675 for two bedrooms.
Tours of The Royals open this week and Tower 1 units are now available, with first move-in expected in August. Renters may also register interest in Tower 2, which is due to complete early 2021.
For more information, visit theroyalsrentals.com