High demand for real estate combined with lack of homes for sale has made for a hot pandemic market on the North Shore, which sale prices and assessed values in some neighbourhoods up substantially more than the average in 2022.
In North Vancouver, for instance, while an "average" single family home was up 22 per cent in assessed value this year, an average assessment in Westlynn Terrace, bordering Lynn Canyon, was up almost 45 per cent, jumping from approximately $1.3 million to over $1.9 million, according to data provided by Landcor Data Corp., which analyzed information from BC Assessment.
Homes on the Deep Cove waterfront were also up about 45 per cent in assessed value, rising from an average of $2.5 million last year to $3.7 million this year. Homes in Grousewoods, at the very top of North Vancouver, were also up over 40 per cent in value, according to Landcor data, going from an average value of $1.6 million last year to just under $2.3 million this year.
Westlynn Terrace, Deep Cove waterfront, Grousewoods up the most
Single-family homes in many other areas of North Vancouver also showed increases in average assessed value of over 30 per cent this year. Those included Blueridge, Boundary, Calverhall, Kilmer, Queensbury, Upper Lonsdale and Westview – all clocking in at increases of between 31 and 34 per cent in average assessed values.
"The last two years, we've had the biggest sales years that we've had in over a 10-year period. And it's all local buying," said Realtor Calvin Lindberg of Angell, Hasman & Associates in West Vancouver.
Tony Rossetti of Re/Max Rossetti Realty in North Vancouver said a combination of factors has created a particularly hot market, including rock-bottom interest rates, and "maybe fear that interest rates are going to go up."
In West Vancouver, where the inventory of homes is slightly better, homes in neighbourhoods like Caulfeild, Cedardale, Queens Avenue, Eagleridge, Gleneagles, and Sunset Beach have all seen average assessments shoot up by over 30 per cent this year.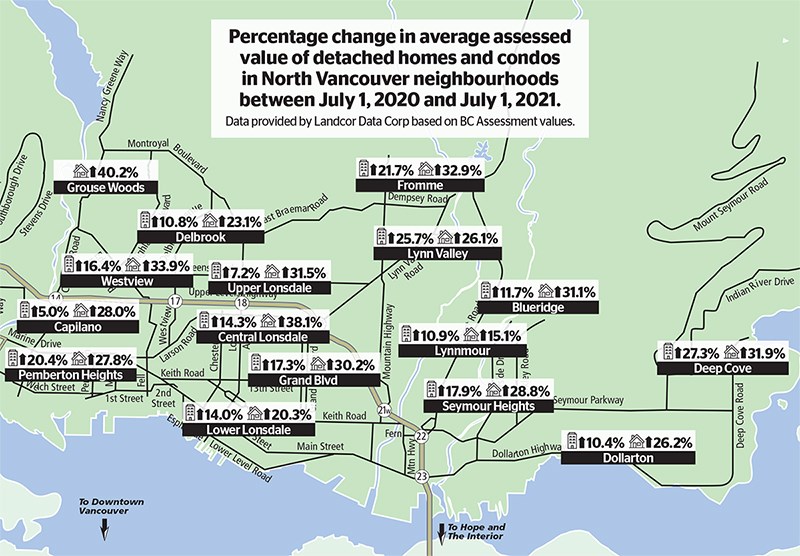 Waterfront assessments, sales are up
Sales and assessed values of waterfront homes in both North and West Vancouver are up this year. Homes on the Dollarton, Deep Cove and Cove Cliff waterfront are up in assessed value between 31 and 37 per cent, according to Landcor. Even homes among more remote Indian Arm addresses are up an average of 38 per cent.
In some cases, people who have retained well-paying jobs through the pandemic and are spending more time working from home have decided to put their money into the home they've always wanted, said Lindberg.
Other buyers are finding creative ways to make purchasing possible. "Homes with basement suites are in strong demand," said Rossetti. So are homes close to amenities "so perhaps you don't have to have the second car."
"Lynn Valley's been incredibly strong in the past year."
The low number of homes for sale compared to normal years has been a double-edged sword. For sellers, it's meant soaring prices. But it's also made many would-be sellers reluctant to list at all, said Lindberg and Rossetti.
"People say 'Where are we going to go?'" said Lindberg.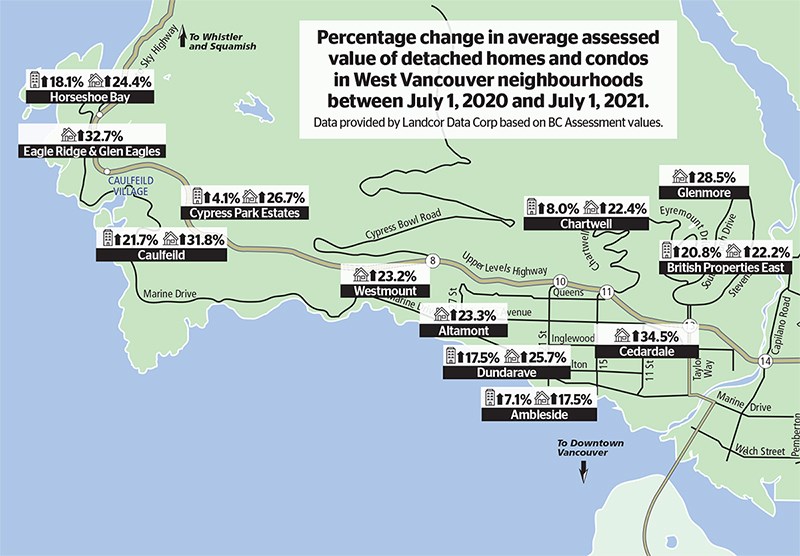 Low inventory a key factor
"In my 30-some years of selling real estate in the North Shore, I've never seen this. The last time I looked, there were 78 homes in all of North Vancouver on the market for sale," he said.
And the situation doesn't show much sign of easing.
As of December, the "benchmark" sale price of a detached home in North Vancouver was just under $2 million while a "benchmark" home in West Vancouver was selling for $3.2 million, according to statistics from the Real Estate Board of Greater Vancouver.
Lindberg said he looked at 10 recent sales at in North Vancouver and "every one I randomly picked sold for over the assessed value."