Heated patio with panoramic ocean view? Check. Private gym, media room and temperature-controlled wine cellar? Check. Infinity pool and 'boat garage'? Check.
While the past year presented challenges for many, the top tier of the real estate market has remained remarkably unfazed by the global pandemic. If anything, COVID appears to have given a boost to those seeking a more luxurious lock-down abode.
For those whose homes are sometimes literally their castles on the North Shore, both assessed values and property sales took a significant jump up in 2021.
Mansions with expansive views over Burrard Inlet and waterfront estates with infinity pools and salt-water spas continue to be well represented among the upper strata of property ownership.
Twelve homes in West Vancouver were on BC Assessment's list of the top 100 assessments in the province this year.
Among the top assessments on the North Shore, architecturally designed homes in beachfront West Bay and Sandy Cove neighbourhoods continue to rank among the highest assessed properties.
Two Hollingsworth-designed waterfront mansions top assessment list
Topping the list, as it often does, is a five-bedroom, six-bath mansion on the West Bay waterfront in West Vancouver, custom designed by architect Russell Hollingsworth on a large property at 3330 Radcliffe Ave., valued this year at $31.65 million. That's up about 16 per cent over last year's assessment of $27.33 million, but still less than the stratospheric value of more than $35 million which the property reached in 2017 and 2018.
The second-highest assessment was another West Vancouver Hollingsworth-designed Dundarave waterfront mansion. The three-bedroom, seven-bathroom 9,000-square-foot home, on a large property at 2588 Bellevue Ave., was valued at more than $27 million this year – up about 25 per cent from its $21.6 million value last year.
A Chartwell mansion at 1690 Marlowe Place in the British Properties –another familiar address in the top assessment list – was third highest this year with a value of $25.39 million. That was up about 16 per cent over its $21.78 million value last year.
Rounding out the top 10 highest assessments were similar, neighbouring, homes in those West Bay and Chartwell neighbourhoods, valued at between $20.9 million and $24.2 million.
Actual property sales in the exclusive postal codes of movie moguls, mining executives and foreign business owners were also up this year.
Sales of homes costing more than $5 million, $10 million both up
Sales of homes for more than $5 million were up almost 85 per cent this year on the North Shore, said Brent Eilers, a West Vancouver real estate agent with Re/Max Masters Realty. Sales of properties for more than $10 million were up even further – with 16 reported on the North Shore last year. That's a significant change, said Eilers.
"If you go back three to five years, you didn't have very many homes over $10 million," he said. "So to have this number, that's a lot."
Those doing the buying aren't worried by pedestrian concerns like passing the mortgage stress tests.
"Those people have money," said Eilers. "That market is almost a completely different market."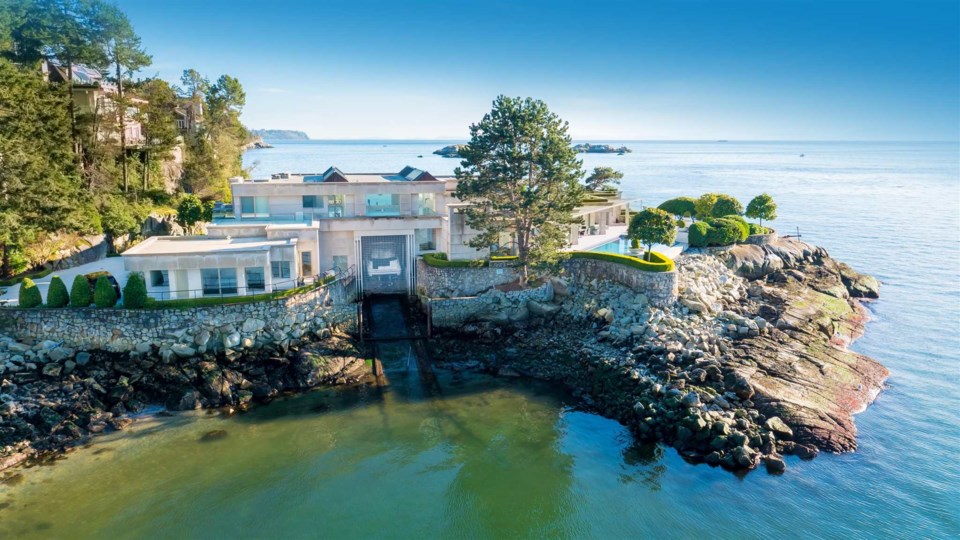 Top West Van home sale in 2021 went for $22.7 million
According to public real estate records, the top sale on the North Shore last year was a modern 8,800-square-foot waterfront home at 5365 Seaside Place in Caulfield. Situated on a private, gated peninsula and boasting an infinity pool, outdoor spa and boathouse, the four-bedroom, seven-bathroom home was sold for $22.7 million at the end of August by Malcolm Hasman at Angell Hasman & Associates Realty Ltd. The home also comes with an annual property tax bill of $103,000.
A private peninsula also proved popular with buyers of another top-priced home at 3190 Travers Ave. in West Bay. The architecturally designed 8,800-square-foot five-bedroom home featuring geothermal heating, a mini-theatre, gym and Jacuzzi sold for $19.2 million in March.
One of West Vancouver's top assessed homes – a 10,000-square-foot beachfront home at 4351 Erwin Drive – was also sold in March for $18 million – several million dollars under its $21.8 million assessed value.
In the District of North Vancouver, the top North Vancouver assessment continued to be a secluded 14-acre compound in the woods above Deep Cove, at 2250 Indian River Cres., assessed at $15.3 million. That's up from $11.8 million last year. The property includes a 9,000-square-foot custom West Coast home as well as a pond and Japanese-inspired garden, although much of its property value is in its subdivision potential.At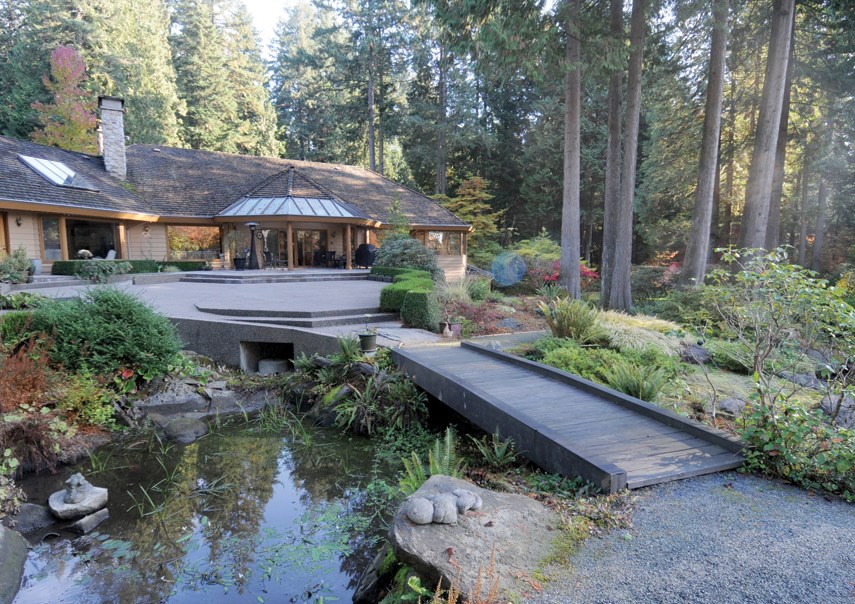 Dollarton waterfront most exclusive North Van neighbourhood
All of North Vancouver's other top assessed properties continue to be found in a neighbourhood on the Dollarton waterfront, on Beachview Drive and Lowry Lane, ranging in value from $10.3 million to $12.5 million.
The second and third top assessments were neighbours within a block of each other on Beachview Drive, a six-bedroom, six-bathroom home at 754 Beachview Dr., valued at just under $12.55 million, and a 10-bedroom home at 828 Beachview Dr. worth just under $12.5 million.
Another neighbouring home – a 7,200-square-foot waterfront house designed by architect Brian Hemingway, at 672 Beachview Dr. – was also the top sale in North Vancouver last year, going for $11 million at the end of October.
The second highest sale was another West Coast waterfront home, designed by Russell Hollingsworth, at 2796 Panorama Dr., which sold for $8 million in October.
Highrise waterfront condos top the lists in North Van City
All of the City of North Vancouver's top 10 assessments were once again waterfront condominiums, ranging in assessed value from just under $4.9 million to just under $9 million.
The top assessment in the city was a penthouse suite in a waterfront condominium tower at 1301-199 Victory Ship Way, assessed at $8.97 million – up from $7.55 million last year. Eight of the top assessed condos were in a neighbouring building at 175 Victory Ship Way.
One of those – a 3,000-square-foot sub-penthouse at 905-175 Victory Ship Way – was also the top sale in the City of North Vancouver in 2021, going for $5.5 million in March.
The highest assessment for a single-family home in the city was a five-bedroom, six-bathroom home at 355 Somerset St. The home, built in 2016 in the Tempe Heights neighbourhood, was assessed at $4.3 million.