One of Bowen's tallest ever athletes will be continuing his basketball journey at the college level this fall.
Hunter Thompson has committed to joining the Western Mustangs after he graduates from Mulgrave School in West Vancouver this summer. He'll bring his 6'10 frame to the London, Ontario university, where he'll be both studying Health Sciences, and providing the men's basketball team a massive boost to his chosen position of Centre.
Hunter began his education at Bowen Island Community School before moving down the road to Island Pacific School. "It was nice being in a smaller school at BICS when I was little, and the friends I made at IPS are lifelong friends that I am still close to now," says Thompson.
"Growing up on Bowen made me a lot closer to my community and my frequent travels with IPS opened me up to the world outside of Bowen, and future life opportunities."
Following IPS it was time to leave the rock to continue school, and Thompson eyed Mulgrave and their basketball team as his best choice to hone and develop his skills. At the same time he signed up with the 3D Basketball Academy in North Vancouver, allowing him to further refine his talent with professionals of the game.
The academy's travel team also gave Hunter the opportunity to journey around the world, including Seattle, Las Vegas, Portugal, and Calgary. One destination ranked above the rest for him though.
"Denmark was my favourite because we visited Copenhagen which is a beautiful city, and we had the opportunity to play against European teams. We were travelling by train everywhere, and we stayed at a boarding school specific to athletics in Nyborg," says Thompson.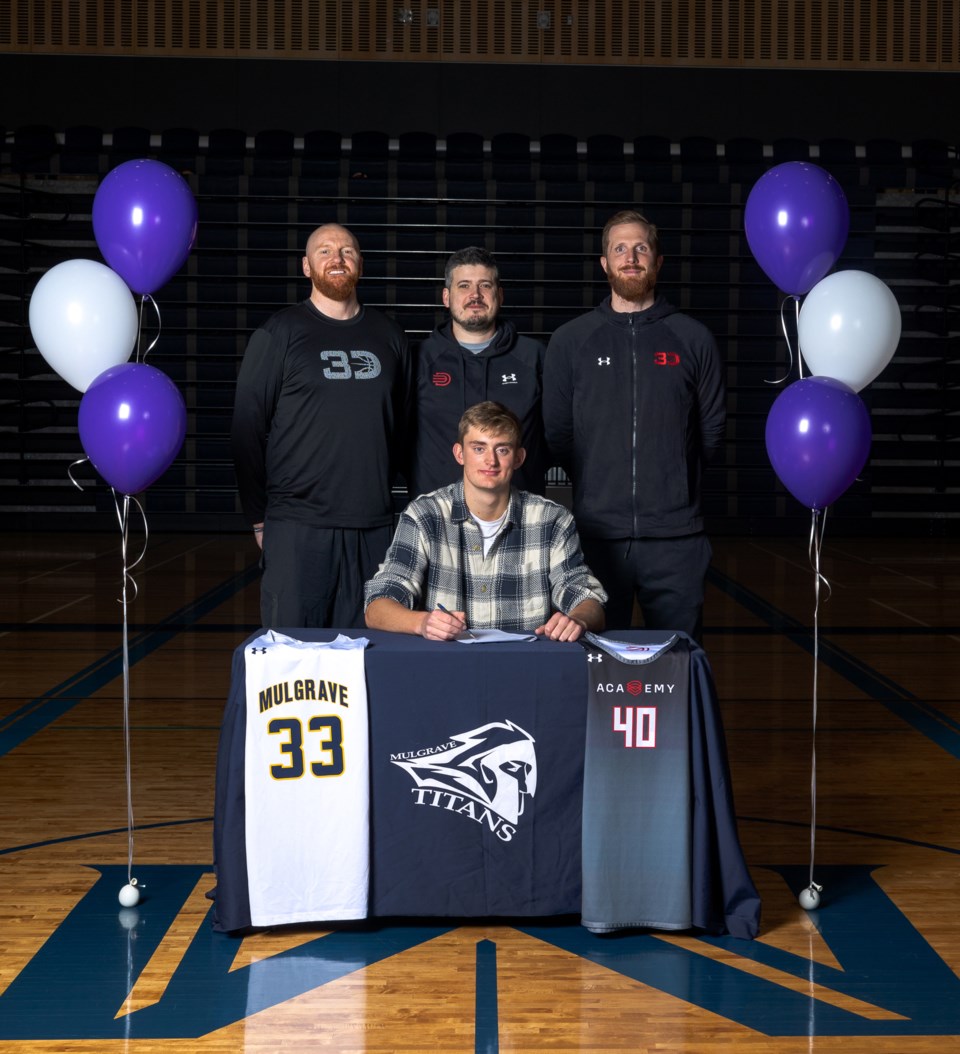 Due to his height Hunter naturally gravitated toward a role at Centre, a position usually occupied by the tallest player on the court. It's a role he relishes, and allows him to compete against some of the toughest players in the game.
"My style of play is physical and the Centre position best fits my size and physicality. It is challenging as I am matched up with the tallest and strongest players on the opposing team and I am the last line of defence in the key," explains Thompson.
Hunter finished his senior season with the Mulgrave Titans in February, which included playoff wins over Collingwood and Seycove Secondary. It also included Thompson serving as team captain, receiving a 1st Team All-Star selection, and also battling back resiliently from an injury. "My first game back after injury this fall, which was an overtime thriller and placed us as one of the highest-ranking teams in our zone," he says of his highlight of the year.
The closing of Thompson's high school chapter meant it was time to look for opportunities to play post-secondary ball. His basketball skills, and 90 per cent GPA, meant he had plenty of options. But one college stood out during application time.
"Western offered me a spot on the roster, and after researching the school's facilities and academics I thought it was a good fit for me," says Thompson. "They have a good team with experienced athletes which will help me develop as a player."
Hunter's family – parents Larissa Stefani and Andrew Thompson, along with sister Chloe – all say they are going to miss him a lot when he heads to Ontario in the fall, but are very proud of all he's achieved.
"We are grateful to both IPS and Mulgrave schools for instilling the integrity, perseverance and courage required for him to pursue high level athletics and academia," says Larissa. "In addition, we thank Claude 'Coach' Leduc at Mulgrave, and coaches Miceail Coghlan, Ben Frisby, and Luka Vukalovic at 3D for all of their excellent training."