The roots of the Vancouver TSS Rovers soccer club couldn't get any more Canadian.
In years gone by, club co-founder and North Vancouver native Will Cromack and his soccer-mad friends spent many an evening lamenting the lack of development opportunities for young Canadian players. The talk finally turned into action on a special night across the country – the night that the Tragically Hip played their final concert.
"That night over several beverages of choice, we decided that we would become the solution, not the problem," Cromack says. "We decided to buy the club in the best league we could find and afford."
That league turned out to be USL League 2, a development league that has more than 70 teams spread across Canada and the United States. The TSS Rovers men's team – the TSS stands for Together Standing Strong, another Canadiana nod directed at our national anthem – play out of Burnaby's Swangard Stadium. Last year they added a women's team, playing at a similar level in the Women's Premier Soccer League.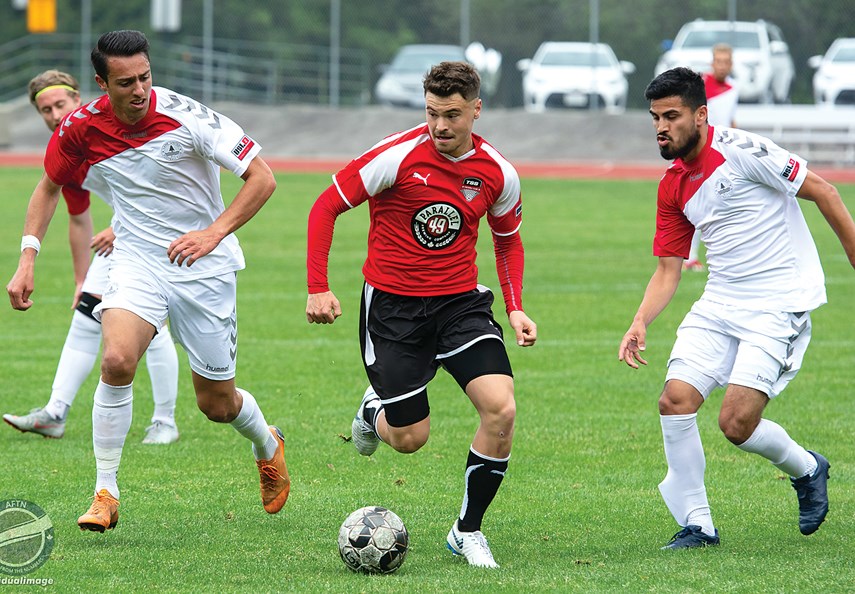 The men are now in the middle of their third season, hitting the pitch at Swangard for matches against division rivals from Victoria, Calgary, Seattle, Portland and Eugene. Before every match, there's a little tribute to the club's founding moment. 
"We play a Tragically Hip song, 'Grace, Too,' as we 'with will and determination' walk out before every game," says Cromack, who wears many hats for TSS Rovers, including head coach of the men's squad.
The club has stuck fiercely to that Canadian content ethos on the field as well. TSS has a self-imposed rule that any player who suits up for the Rovers needs to be either a Canadian citizen, permanent resident or refugee or immigrant with an intent to one day wear the Maple Leaf.
"It's important," says Cromack. "For us it's a non-starter – it has to be Canadian. … You must be able to one day play for our national team, if that's the level you can get to."
That club rule stems from the original mandate put forward by Cromack and his fellow founders – to raise the level of play in the country. For years they've watched Canadian soccer, particularly on the men's side, struggle to make an impact on the global stage. The theory behind TSS Rovers is that more high-level opportunities near home will lead to more development from local players.
"When the Canadian Soccer League of the '80s and '90s went defunct, there was no place for our kids to go," says Cromack. "There was a big gap, and for a small nation like ours not to have a place for players to develop, it was, how shall I say, unacceptable, and also showed up in our results for our national team."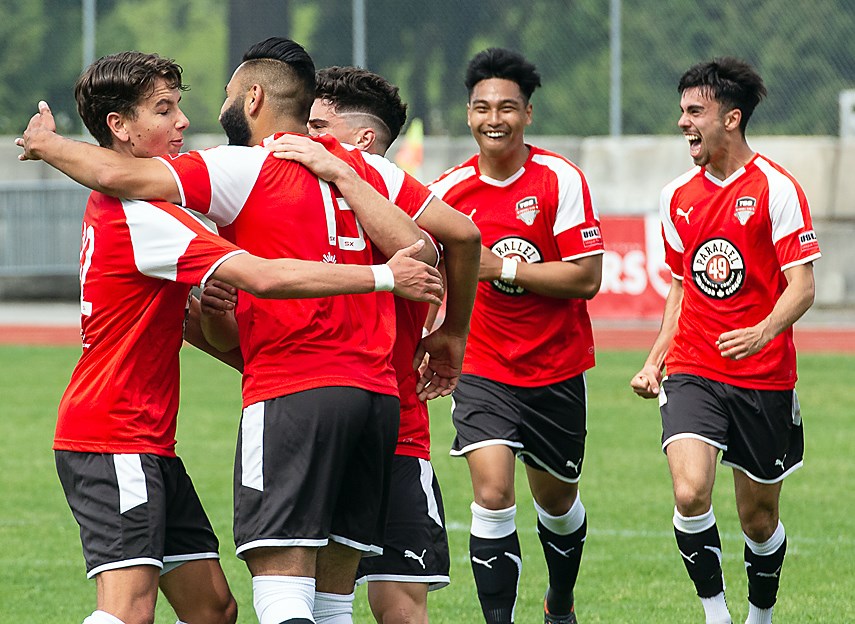 With that in mind, the Rovers made the decision to keep it strictly Canadian.
"What would be the point of creating a team and then bringing in a whole bunch of Mexicans and Europeans when our guys aren't getting a shot," says Cromack. "It doesn't make it easier for us because there hasn't been a place for these guys to develop, but we're willing to take that chance and we're willing to help these players showcase themselves as well as continue to learn."
It is, however, still high level soccer. League 2 is a U23 league, but teams are also allowed to carry and play up to eight overage players. The players are all considered amateur, but many are on the cusp of becoming professionals. Last year four of the top five players selected in the MLS draft were playing in the same division at the Rovers in USL League 2. 
"This is a place to get ready to take the next step to become a pro," says Cromack. "It's like an all-star team of university players. It's the best plucked out of the university world, and maybe a little bit older."
There are a few familiar North Shore names on the roster for the Rovers, including goalkeeper Michael Girard and forward Kristian Yli-Hietanen, both of whom starred for Sutherland Secondary and Capilano University. Yli-Hietanen recently made the jump to UBC where he has continued his prolific goal-scoring pace.
While the on-field product is strong, the Rovers are just as proud of the off-field community that they are building. Part of the original game plan for the club was to build a vivid game-day experience at Swangard that would give locals a taste of the passion soccer fans feel in other countries around the world.
"When we decided to put a team together to support the players, we also decided that we wanted to put together a club that demonstrated all the things that we have to learn about soccer culture," says Cromack. Part of that plan involved allowing for some colourful antics from fans. A group of supporters have taken up the challenge, calling themselves the Swangardians. They make their presence known at home games with flags, chants, songs and the odd smoke flare.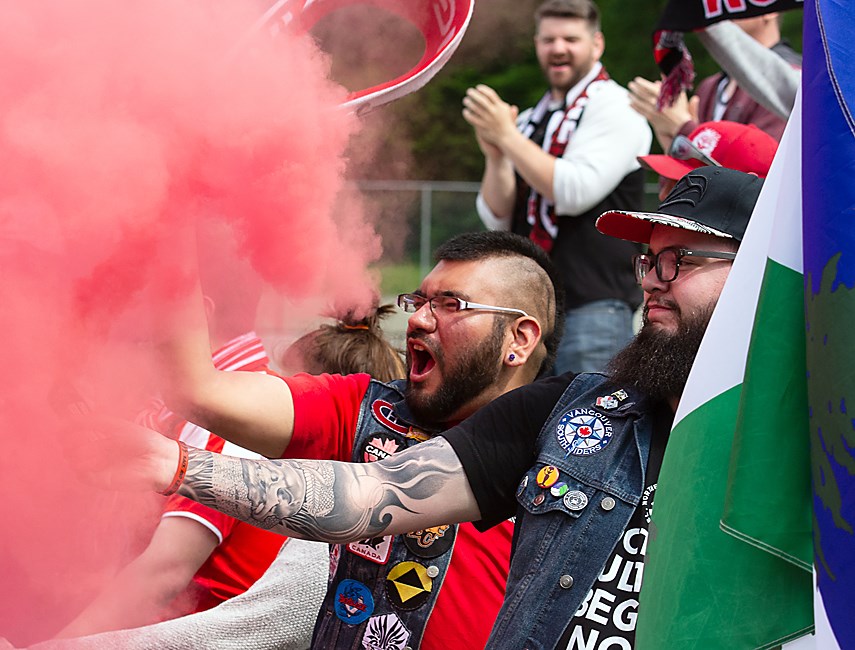 "We didn't want to tell the supporters what to do," says Cromack. "We took the old All-Blacks approach and said just don't be a dick and come have fun. And so out of that started to pop this little group called the Swangardians.
It's been a mutually beneficial partnership, Cromack says.
"One of them sits on our board of advisors," he says. "They sing, they dance, they heckle the opposition goalies, they bring flares. They really want to be special partners in the dream for these young Canadian players. I think what happens when you start to recognize the difference between a club and a business is that you recognize that everybody in a club can have a voice, and that their voice matters."
Anyone interested in getting a taste of the action can take advantage of a fan-friendly event this weekend. For Friday night's home game against Victoria, the Rovers will not only give supporters free tickets (they usually cost $10), but they will also give fans $5 to donate to a charity of their choice when the tickets are claimed.
"We're actually paying you in tickets and in charity money to give away," says Cromack. "That's an example of what we want from Rovers. We want it to be important to people's lives, and that they are there to play a part."
Click here for more information on Friday's charity/free ticket event.