If you live on any street on the North Shore, you can know this for sure: at some point in the past five years, both David Crerar and Mike Senior have run past your home.
The two North Vancouver runners, independently of each other, both say they have completed audacious plans to run every single accessible road in North and West Vancouver.
For Crerar, the quest began five years ago when he printed out detailed maps of the North Shore's three municipalities. He then hit the pavement, charting all of his runs by highlighting each completed street with a Jiffy Marker. On Sunday Crerar jogged the streets of his childhood neighbourhood of Seymour Heights before returning home to fill in the final missing piece of his North Shore running odyssey. With that, he'd run every accessible street on the North Shore, learning a lot about this place we call home in the process.  
"You realize what a glorious place we live in and how lucky we are," he said about exploring every corner of the North Shore. "It's just been a marvelous sense of exploration."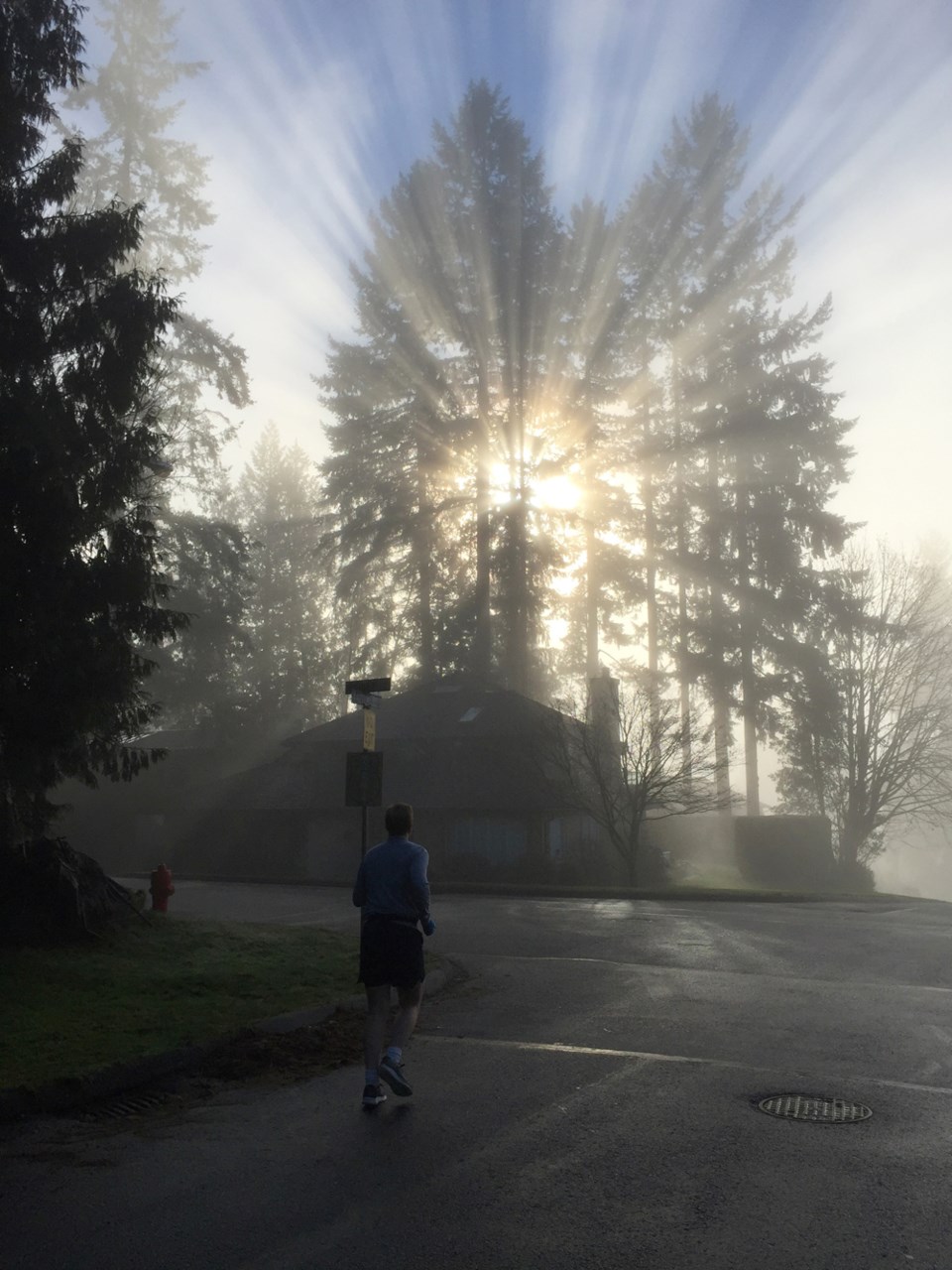 Crerar is not new to the world of unique running adventures – back in the 2000s he helped set up the Bagger Challenge, an annual contest to see which trail runner could climb, or "bag," the most mountain peaks in the Vancouver area. This latest quest came about as another motivational tool to get Crerar off the couch and onto the road.
"There are these runners that can just train in the winter on treadmills. I absolutely couldn't do that," he said, adding that as a father and a lawyer, his time is scarce. "As I saw my time getting compressed, instead of doing a multi-hour run, I could probably carve out an hour here or there. At the same time, the motivation of exploring a new neighbourhood and getting to Jiffy mark out a whole area on the map afterwards, it was really good motivation for me for running." Throughout the entire exercise Crerar has been very thorough with his coverage – excellent GPS mapping services from all three North Shore municipalities helped, he said – completing every paved road he could find.
"If they have a name, I've done them," he said, adding that there were just a few practical exceptions. "I didn't do the highway because I think that's technically illegal. … I've respected 'no trespassing' signs, so obviously private condo developments and First Nations reserves, I haven't pressed my luck on that."
Other than that, it's been every single road.
"You know that Google car that went around with the fancy, multi-directional camera on top and basically photographed every house and street in the world for Google Streetview? I sort of had the thought as I was running along these streets that I was a bit like that Google camera."
So what's it like running the North Shore? There's a lot of déjà vu, for one thing.
"The main road form on the North Shore is probably a cul-de-sac," Crerar said with a laugh. "By definition you're almost running every road twice."
There's a lot of history to learn along the way as well, he said, adding that travelling on foot gives you a much different perspective than by car.
"It gave me insight into street names," said Crerar. "When you're just driving along going up something called Hillcrest or Ridgeview, you don't really take any note of it. But certainly when you're on your feet and you're running up the hill, you become aware of the very unique geography and the building of these municipalities on geographic benches and cliffs and forest belts."
Some of the wildest topography was found on the mountainsides in West Vancouver, said Crerar.
"Some of the slopes in West Van are just crazy. … Some of the neighbourhoods really are built on the edge of cliffs," he said, listing the Sunset Beach neighbourhood as one particularly gorgeous yet precarious location. "They've got barriers set up to block boulders that dislodge in the spring."
There was only one dog bite on the whole ordeal, and Crerar also got to meet a lot of neighbours, including one elderly lady who might have gotten a little spooked by the sight of red-faced Crerar puffing up a hill on one particularly rainy and miserable winter day.
"She suddenly picked up this crucifix that she had hanging around her neck and sort of held it up against me as if I was some sort of freakish demon that she was trying dispel," he said. "I hope I didn't prompt a whole bunch of people to call Block Watch or something about this weird runner who is just running down these stubby cul-de-sacs."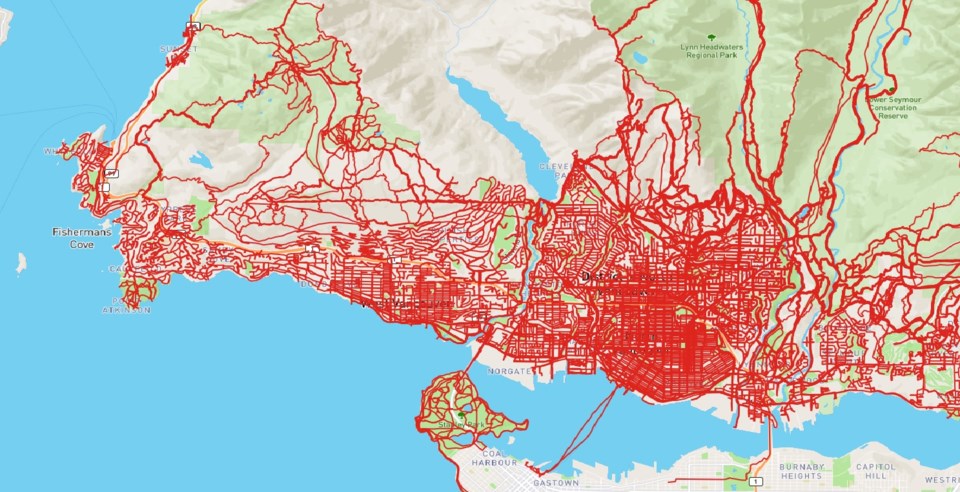 The quest also eventually brought Crerar together with Mike Senior, who began his odyssey three years ago when he decided he wanted to run every trail on the North Shore. That eventually morphed into every street as well, and Senior said he has completed the task of running every accessible road on the North Shore. Crerar and Senior became aware of each other after Crerar posted an update on Facebook and someone from the North Shore's tight-knit running community brought Senior into the conversation.
"Long distance runners tend to be fairly compulsive people, so I shouldn't be shocked that someone else set that goal for themselves," said Crerar.
Senior has also learned a lot about the North Shore on his travels.
"There is a LOT of development happening on the North Shore," said Senior. "In some neighbourhoods it seemed like every second house was under construction. However, this also provided easy access to porta-potties, which is good during those long runs."
Senior went more high-tech with his quest, using apps like Strava and Citystrides to record his progress on each run.
With two people on record as attempting the feat, Crerar is hoping others might use the idea as motivation to get more active. He also said he would be happy to see some of the North Shore's elite runners taking on the challenge of setting the 'fastest known time' for running the entire North Shore.
Crerar and Senior each took multiple years to do it, but Crerar wondered what the record could be if a real racer set their minds to it.
"Someone like Gary Robbins or Ellie Greenwood, they could probably do it over the course of a couple of long weekends," he said with a laugh.