"Seven seconds, six, five! Marter: controlling, moving in, shoots! No! The Highlanders have won the provincial championship! The West Vancouver Highlanders are the champs!"

It's March 20, 1982, and a game many still remember as one of the most exciting high school sports events in recent history.
For the first time, the senior boys provincial basketball championship tournament is featuring two North Shore teams in the final: the Argyle secondary Pipers and the Highlanders of West Vancouver secondary.
Played before a packed crowd of 5,000 at Vancouver's PNE Agrodome, the battle is fierce and the outcome uncertain until the very end.
After a nail-biting nip and tuck game – one point here, one point there, back and forth – a steal by the Pipers with a little more than three minutes left marks the beginning of a roller-coaster ride to the finish.
Down by five points, the steal is followed by a series of shots, turnovers, and fouls that results in Argyle closing the gap to just one point. The score is 44-45 for the Highlanders.
The original cable broadcast of the game was recently digitized by Rockridge secondary film students and posted to YouTube, but despite the improvement in video and audio quality, it's still sometimes hard to hear the voice of the game announcers clearly over the roar of the crowd.
"Anything can happen and probably will," one of them accurately predicts in the final moments of the game.
At the three-minute mark, the tension is palpable, and a passing observation by one of the announcers holds more meaning than he intended or probably even knew: Both coaches are on their feet at the Highlanders bench.
What isn't mentioned is the fact that Highlanders head coach Brian Upson can barely stand. As the camera cuts from the court to the sidelines in the final minutes of the game, somehow Upson still looks professional in a sport coat that drapes his emaciated body like its two sizes too big.
Having coached basketball at West Vancouver secondary for more than 20 years, the popular teacher was battling a form of stomach cancer and was bedridden at the time, but somehow found the strength to attend this, his final game. He died exactly two weeks later.
Highlanders team captain Erik Lockhart remembers what his coach, who he still calls "Mr. Upson," told the team before the final game. Coach Upson couldn't climb the stairs to the team locker room so they met in a cow stable behind the basketball court.
"He said 'Guys this is probably a once-in-a-lifetime,'" recalls Lockhart, who was a 17-year-old Grade 12 student at the time. "He said 'Go out there and have fun and enjoy it.'"
He also told them to be like ducks on a pond: "Be graceful on the surface but paddle like hell underneath."
And paddle they did.
Going into the finals, Argyle was the favourite to win, having beaten West Van three times in regular-season play and at the North Shore finals tournament. But the Highlanders took a back-door into the provincials by beating another team and came face to face with their longtime rivals once again.
• • •
With just under two minutes left in the game, the score is 45-44 for West Van when an offensive foul gives Argyle possession of the ball. They miss a shot but gain another foul to earn two free throws.
Lucky No. 13, Steve Pawlett, six-foot-two and 160 pounds, steps to the line for Argyle. With a minute and 34 seconds to go, Pawlett puts the Pipers ahead. The score is now 46-45 for Argyle and the clock is counting down from 1:25.
At this point, Highlanders player Paul Kitchener makes what his teammate Lockhart calls a "miracle shot."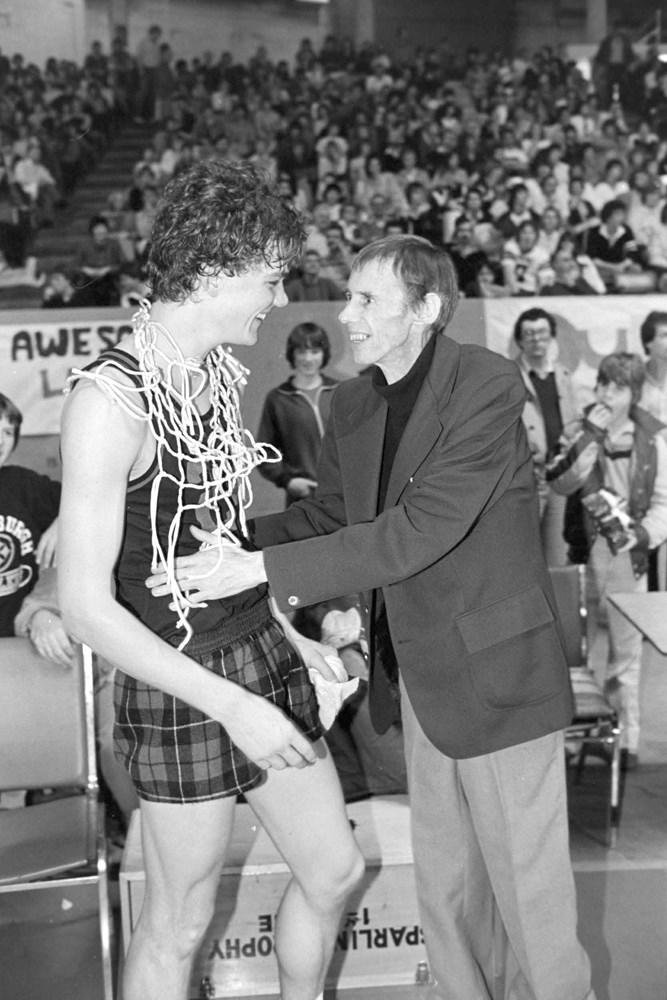 After a round of passing that can't break through the Argyle defence, Kitchener sinks a desperation basket from outside the key with just three seconds left on the shot clock.  
"He had to take it and he turned around from way, way out," explains Lockhart.
The result is two points for West Van and a new game leader with 43 seconds left.
Argyle then takes possession and the Highlanders try to hang on to their one-point lead, but it quickly slips through their grip.
The topsy-turvy ending is still up in the air with less than a minute of play to go.
Argyle's six-foot-four centre Mark Marter is fouled under the West Van net and drains two free throws to put Argyle ahead again by one point.
"The big guy hits it when it comes down to it!" the announcer yells.
"This is no place for a weak heart," notes the other, the excitement clear in his voice.
The camera cuts to the sidelines and coach Upson is still on his feet, as are most of the people in the stands.
With less than 40 seconds to go, the score is now 48-47 for Argyle. West Van forges in deep, can't break the Argyle defence, but still manages to get off a few shots that don't drop. Then Argyle catches a rebound, sealing West Van's fate. Or do they?
Fate is fickle and Argyle almost immediately loses possession of the ball.
And then it happens: another foul.
With less than a minute left to play, "miracle shot" Kitchener heads to the line and dumps two free throws to put West Van ahead. Again. By one point. Again.
Anyone not already biting their nails at this point probably started just then.
The Pipers charge down the court on a last-gasp effort with just seconds left in the game and the announcer starts the countdown: "Seven seconds, six, five. . . ."
Argyle feeds the ball to their 6-4 centre deep in the lane. Marter sets up and shoots.
"I put my hands up and prayed," recalls Lockhart. "And Mark missed the shot."
Mark rarely missed shots, Lockhart reflects.
The ball hits the backboard and doesn't fall. Instead, it rolls around the rim of the hoop before falling out.
The game is over. The Highlanders win. Up in the stands, 17-year-old Greg Upson looks at his dad and understands the real emotion he sees through the full smile.
"He barely had the strength to get out of bed at that point," notes Greg. "It was the pinnacle of his coaching career and, of course, it was the final game as well."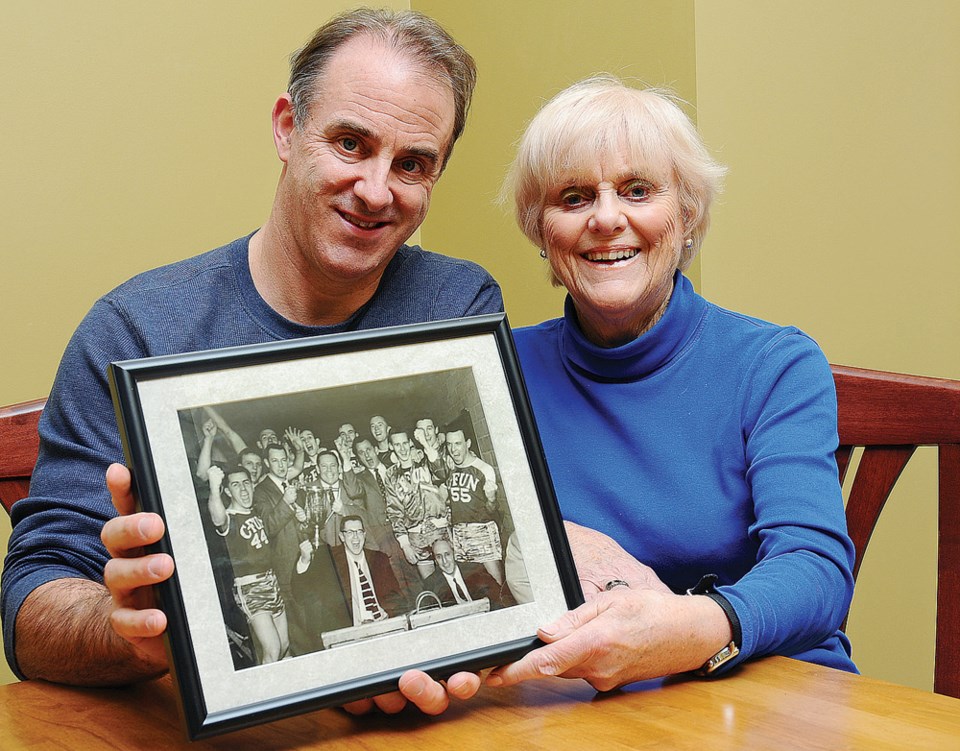 Greg says he hadn't watched the game for years because his VHS version was in such bad shape, but has watched it since it's been online thanks to Rockridge film students posting a digital version of it to YouTube.
"All the emotions come back," says Greg, who attended the 1982 game with his two younger brothers, Gary and Brent, and their mom Paula. (The Upson brothers attended Hillside secondary, their catchment school.) The family all knew by then that Brian's cancer was terminal. But they didn't know how soon he would die.
Says Greg of the game: "It was one of the most exciting sports events I have ever seen, obviously with the extra emotion there it was incredible. It was unbelievable. The crowd was just on their feet going crazy."
The game announcer would concur: "It would be appropriate to say that all hell has broken loose here at the Agrodome," he reports after the final play of the game as fans fill the court.
It was a bittersweet moment for the Upson family and for both teams.
"To their credit, those guys were real gentlemen," Lockhart says of the Argyle players. "I could tell that they weren't bitter. They were extremely disappointed and, yes, they were trying to win. It was their final game too."
But at the same time, they knew there was more at stake. "I got the feeling that they sensed the bigger picture," says Lockhart.
They were all seniors, this was their last game, and they all wanted to win. But although they wanted to win for their beloved coach, Lockhart admits they were teens in their final year of high school and they also wanted to win for themselves, their school, and their teammates.
Lockhart doesn't remember the final game as a sombre event. There was much celebration and coach Upson even attended the team party the next day. Team members continued to visit their coach throughout his final two weeks, and Brian's wife Paula says it wasn't unusual for students to stop by the house as her husband had become much more than a teacher and a coach: he was a mentor and a role model.
"He just loved basketball so much," she says. "The team just loved Brian as a coach. He was a terrific person, he was very easy-going and involved in lots of sports and things, and was always interesting. He was a very easy person to like and that's how the students felt about him."
Three years before the big game, Brian had been diagnosed with an ulcer. A year later, that diagnosis changed to stomach cancer. He was told he had just one year to live, but he hung on for two.
Paula remembers the night she and her husband shared an important realization: "We were having dinner at the Park Royal Hotel, which isn't there anymore, and that's when we realized there was only so much time left."
She is firmly convinced Brian was hanging on for the basketball. Her son agrees.
"I think basically what happened was he was kind of hanging on for the final game. And then once the game was done and they'd won that championship I think he just felt he could go," says Greg.
Brian died exactly two weeks after the championship win. It was a blow to the family, but they carried on.
"You do the best you can. My mom was unbelievable. My mom was a trooper. She was incredibly strong," explains Greg.
When asked how she faced losing her husband and raising three teens on her own, Paula admits: "That's what I was wondering at first."  
But she is quick to add: "You know something? I had three great kids, so, well, it wasn't easy, but they made it easier for me. They were great."
Paula, who was at the final game with her three sons, remembers when the final buzzer went. She watched her husband stand for the entire trophy ceremony despite the fact that he had arrived to the venue in a wheelchair. Assistant coach Tom Rippon was by his side, ready to hold him steady, but Paula thinks her husband wanted to stand on his own. And he did.
"I believe he willed himself to live those final days," she reflects on the emotional time.
Memories of coach Upson are particularly poignant for Lockhart right now as his own father battles cancer. He says the struggle has brought back strong memories of that final game in 1982, and the time he spent with his team and his coach.
"He always taught us about poise," notes Lockhart. "Be calm and remain focused on exactly what you need to do."
His approach to coaching was very strategic. Having been a player himself, including captain of the UBC Thunderbirds, coach Upson was very good with reacting and strategizing at half-time and during time outs, adjusting to what was working and what the other team was doing, explains Lockhart.
Now living in Ontario with two young daughters, one of whom he is already coaching in a junior basketball league, Lockhart regularly visits his parents, who still live in West Vancouver, and recalls the lessons he learned from Brian Upson.
"One of the other things he pushed, along with poise, was to maintain confidence in our abilities," says Lockhart. "He always taught me about what he called the 'must-take shot.' In other words, if you find yourself in an open spot in a high-pressure situation: go ahead and take the shot."
Lockhart says he carried that message through university and into a business career. "You set yourself up and prepare for success and rely on your abilities and don't pass up that opportunity."
Although the basketball game is over, the memories live on.
"I think of it as a really rewarding time in terms of all the work paying off. I think of it as bigger than basketball. And there were some life lessons that have stuck with me a long time around playing fair, being a good sport, and being a gentleman on the court and off the court. And I think much of that was the way he carried himself as a coach and sort of a mentor," says Lockhart.
All three Upson boys are now grown and have families of their own. All still live on the North Shore, as does Paula, who has six grandkids ranging in age from five months to 22 years old, including Greg's son Matt, a 17-year-old senior on the basketball team at Rockridge secondary.
When he watches his son play, Greg says he can imagine how his dad would have coached Matt, as he did Greg and his two brothers in their driveway. But although Matt and his brother Ryan know about their grandfather, younger generations of students may not know why there is a student-athlete scholarship at West Vancouver secondary in honour of coach Brian Upson.
They soon will.
Students in Rockridge secondary's film class have recently completed a documentary called Longshot: The Brian Upson Story, which  follows the saga of the West Van coach as he leads his team to the 1982 provincial championships while living with cancer.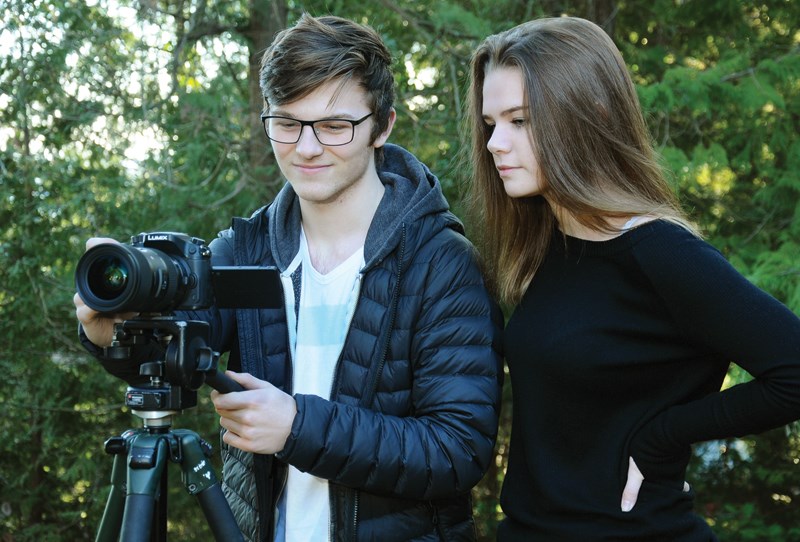 The film includes interviews with family members, former players, and local reporters who reflect on the effect Brian Upson still has on the community today. The film will have a screening at Kay Meek Theatre on Feb. 24, and Paula hopes it will be a full house.
"I think he'd be so happy," she says of what might have been Brian's reaction to the film and to renewed interest in the story. "He'd be so happy for his team. Not for him, but for his team. That people still remember it."
Because of his love of teaching, she adds: "I think it was wonderful that students wanted to do this. That they came up with the project and they wanted to do it. I think he would be so pleased with that."
Tickets to the show are available online at kaymeekcentre.com. Both the trailer for the film and the original cable version of the 1982 game are available on YouTube.