There was a massive silver lining for the Capilano Blues women's basketball team as they lost the PacWest provincial championship final to Vancouver Island University Saturday but earned a berth in the national championship tournament.
The second-seeded Blues jumped out to a fast start in the final – played in front of a raucous crowd at Capilano's Centre for Sport and Wellness – but the top-ranked VIU Mariners quickly fought back to take the lead before the end of the first quarter. From there the Mariners, ranked No. 2 in the country, took control of what turned out to be a low-scoring slugfest, holding off a late charge from Capilano to claim gold with a 60-53 win.
"They're a great team," Capilano head coach Chris Weimer said of the Mariners. "They've got a lot of veterans, Tony [Bryce] is a great coach. They had a game plan, they locked it down on defence pretty good. I think we still got some good looks, we just didn't make the shots we needed to make. We missed some layups inside and then we had a few defensive breakdowns in a close game."
That's it, @VIUMariners take @pacwestbc gold with a 60-53 win over the @CapilanoBlues.
Took the lead mid-1st and never let up. Well earned. pic.twitter.com/XMAp9GArkL

— Andy Prest (@Sports_Andy) March 1, 2020
VIU's Shayce Johnston earned player of the game and tournament MVP honours, leading the way for the Mariners in the final with 16 points and eight rebounds. Capilano fifth-year guard Reiko Ohama went on the attack in the second half, leading the Blues with 20 points and three assists for the game. Weimer said Ohama was playing through a number of injuries in the tournament, including a shoulder that "popped out" a couple of weeks ago, as well as badly bruised ribs.
"She's just a warrior, there was no way we were going to be able to keep her out of the game," said Weimer. "I think she was maybe a little bit tight in the first half but she just let it all hang out in the second half, she was a real sparkplug for us and almost got us back in that game."
No other player for either team cracked double digits in scoring in what was a tough-shooting game for both teams. VIU shot just 36 per cent for the game and Capilano 38 per cent, including just 4-23 from the three-point line. The Blues also committed 25 turnovers, but it was those missed threes that really sunk the Blues, said Weimer.   
"There were a lot of open threes and we've really got to hit those in our own gym," he said. "They were all good shots, shots I'd want the girls to take, but they just weren't going in. … I've got to give the girls credit. They worked hard, they fought back. They took the proper shots, they just weren't going in."
The Blues missed their shot at gold but they did earn another valuable prize earlier in the tournament. Capilano got 16 points and 12 rebounds from forward Kate Mallette in a 54-39 win over Douglas College in the PacWest semifinal on Friday. When VIU knocked off Camosun later that day, it clinched a national championship berth for the Blues, as VIU will be the host team for nationals and Capilano will represent the PacWest.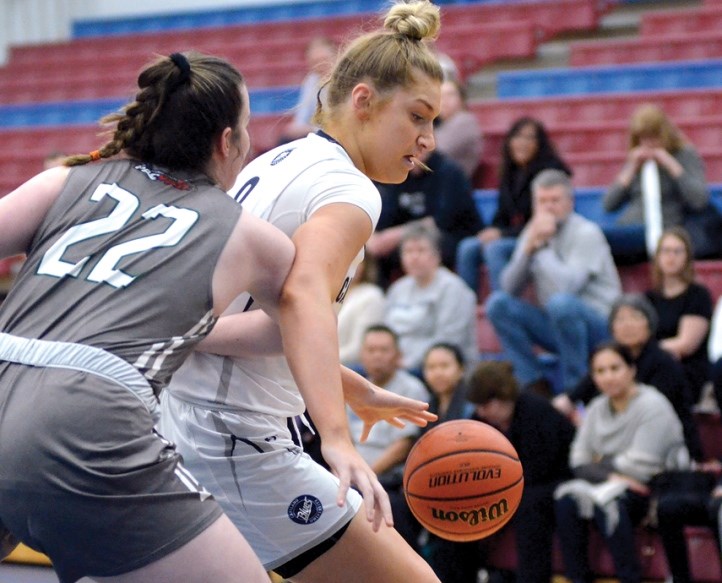 It will be the final shot for at least three Capilano players, as starters Ohama, Sherrie Errico and Emma Cunningham are all in their fifth and final seasons of college eligibility.
"Unbelievable careers, all three of them," said Weimer. "I couldn't have asked for a better group. … It's nice that those three are going to get a chance to play on a little bit and be at nationals."
 As for nationals, Weimer said the Blues, ranked ninth in the country before the PacWest championships, will be aiming for the podium when the tournament tips off March 19 in Nanaimo.
"I think we're good enough to medal, if we can put a good game together, hopefully hit some shots," said Weimer. "This was a challenging group, we had a lot of ups and downs during the course of the season and I think it could have torn us apart but I think it brought us together. I don't think I would have changed anything. I think it did bring us together a lot and the girls kind of stuck the course and stuck with the process. We came up a little short here today but we achieved most of our goals so far, and we're still going nationals."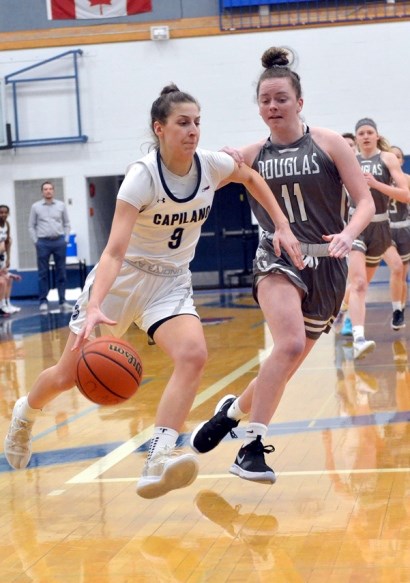 Ohama and Mallette both were named to the PacWest tournament all-star team, along with VIU's Madeline Hart and Amber Lease and Jessica Castillo from Douglas College.
***
On the men's side the top-ranked Douglas College Royals defeated No. 2 VIU 97-98 in the PacWest final Saturday night, with Courtney Anderson earning player of the game and tournament MVP honours with 26 points, nine rebounds and six assists.
Tournament all-star awards went to brothers Cameron and Reese Morris from Douglas, VIU's Cameron Gay and Tyus Barfoot, and Camosun's Shaquille Maharaj. 
The sixth-ranked Capilano Blues men were gunning for an upset but came up just short, losing 84-82 against No. 3 Okanagan College in the PacWest quarterfinals Thursday. The Blues led most of the way but were outscored 29-18 in the fourth quarter as the Coyotes came back to claim their first ever win at a PacWest championship tournament. Martin Bogajev has a big game for the Blues, scoring 28 points on 10-22 shooting, including 6-12 on threes, while adding seven rebounds.   
Both Douglas and VIU will take part in the CCAA men's national championships March 19-21 at Humber College in Ontario.