The Argyle Pipers senior girls went into overdrive in overtime to score bronze medals and match the team's best ever finish at the B.C. AAA basketball championships Saturday at Langley Events Centre.
The fourth-ranked Pipers had a late lead over third-ranked R.A. McMath from Richmond in the bronze medal game, but the Wildcats made a late push to send the game into overtime. The Pipers picked it up in the extra frame, however, with Kate Walton and Holly Brewer both popping in three pointers and guard Aiko Williams controlling the flow of the game as Argyle scored a 75-70 win to claim a provincial medal for the first time since 1988 when the team also took home bronze.     
"I was very proud of them," said head coach Anthony Beyrouti about his team's performance. "It was a culmination of five years for a lot of these kids, and they left it all on the court. This is probably the most dedicated group I've ever had. They spent a lot of time in the gym working on their game and the results took care of themselves."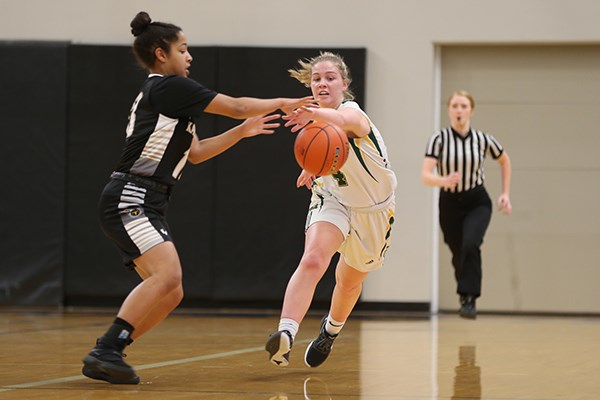 The Pipers travelled a tough path to make it onto the podium. Argyle opened with a 71-30 win over Delta and then earned a tough 65-57 win over fifth-ranked South Kamloops, the two-time defending champs at the AA level.
That win set them up in a semifinal against the No. 1 Abbotsford Panthers and their star Marin Lenz, who registered 37 points, 12 rebounds, eight steals and four assists in a 76-49 quarterfinal win over Duchess Park the day before, and went on to win tournament MVP honours. The Pipers played the Panthers tough but ultimately fell by seven, the closest anyone came to beating the eventual champs in the tournament.
"We gave them a great game, left it all on the court. They made some big shots down the stretch," said Beyrouti. "Your goal is to leave it all on the court. Everything you have, you leave it out there. Sometimes that's not enough, and that's what ended up happening against Abby, but then the kids responded in the [consolation] final by taking care of business."
Brewer was named to the tournament's second all-star team, and Beyrouti also credited Gabbie Francis, Hope Pearmain, Julia Gocal and Ella Mellinghaus for their strong play in the tournament, adding that all 15 players on the team's roster played in the bronze medal game.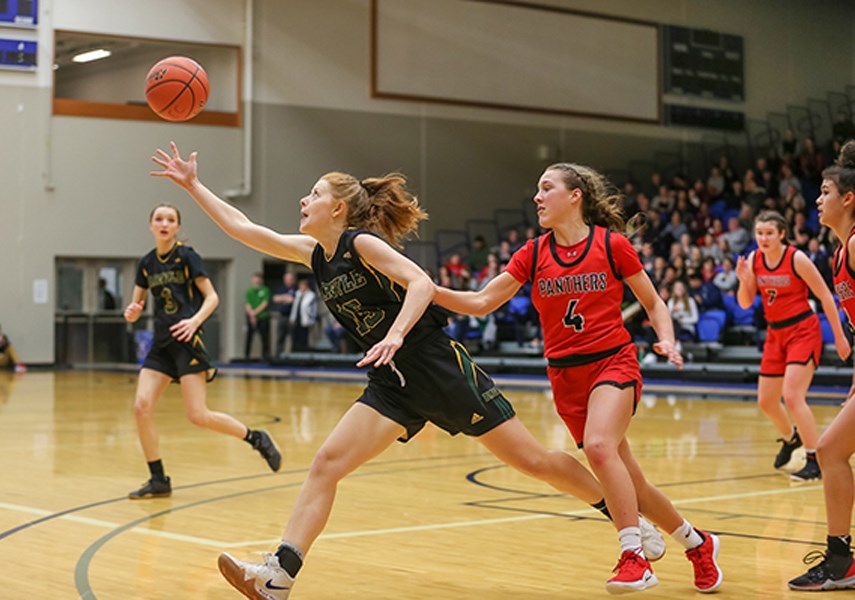 "We had a bunch of kids chip in," he said. "That was kind of one of the things with our team. We only got one all-star at provincials for a third-place team which is pretty crazy, but everyone kind of does their part. We have a bunch of kids who come in and do their job."
***
Elsewhere at provincials the St. Thomas Aquinas Fighting Saints just missed the medals in the AA division, earning fourth place heartbreak for the second straight year. Sixth-ranked STA opened with a comfortable win over Summerland before knocking off fourth-seeded St. Thomas More 71-65 in a battle of two old rivals from the Catholic schools circuit. Jessica Clarke, bound for the NCAA's Washington State Cougars next season, scored a big late bucket and ended up with 36 points and 27 rebounds in the win over STM.
The Saints then faced No. 2 Britannia in the provincial semifinal and pushed the Bruins to the brink. STA, in fact, appeared to get a bucket from forward Gemma Cutler in the game's dying moments that would have sent it to overtime but it was waived off as too late, giving Britannia a 75-73 win. Clarke starred again, collecting 31 points, 16 rebounds, and three blocks, while Cutler scored 21 points with 20 rebounds and point guard Caelan Prescott sunk four three pointers on her way to 14 points.
STA's tournament then ended with a 65-57 loss to fifth-seeded York House in the bronze medal game. Both Clarke and Cutler were named to the tournament's first-team all-star squad.