Coaches are hard-wired to keep on believing that their team can come back against long odds, but things got so bleak a couple of times during the U18 provincial championships held in West Vancouver over the weekend that North Van FC Fury bench boss Rick Eastman was ready to say goodbye to his team's golden dreams.
The most intense test came when the Fury lost a player to a straight red card early in the second half of the Les Sinnott Memorial Boys Provincial Cup final and their opponents, Westminster United, quickly pounced to take a 1-0 lead. As the minutes ticked down the Fury tried to mount a comeback but were battling the clock as well as their numerical disadvantage, playing 10 against 11. It was at this point that silver started looking good.
"I thought we were done," Eastman admitted with a chuckle. "I didn't know how we could come back from this with 10 men and down a goal."
Cue the furious comeback. With less than 10 minutes left in the game Alec Craven blasted home a shot from just outside the box to tie it up 1-1. The score remained even at the end of regulation, forcing the Fury to face a 30-minute overtime while still playing 10 players against 11.
North Van, however, took a shocking 2-1 lead just minutes in the first overtime period with Adam Thodos heading in a cross from Jordan Pearce. Nick Lewis then completed the unlikely comeback with a nifty solo effort with three minutes left in the second overtime period to make it a 3-1 final and give the Fury gold.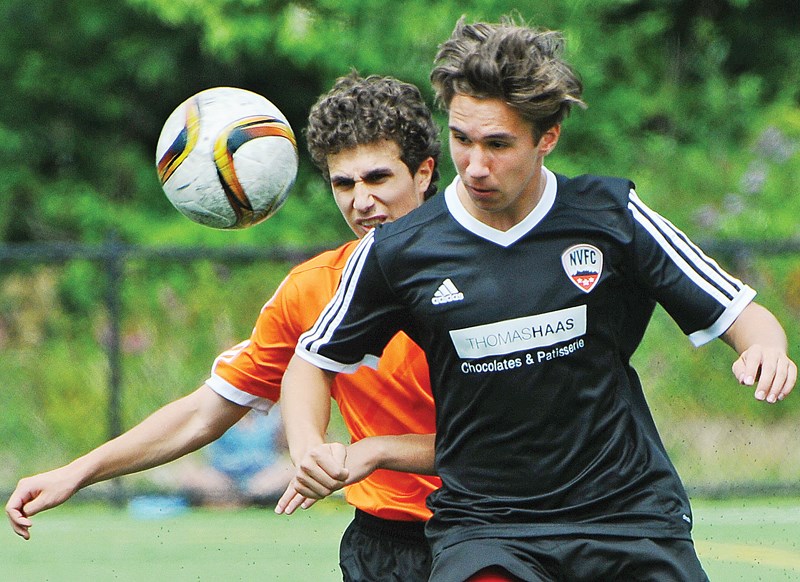 "I just couldn't believe it – I think I was in shock," said Eastman. "The boys just dug deep. … They've been just a super determined group all year long and they've just always managed to find a way to come back when they were down."
The Fury forced their way through seemingly unassailable obstacles a couple of times during the tournament, played in front of an appreciative home crowd at Ambleside Park. They were put to the test bright and early on Day 1 as they battled the Chilliwack Attack, the top Fraser Valley U18 team and winners of the Coastal Cup. The Fury were on their heels for much of the game but held on for a 1-1 tie. The two teams were then playing for goal differential the rest of the way in the opening round, with only the top team in the pool advancing to the final. It came down to a final matchup between North Van and Kelowna United that the Fury needed to win by four goals or more to earn the finals berth. At halftime the game was tied 0-0.
"We missed probably five Grade A chances in the first half," said Eastman, who put on a brave face for his players when he spoke to them at halftime. "I just said keep at it, we've had a lot of really good chances. But I honestly didn't think we'd be able to pull it off."
Cue the furious second half goal-scoring flurry. A lucky bounce helped the Fury take a 1-0 lead early in the second half and then two more goals came in quick succession, making it 3-0. Kelowna kept battling, however, and seemingly ended North Van's hopes for gold by scoring to make it 3-1. North Van replied quickly, however, and with a 4-1 score line they were deadlocked in every conceivable tiebreaking formula with Chilliwack for first place in the group and facing the possibility of a shootout against the Attack to break the tie. It never came to that, as North Van scored against Kelowna with just five minutes left in the game. Five goals, all in the second half, and the Fury were on their way to the final where they beat the odds again to take the title.
"With what happened Saturday – having to win by four goals in the second half – and then coming back and winning with 10 men on Sunday, it was just really against all odds," said Eastman. "The boys just showed an absolutely amazing level of character and determination and pulled it off."
It was redemption for the Fury as well – the team lost in the provincial final last year with a lineup that was nearly identical. This season they conjured magic that just wasn't there last year.
"It was a real heartbreaker last year, so it was good to get that redemption and get that gold medal this year," said Eastman. "It was on their minds. It was a very disappointing loss last year. We were up 1-0 at the half and gave up a couple of goals early in the second. … To get back there and win it this year after losing so closely last year was really satisfying."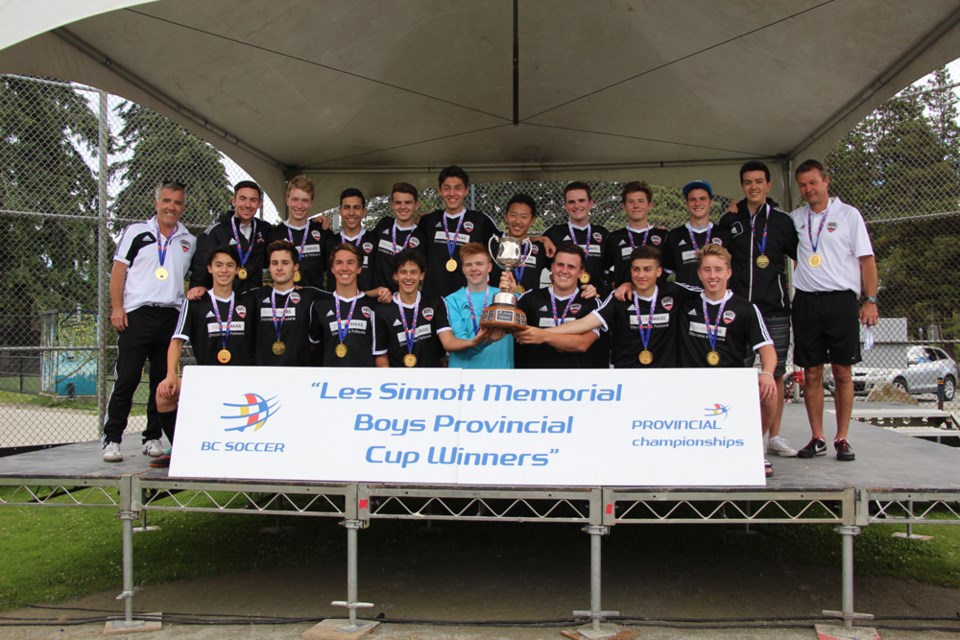 Eastman credited the backbone of goalie David McIntosh and sweeper Chris Marks-Worling for holding North Van's defences while the attacking players pushed forward. Many of the players on the team have been together since U12, making them a very cohesive unit, he said.
"It's just a really good group of kids who have been extremely supportive of each other and really positive with each other the entire time," he said. "They're very good as a group. There are many players on our team that could play at a higher level but they've just chosen not to try out because they really enjoy the environment that they have and the camaraderie in the team."
This tournament was the last hurrah for the group, as most of them are graduated Grade 12 players who will be scattering to schools and jobs across the country next season. This was a pretty special way to end their youth soccer careers, said Eastman.
"What an amazing ending. It's very surreal. I can't believe they pulled it off. The odds were stacked against them."
• • •
It was a day of champions Sunday at Ambleside Park as provincial titles were awarded in five age groups. Surrey FC Ravens claimed gold in U17 boys, Pacific United Elite in U16, Surrey FC Avalanche in U15, Surrey FC Van United in U14 and Saanich Fusion FC in U13.