The path that North Vancouver's Jane Channell took to the Olympic Games can be traced on the new helmet she'll debut on the skeleton track in South Korea next month.
"I wanted to pay tribute to the Vancouver 2010 Games," Channell told the North Shore News Thursday, one day after she was officially nominated to Team Canada for her first Olympic Games. "Their slogan was 'With Glowing Hearts,' and so when you look at my helmet you'll see the breastplate and the ribcage, and where the heart should be is a glowing Maple Leaf. I've got Canada running through my veins."
Channell is unequivocal in her connection to the 2010 Games.
"Without having had the Olympics in Vancouver in my backyard, I wouldn't be where I am today," she says. "I 100 per cent believe that."
Everyone else believes it too. At the official nomination ceremony for the Canadian bobsleigh and skeleton teams – a high-flying affair that included F-18 jets and members of the Royal Canadian Air Force – Channell was introduced as the team's Legacy Baby, a nickname that references her connection to 2010. The connection is not just related to the inspiration she received watching the Games unfold in her backyard, although that is part of the chain.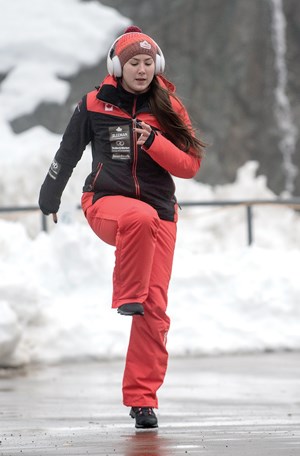 "When Jon Montgomery won gold and had his walk down Village Stroll, it kind of rekindled everything that made me need and want to try skeleton," she says.
The biggest push for Channell, however, wasn't inspirational, it was logistical. Before the 2010 Games, the only elite sliding track in Canada was in Calgary, and moving over the mountains wasn't a realistic option for Channell. But having a new track just up the road was a whole different story.
"With having the Whistler track in my backyard it allowed me to move up there without having tried the sport ever before."
Channell remembers as a teenager watching the Salt Lake City Olympics with her grandfather back in 2002, the first year skeleton was included in the Games since 1948.
"A couple of sleds had gone by and then he turned to me with this disgruntled look on his face and said, 'they're crazy,'" Channell says. She responded as most any teenager would. "I knew from that point on that I needed to try skeleton."
Those thoughts were put on the backburner, however, as she starred in multiple sports at Handsworth Secondary before going to Simon Fraser University where she played on the softball team and also competed in the sprinting events with the track team. But skeleton rattled back into her brain in a big way in 2010.  
Given her prowess as a sprinter, she was already on the radar for Bobsleigh Canada Skeleton before the 2010 Games. They wanted her to jump into bobsleigh, but that didn't pan out.
"They told me to come back 30 pounds heavier, and I said no," she says with a laugh.
Finally in 2011 she got her first taste of skeleton, starting at turn 11 on the Whistler track for an abbreviated run.
"You're holding on and you are essentially a sack of potatoes going down the track," she says of that initial taste of face-first racing. The thrill, however, was instantaneous. "It was such a rush. I remember getting to the bottom and not knowing what just happened, but I knew I wanted to do it again."
It didn't take long for Channell to hit top speed, racing her way onto the national team. Channell has reached the podium three times since making her World Cup debut in 2014, her most recent medal coming in Whistler last November. Through eight races this season she's fifth overall in the World Cup standings, placing her firmly in the mix for a run at the podium in South Korea. Channell said she wasn't going to make any pronouncements about where she wants to finish at the Olympics, but did say she really likes the way the course suits her.   
"I'm confident in my skills and my driving ability and my equipment," she says. "I really like the Korea track. It's very different than any other track out there. It's easy to get down but it's hard to get down fast. I think having my explosive start at the beginning of the track will really help me. … My goal is to do the best I can. You can't control results, so if I go out there and give it my all and live in the moment and have no regrets, then that's what my plan is."
The Olympic dream may have been sparked by an offhand comment from her grandfather back in 2002, but it turned into a burning desire in 2010 when the Olympic torch reached Vancouver's Jack Poole plaza and set the ice-blue cauldron ablaze. Eight years later, Jane Channell is going to the Olympics herself to race for gold.
"Honestly it's surreal," she says. "It hasn't sunk in yet. I think when it does it'll be overwhelming and exciting and every other emotion you could possibly think of. I know that when I walk into that opening ceremony with Canada across my back, I will not only be wearing it for myself but for anybody and everybody out there who believed in me and has helped me on my journey."