Alannah Yip, chasing her dream, was down to her last chance.
The North Vancouver climber was competing in the Pan Am Continental Championships in Los Angeles in early March of this year for a spot in the Olympic Games. She'd had two shots at qualifying before and just missed, finishing a few spots away from Olympic glory in two previous climbing events in 2019. This was her last chance, and the math was simple: win the event, go to Tokyo. Finish second, third, or anything worse, and she would be waiting at least four more years, and perhaps the rest of her life, to fulfil that dream.
Yip was the favourite going into the Pan Ams, the only competitor who had come close to qualifying at the previous meets. But being the favourite and following through are two very different things. And Yip was struggling.
Like a climber loosing grip on a hold, she could feel her dream slipping away.
"It wasn't looking good for me," Yip said last week, looking back on that last chance qualifier. The event, which, like the Olympics will be, was an overall competition combining the disciplines of speed, bouldering and lead climbing. Eight athletes made the final, and Yip, the favourite, qualified in sixth place. She was in, but barely.
"I knew it was my last chance," the 26-year-old said. "I wanted it more than anything, and I had been so close already twice. I was really feeling the pressure through those first two rounds of competition in the qualifiers and the semifinals. I was nervous, I was not climbing free and loose, I was really tight and anxious."
The finals loomed. Would she climb to the top, or would she fall?
2010 Olympic Inspiration
Like many of the British Columbian athletic stars of today, Yip was inspired to chase her own Olympic dreams while watching the 2010 Games unfold in her own backyard.
She was right there in BC Place stadium for the opening ceremonies, a 16-year-old aspiring athlete, glued to her seat for what some might find to be the most cumbersome part of the festivities: the parade of athletes. She was riveted.
"I watched the entire athletes parade, start to finish, without moving," she said. "I think that with everything else that goes on in the opening ceremony, usually that's the most boring part. But I was just enthralled, just watching all those athletes walk out onto the world stage and be able to represent their country. It was bringing up so many emotions for me, and I think, at that moment during the 2010 Games, I was really inspired. I really wanted the chance to do something like that."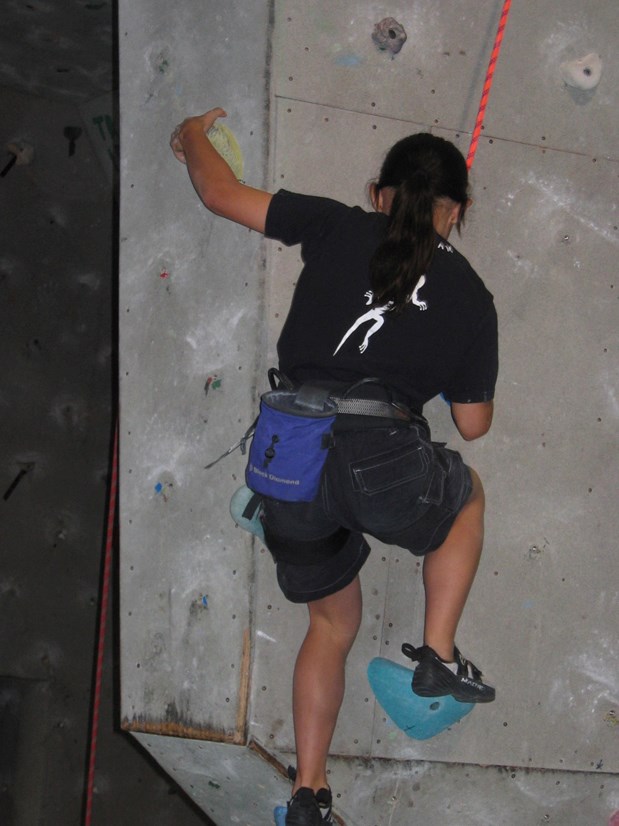 There was one big problem though: her passion, her sport, was not an Olympic event. Not yet, at least.
Yip's climbing career began at North Vancouver' Edge Climbing Centre, now known as Climb Base5, and she received a major boost from another climber who has gone on to do great things in the sport.
North Vancouver's Sean McColl is a rock star in the climbing world, a man who has won dozens of national and international medals and is currently ranked No. 3 in the world in sport climbing. He's also starred in several episodes of American Ninja Warrior, wowing TV audiences with his incredible strength and agility. His family also happens to be lifelong family friends with Alannah Yip's family.
"He's been sort of a cousin figure – we're not actually related, but very close family friends our entire lives," said Yip, who is six years younger than McColl. The age difference meant that they didn't climb together much when they were kids, but McColl's love of the sport had a huge influence on his young friend. "I really looked up to him. When he started climbing and was having a lot of fun with it and doing really well, it made me want to try it out. And then I ended up falling in love with the sport as well."
The pair both still work with the same coach they began climbing with as children – North Vancouver's Andrew Wilson – and they now often train together in Vancouver, at least they did before COVID-19 hit.
"We're able to push each other in different parts of climbing," said Yip. "He's obviously quite a bit physically stronger than I am, but there are maybe one or two things where I can push him in technique."
Both climbers excel at indoor sport climbing, but both have completed some very impressive outdoor climbs as well. Yip, who has a mechanical engineering degree from the University of British Columbia, made some Canadian climbing history in 2017 when she became the first woman ever to complete the Pulse climb, a difficult route near Squamish famous for being the first Canadian climb ever to receive a 5.14a difficulty rating. Yip worked for more than a week to finally complete the climb, which took less than five minutes when she finally nailed it.
"It's on this big roof that's about 60 degrees overhanging, so it's very physical," she said. "You get tired really fast hanging onto that wall."
Outdoor climbing helps engage her analytical side, said Yip.
"A huge part of the sport of climbing is to figure out how to climb something, as well as then being physically able to do it," she said. "I've heard it called 'physical chess' before, because it really is equal parts mental and physical. And I love that part, it really appealed to that logical part of me, the engineer side of me."
Golden Opportunity
Yip continued to train and improve and excel in the sport, even though climbing was not on the Olympic program. And then, on Aug. 3, 2016, her world changed. She was in an airport on her way to Europe for a climbing competition when she got the good news: climbing would be an official Olympic sport starting with the 2020 Games.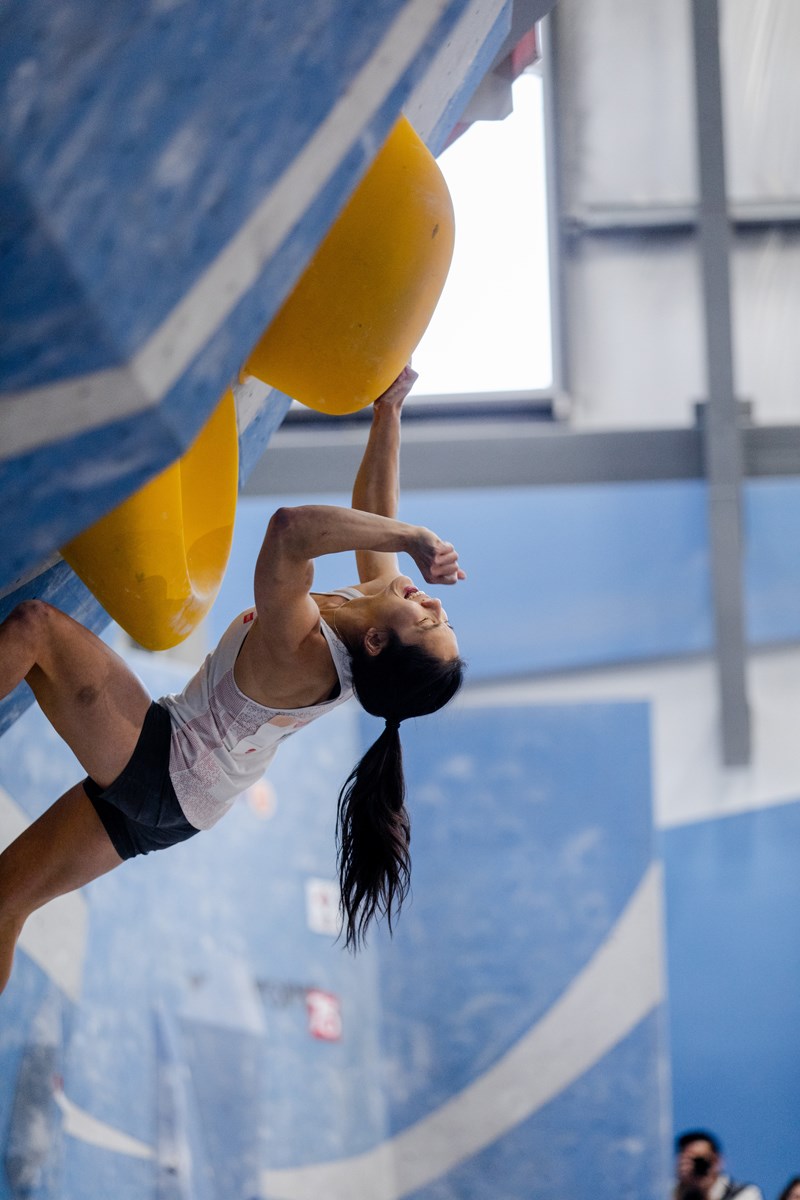 "I was so excited," she said. "When the announcement came that climbing would be in the 2020 Olympics, I thought to myself 'I could do that.' I'm at the level where I know that if I put in a ton of work and dedicate myself, I was pretty sure I could, or I at least would have a shot."
Three and a half years later she was on that wall in Los Angeles, facing down a final with eight climbers in it and only one Olympic berth up for grabs.
Sean McColl flew in just to offer his support and encouragement, and other friends, family members, coaches and teammates rallied around her.
"I had a lot of pep talks from different people, my mental coach, both of my other coaches – my climbing coach and my strength and conditioning coach – and my parents, my boyfriend, my friends," she said. "And I was really able to go out there on the last day for the finals and really free myself to just climb the way I know I can and give everything and not hold anything back. And then, of course, the moment when I came down for my final climb, one of my closest friends who is on the Canadian team as well and was competing against me in that final round, she ran over and before I had even untied my knot she told me that I had done it, I had made it, and I immediately burst into tears. That was one of the most emotional, amazing moments of my life. I had been working towards that goal for so long."
Climbing to the top
Alannah Yip and Sean McColl, childhood friends from North Vancouver, will be the first climbers ever to compete for Canada in the Olympic Games. They'll just have to wait a bit longer than expected. The 2020 Tokyo Games have been postponed to 2021 due to COVID-19 concerns, but both Yip and McColl have their spots locked down – they've qualified by name, not just country, so their Olympic berths are guaranteed.
It's a dream come true for Yip, and the dream is even sweeter because she'll be competing in Tokyo alongside a great friend she followed in the sport, all the way to the top.
"It means so much to me that I get to go to the Olympics, and it meant so much to me when he qualified for the Olympics," she said. "I cried for 10 minutes straight when he qualified himself in August of last year. … He always had faith in me that I that I'd be able to pull it off in the end. It means a lot that we get to go to Tokyo together."