It wasn't until Gino Reda started asking him questions on TSN Sportscentre that the pressure finally got to North Vancouver 14-year-old Connor Bedard.
Until that time, the teenager already being touted as one of hockey's biggest future superstars had skated smoothly through intense scrutiny. He appeared unflappable as he lit up leagues, always playing against older players, on his way to becoming the first-ever player to earn exceptional status and early entry into the Western Hockey League.
He'd done interviews before, seen his name thrown around by strangers on social media, skated in front of throngs of fans and scouts, and gone through a rigorous screening process to earn the exceptional status label, joining an exclusive group of only seven players in Canadian Hockey League history – including dignitaries Connor McDavid and John Tavares – in earning the right to play in the world's premier junior leagues a year early. No problem.
But then, a live hit on Sportscentre, face-to-face (virtually of course, in the COVID-19 era) with Gino.
"It's TSN," Bedard says, recalling the interview. "It's serious."
Hockey? Easy. But Gino?
Throughout this whole process, Bedard has shown time and again that, even at such a young age, he is more than equipped to handle the pressure of being in the Canadian hockey spotlight.
That's a good thing, because that spotlight is only going to get brighter and brighter.
Get the kid a stick
The legend of Connor Bedard begins in rather a strange way for hockey's next potential "chosen one." There's Connor, maybe three years old, trying out skating for the first time. He hated it.
"After the first and the second [skating lessons], we were like, 'Yeah, I don't think he's going to be enjoying hockey too much," says his mom, Melanie Bedard. There was one big problem with those first few lessons though – he didn't have a hockey stick.
After one of the lessons, young Connor spied some kids on the other side of the rink starting up a standard "stick and puck" session. He let it be known that he wanted to do that.
"My husband just got a stick from one of the people working at the rec centre," recalls Melanie. "That was it. He had the stick."
He's barely put his hockey stick down since then.
"He'd play games in the kitchen against himself with mini sticks for hours," says Melanie. "He's just always loved the game."
The Bedards live in a quiet Lynn Valley crescent with several kids around Connor's age nearby, so a continually running street hockey game soon took over the road. Even when the other kids wanted to be inside, Connor would keep the game going on his own.  
"I was mostly just on rollerblades out by myself on the street," he says.
"Everyone has been really patient with him, with all his shooting and our broken windows," adds Melanie. They now have a sweet setup in their backyard, and Connor still spends hours every day firing pucks on net.
Ahead of the curve
When it came time for Connor to play on an actual team, the family signed him up at the North Shore Winter Club and it was immediately apparent that he needed to be moved up to play against older kids. He's been skipping ahead of the curve ever since.
And Bedard hasn't just survived playing with older players throughout his young career, he's thrived. There were six seasons at the Winter Club, one with North Van Minor, and the past two years with the West Van Warriors hockey academy.
The 2018-19 season with the West Van Warriors bantam prep team was the first time he suited up in his own age group, a 13-year-old playing against many of the top 13- and 14-year-old players in the country in the Canadian Sport School Hockey League. Bedard put up 64 goals and 88 points in 30 games, earning league MVP status. This past season he jumped up to West Van's midget prep team, a 14-year-old playing against players up to 18 years of age. Bedard led the league in goals with 43 and points with 84, in 36 games.  
Along the way, the hockey world started to notice. In 2015 a hockey personality known for promoting "sick dangles" on his social media channels posted a video of Bedard, then just 10 years old, going on an end-to-end rush and finishing top shelf. "Remember the name!" the caption read.
In 2018, The Hockey News ran a story under the headline Meet the Future of Hockey, 13-Year-Old Connor Bedard.
Exceptional expectations
The spotlight has grown even more intense in the past six weeks, starting with the March 24 announcement that Bedard would be the first-ever player in WHL history granted exceptional status, meaning he could play major junior hockey as a 15-year-old.
That's when media outlets across the country – starved for content during the COVID-19 sports shutdown – swarmed the Bedards' virtual doorstep to talk to the young phenom about joining the likes of McDavid and Tavares.
"I always think, 'Oh my gosh. I hope they remember he's 14,'" says Melanie, adding with a laugh that she has to resist the urge to critique Connor's on-camera performances. "I'm listening to these interviews and I'm thinking, could you say the word 'obviously' more times. You're critiquing everything. But I know that I couldn't have done it at 14."
Aside from a few too many repetitions of 'obviously,' Connor has been the picture of calm and cool in all his interviews, including his spot with Gino Reda. He may have been nervous, but it doesn't show as Bedard graciously and humbly answers questions, wary of taking credit for himself while freely praising others.
That calm and cool demeanour is one of the reasons Bedard was given exceptional status. BC Hockey and Hockey Canada combined on the ruling for Bedard, saying the status "is only granted to a player whose ongoing development is more likely to be significantly enhanced by playing in the CHL as a 15-year-old than by participating in his designated age division next season."
The evaluation process involved not just observation of his on-ice performance, but Connor also had to submit a letter and essay responses and go through in-person interviews with hockey officials. His coaches and teachers were also asked for input on his readiness for the big jump to junior. He passed every test.  
"He was just really calm through the whole thing," says Melanie. "I think he just loves the game and focuses on that. I don't think I could do it at this age. It is a lot of pressure. With social media now, even as a parent you feel a little powerless sometimes because there's all this stuff out there. But you just can't pay any attention to that."
Playing with older kids his whole life has helped him get to this point, Connor says.
"It's been challenging sometimes, but I've always felt like I belonged," he says. "I've always felt like I kind of fit in."
Success starts at home
As you get to know Connor and his family a little bit, you realize he is building off a very stable base provided by Melanie, Connor's father Tom, and older sister Madison, herself a dedicated athlete and student who competed as a gymnast in North Vancouver for several years and is about to graduate Grade 12 and head off to the University of Calgary in the fall to study kinesiology.
"We've tried to make our family life not really about hockey within the home," says Melanie. "He is just a kid. We always say, you know, you're going to make mistakes. Don't worry about the pressure, you can only control what you do."
Last week Connor was picked first overall in the WHL draft by the Regina Pats, a storied junior franchise that had Bedard signed up to play this upcoming season for them even before they announced the draft pick.
The COVID-19 crisis may change the timeline a bit, but if the situation allows, Connor will be moving away from home this fall and preparing to play his first season of junior hockey. Connor has repeatedly said how excited he is to play for the Pats – he gets the question a lot – but admits that it will be a bit strange moving more than 1,500 kilometres away from home.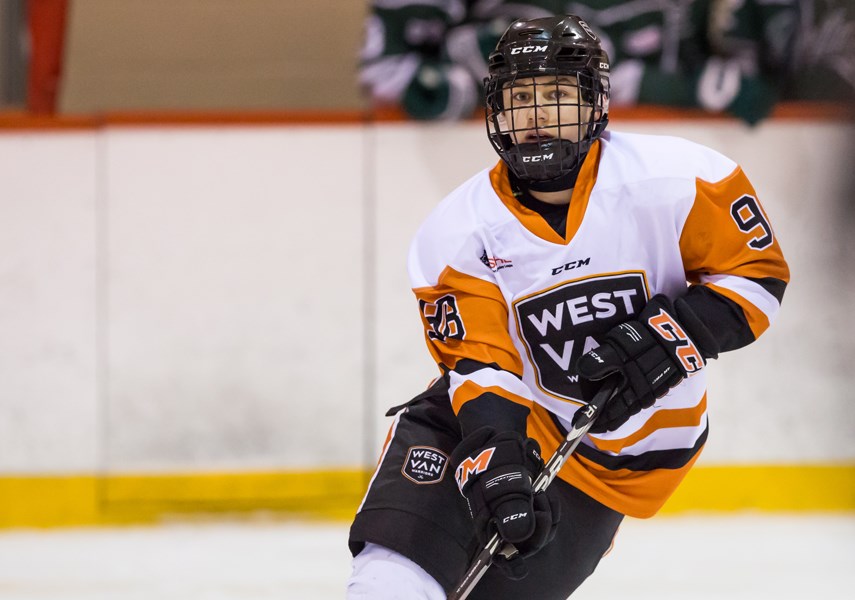 "At first it'll definitely be weird, I'm not going to lie," he says. "But I think I'll be pretty comfortable with that, I think. I'm pretty mature and I think I can handle that pretty well. But it'll definitely be different."
For Connor, it's always been about the game.
"A lot of my friends are actually a lot like me, they just kind of put the real focus on hockey," he says. "I try to surround myself with people that have the same goals as me."  
Judging by everything we've seen so far, Connor will handle it all with his patented poise. It's the parents, losing not just one of their kids but both in the fall, who will be hit the hardest, says Melanie.
"I'm already feeling quite emotional about it," she says. "I wasn't expecting Connor to be leaving at this point too. It would have been hard enough to have one of them go, but to have them both, it's definitely going to be a real adjustment for my husband and I."
The whole thing – the media attention, the exceptional status, the WHL draft, Gino … it's all been a wild ride for a North Van family that never expected any of it.
"It's really hard to put into words," says Melanie. "We're just a low-key family, so this is definitely a big change. To see Connor in those situations, on Sportscenter, TSN, obviously we're really proud of him because he has worked so hard and just has such a love and passion for the game." 
This, it would seem, is the new normal for the Bedards.
"It's hard as a mom especially because he is my little boy and making this big transition, like a lot of things are going to change," she says. "If his journey continues with hockey, then our lives as we know it now, with him being at home, it's going to be really different from this point forward. … You want to support their dreams, and so you have to let them go."