Several members of the North Shore's tight-knit track and field community are voicing their support for some local athletes whose provincial championship aspirations were dashed before they even got a chance to step into the starting blocks.
In early April athletes in the North Shore zone were informed that the provincial high school track and field championships would not include any para events for athletes with physical disabilities this year. Para events such as shot put, 100-metre and 400-m races were first introduced at the provincial championships in 2015 and had been on the schedule every year since. They won't, however, be held this year, a decision that has inspired one North Shore Grade 9 student to start a petition asking for the para events to be reinstated for the championships scheduled for May 30-June 1 at Apple Bowl Stadium in Kelowna.
"I think para athletes should be encouraged to participate," said West Vancouver Secondary student Rachael Watkins, who started an online petition that collected more than 275 signatures as of Tuesday morning. "It's kind of hard to encourage them when there's no championships."
Watkins was inspired to start the petition when she learned that her friend and West Van teammate Ges Bushe would not be able to participate in this year's championships. Bushe is a Grade 11 student who has FOXG1 syndrome, a very rare neurological condition that causes symptoms that can include involuntary muscle movement, limited social skills, and intellectual and physical impairments, among other things.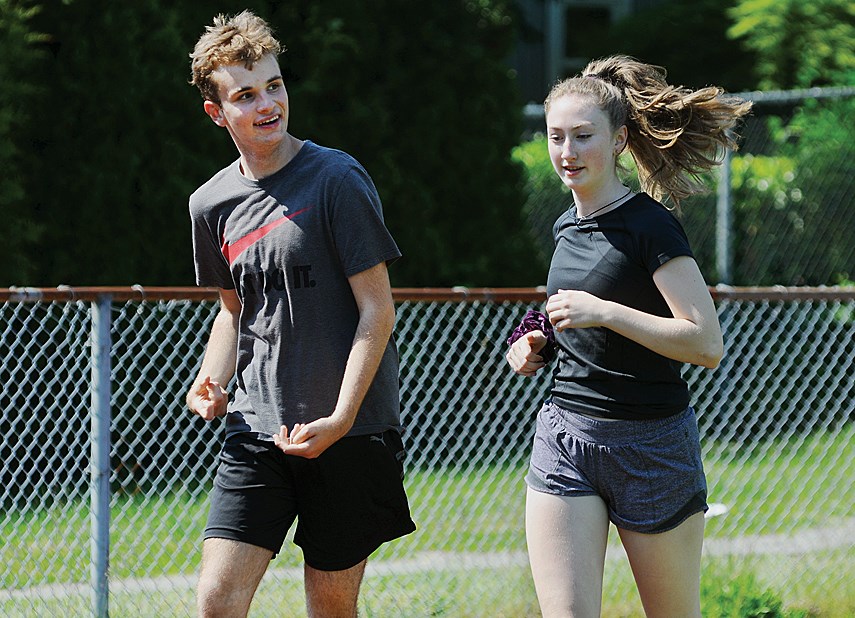 Bushe, however, is an avid runner, and has participated in several provincial championships in track and field and cross country running in his high school career.
"I feel sad about provincials because I get no races," stated Bushe, who is non-verbal and communicates by typing on an iPad. "I like going in the car with the kids and sleeping in the hotel. We laugh together."
Carmen Farrell, Bushe's mother, said she was "dumbfounded" when she learned in April – after track and field season had already started – that there would be no para events at the provincial championships this year.
"Our experience to this point had just been so inclusive and positive and all that good stuff," she said. "At first I thought well, do they mean this for 2020? It was kind of shocking."
The decision to drop the para events, however, was not meant to exclude anyone, but rather a necessary adjustment to the event's schedule due to very low participation numbers, said Andrew Lenton, the commissioner of the BC High School Track & Field Association. Lenton said that in previous championships many of the scheduled para events had zero participants, and only a few of the province's 10 zones sent any para athletes to the championships.
"We'd like to see participation, but at this point, to date, there has been so little participation that we thought it was best to allow it to develop at the local and regional level and then come back to it," said Lenton. "There's a lot of volunteers that we're asking to do a lot of work, and we're putting categories and events on and nobody is showing up."
The provincial championships are a large undertaking organized by a small team of volunteers, with time and space in short supply, said Lenton.
"We've got a very large event and we've got a lot of pressure around our facilities, because we can only fit so many field events in that time," he said. "We need the time and space and it's not being used. It's empty."
Lenton said he hopes that para athletics will be promoted and grow at schools across the province, indicating that the events could be added back into the provincial program when participation numbers increase.
The North Shore, however, is one of the zones where para athletics already have strong support, led by coaches such as Leslie Buchanan and Colin Dignum at West Van Secondary and others across the zone, including the North Shore Secondary Schools Athletics Association, which continued to feature para events this season even after learning that they would not be included in the provincial championships.
Watkins, who will race in the junior 3,000-metre race and on a relay team at provincials, said it was "heartbreaking" to find out that her teammate and friend won't get to go with the team.
"He's trained so hard," she said of Bushe. "He's a really good member of our team. He brings so much joy, to see that he's come out here and he's so motivated to run. It's just really inspiring to see."
Bushe stated his appreciation for Watkins and the rest of his teammates standing up to support him.
"When I think about friends like Rachael, I feel loveful," he wrote to the North Shore News, adding in a description of how running makes him feel. "When I run my races I cross the finish line and I am flying. When I run I am laughing inside. I love running. It helps my mind when there are too many things happening. I run because I feel overwound by things happening. Running makes me feel free."
Farrell said it brings a tear to her eye to see the North Shore running community rally around athletes like her son.  
"When you have a kid like Ges, you don't toss the word 'special' around lightly, because it doesn't always have a positive connotation," she said. "But the running community on the North Shore and the support that they've shown Ges is beyond special. … Other kids should have this opportunity that Ges has had as well. The fact that these kids are getting engaged shows why it's important. They care, they notice. It matters to them."
Bushe, however, won't be left on the sidelines during the provincial championship weekend. He's signed up to run the five-kilometre West Van Run on Saturday, and he'll be joined by a number of friends, teammates, teachers and administrators running alongside him as members of team "Ges Do It."
The West Van Run is a fundraiser for Special Olympics BC – North Shore.
"I want to do the West Van Run because I want more para athletes to run for their school," said Bushe. "I will get a medal and it's fun. Next year I hope to do provincials."