North Vancouver runner Natasha Wodak, who has raced in the Olympic Games and owns the Canadian record in the 10,000-metre race, laughs when asked about her "biggest breakthrough" in the sport.
Was it, perhaps, winning the Vancouver Sun Run in 2013?
"That was the first time I had won a big race," she said with a chuckle, adding that it's not nearly the crowning achievement of her career but it remains one of the things she is best known for in the local running scene. "When you win the Sun Run in Vancouver, it means a lot to people around here. … It was nice that people were able to kind of understand from that race that I'm serious about what I'm doing. I'm older – I'm 37 now – and for a long time I wasn't winning big races and I wasn't making national teams, but I was still running professionally, or trying to run professionally, and serving (at a restaurant) on the side and not getting a 'real job' because I wanted to do this, I wanted to make it to the Olympics. I think people started to take me seriously after I won the Sun Run."
Wodak, who grew up in Surrey and lived for a time in Port Moody and Vancouver, moved to North Vancouver a couple of years ago and now calls the Canyon Heights neighbourhood home. Her "breakthrough" may have come in the Sun Run – which she will compete in again this year on April 14 – but she has been at this game for a long time. Wodak raced all through high school before joining the powerhouse distance running program at Simon Fraser University. Suffering from burnout after years of non-stop racing, Wodak quit competitive running after her SFU career, but three years later she moved to a home near her old campus and got the itch to get back on the track.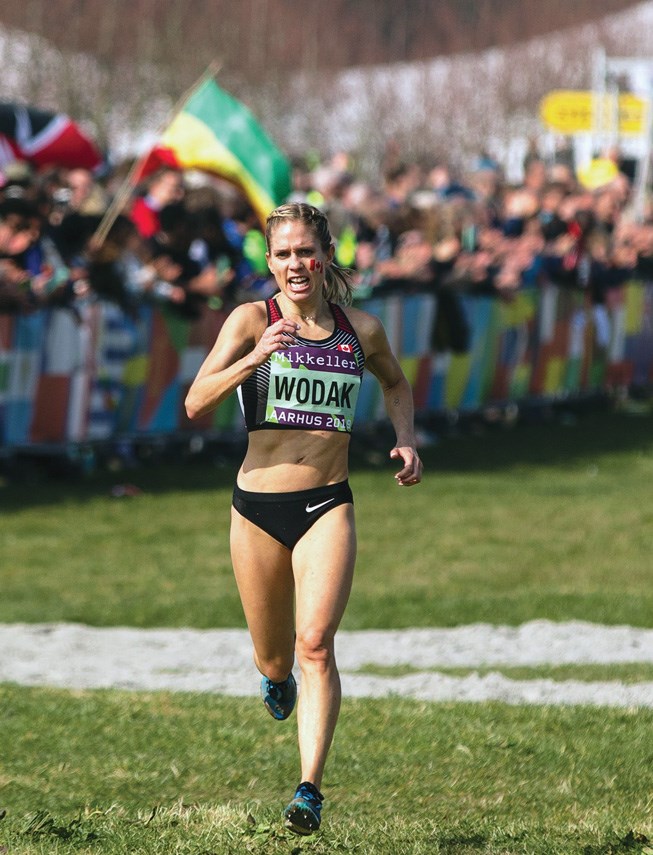 "I thought 'wouldn't it be fun to just start going to workouts again?'" she said. "Within a few months I started to see huge improvements. I thought, 'wow, maybe I have some unfinished business. And it just went from there."
Her career hit high gear in 2013, right around the time she won the Sun Run. That same year she won the Canadian cross-country running championships, also held in Vancouver.
"After 2013 when I moved out to Kits I really got serious about my running," she said. "I was doing 100 per cent – I was living and breathing running, and I saw the improvements right away. I was more consistent."
Injuries knocked her out of competition for 2014, but she came back better than ever the next season, including a run for the ages in the 10,000-m race at the 2015 Payton Jordan Invitational in Palo Alto, California. Wodak was trying to make the qualifying standard for the world championships and the Pan Am Games. Her time of 31:41.59 earned her those standards plus a whole lot more. 
"My friend that I was racing with said 'you got it!'" Wodak recalled about crossing the finish line. "And I thought she meant I got the standard. And I said, 'yeah, so did you!' And she said, 'No, you got the Canadian record!' I was like, 'I did?!' I'll never forget it. I had no idea. It was really surreal, calling my mom and telling her I got the Canadian record and ran standard for the Olympics. It's what you dream about. It was pretty special."
And Wodak did end up racing in the 2016 Olympic Games in Rio, where she finished 22nd. That whole experience was surreal, she said.
"You watch it on TV and being there, it didn't even feel like you were at the Olympics. It was so strange. It felt like I was at a race with familiar competitors, teammates that I was used to, but definitely when you walk into the stadium and you're standing on the start line, it was just – I was so nervous and excited, I thought I was going to burst into tears. I thought I was going to cry because I didn't know how to handle it."
Other big results for Wodak include another Canadian cross-country championship win in 2015; a 16th-place finish in the 10,000-m race at the 2017 World Championships; a fifth-place finish at the 2018 Commonwealth Games; and wins in the 2018 BMO Vancouver Half Marathon, Victoria Half Marathon, Vancouver Eastside 10k, and the Canadian 5-km road race championships.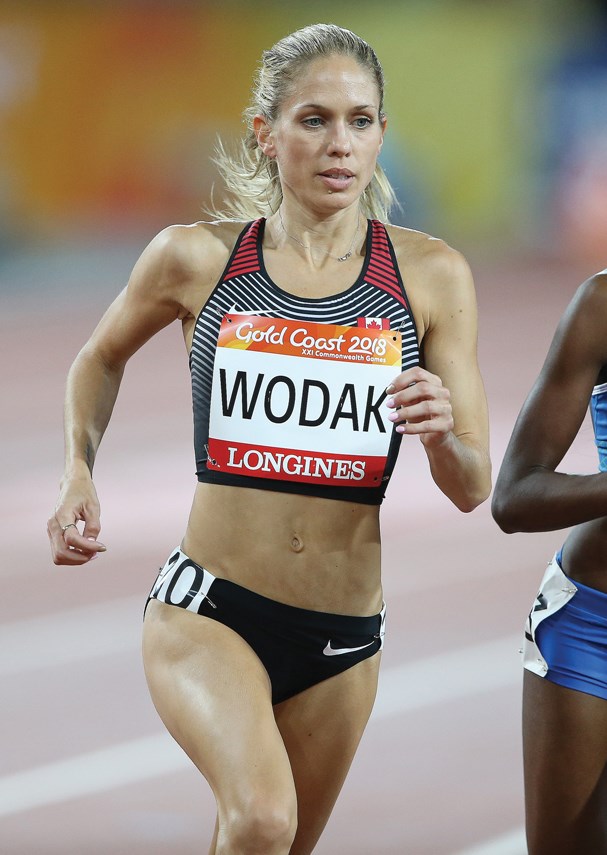 Her strong results last year earned her the top female athlete honours at the North Shore Sport Awards which were given out in a ceremony last month. 
"I was really honoured to have won that award," she said. "I was listening to the Hall of Fame inductees I couldn't believe how many amazing athletes had come out of North Vancouver. It was pretty cool to be a part of the running scene here. The community in North Van is really awesome."
Last weekend she was shoulder to shoulder with the world's best again, racing on a "crazy" course for the cross-country world championships in Denmark. 
"Crazy is an understatement," she said. "They're saying it was like the hardest cross-country course ever. It was pretty nuts. You were either going up or down. There was no area of the course where you could get a rhythm."
The two-kilometre loop, which the racers completed five times, included water traps, sand pits, mud pits and a climb onto the roof of an archeological museum.
"It was 150 metres on a 10 per cent incline," said Wodak. "It was crazy."
The course didn't set up well for Wodak, who as a natural road runner prefers fewer inclines and obstacles, but she was still the second Canadian across the line in 43rd place, helping the Canadian women to a seventh place finish in the team competition.
Hitting her stride at age 37, Wodak isn't planning on slowing down anytime soon. In fact, she's planning on speeding up. This season she wants to lower her national record in the 10,000 while qualifying for the world championships and running the standard for qualification for the 2020 Olympic Games. After the 2016 Olympics she earned full athlete funding, allowing her to quit her longtime side gig as a server and spend all her time training and taking care of her body.  
"I've been improving every year and it's been really, really exciting," she said. "It's kind of like a dream come true. I'm now living and training full-time, doing this full-time, which is nice. I'm travelling the world doing what I love. Not many people get to say that they get to do that."