Mountain United FC's U15 boys squad will be aiming to reach the peak at Soccer Canada's U15 Cup National Championship tournament running Oct. 4-9 in Calgary.
The high performance club is made up predominantly of players from the North Shore and Burnaby, with North Van FC and West Vancouver Soccer Club helping to stock the boys program. They're some of the best players around, and next week in Calgary they'll be out to prove that they're the best players in the country.
"Our kids, our club – we don't want to go there just to participate," said head coach Nick Dasovic. "The kids want to go there and win it. That's just the kind of group that I have – these kids are competitive, they're feisty, they train hard."
Canadian soccer fans will recognize well the name of the team's coach. Dasovic had a long pro soccer career and was a mainstay with the Canadian senior men's national team in the mid-1990s and early 2000s, racking up 63 caps to sit tied for ninth in team history.
Dasovic, whose son Lucas is on the Mountain United squad, has been working with the team for the past two years. He's coached at senior levels – he was an assistant coach while at the same time finishing his playing career with the Vancouver Whitecaps, with other coaching gigs with teams like Toronto FC, the San Jose Earthquake and the Canadian national program after he retired – but he's really enjoying working with these dedicated teenagers.  
"It's fun because you get to see them learn," he said. "It's a really interesting age, the U15s. You get a lot of kids that are now maturing quicker than the other ones. … You've got guys that are shaving and you've got other guys whose voices haven't dropped yet. It's a really strange year. It's that age group, you've got to deal with it."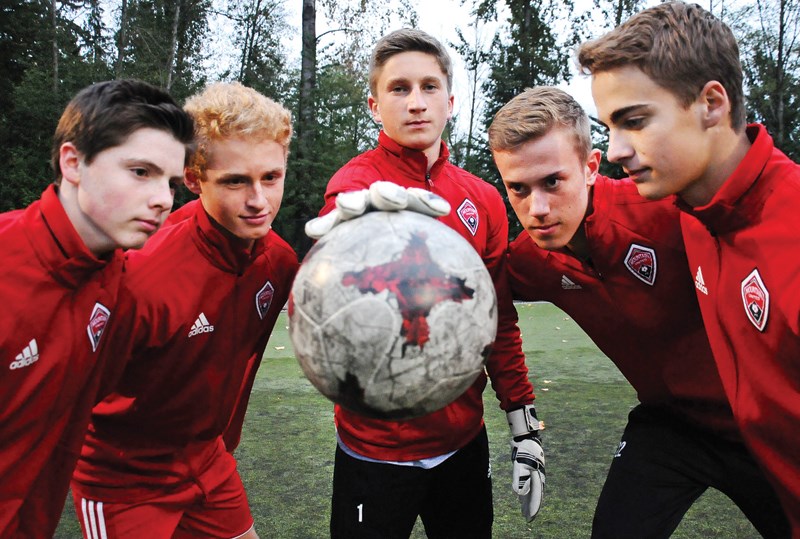 The U15 squad includes five North Shore players. Lucas Booth is one of the mainstays in the middle of the park. "He's been part of the team since Day 1," said Dasovic. "He's that little grinder in the midfield with good talent as well. He's fearless, he likes to get in on challenges but he can also play football."
Matthew Harland plays right fullback. "He can fly," said Dasovic. "He's got the ability to run forever. We use that strength to our advantage by getting him up and down that wing – he can run for three days without stopping."
Jordan Curlier does a little bit of everything for the team. "He's very versatile," said Dasovic. "He can play anywhere in the midfield. He's played striker, defender. ... His body language, his demeanour on the field – he's a quiet leader and he always gives you 100 per cent."
Michael O'Flynn was the team's backup goalie for a couple of seasons but stepped into the starting role this season and thrived, said Dasovic.
"He was really patient. He's an unbelievable athlete. … He's come a long way and now he's come into that No. 1 role."
O'Flynn's backup is Ole Heath, another North Shore player.
"He's 14 years old and six-foot-five," said Dasovic with a laugh. "He's huge, and he's got a lot of upside in him. He's going to have a bright future. … You can imagine being 14 and six-foot-five, you've got to learn how to work those legs. He's getting better and better each day, he really pushes Michael and they both kind of share the goalkeeping duties during the season and then when it gets to playoff time we kind of go who's looking better at the time."
The team earned their way into the national championships with a 1-0 win over their archrivals, Fraser Valley Premier, in the B.C. Soccer Premier League provincial final in June. It was the third time in a row that the two squads met in the B.C. final, with Mountain claiming the title in 2015 and 2017 and Fraser Valley winning gold in between.
"It's been a big dogfight between the two clubs," said Dasovic. Zakiy Karim scored the goal that held up as the game winner on a scorching early summer day. "The kids played really well. They understood how to play against Fraser Valley – they kept them away from the ball. We had some good quality when we needed it. … Everybody did their job, played well. When you look at the result and the way we played, deservedly so. We were the better team on that day."
The team is at its best when they're keeping possession of the ball and building from the back, said Dasovic.
"One of our mandates is we want to play a possession-based football game," he said. "A lot of teams like to just play direct, 'long ball' as they call it, but we're kind of opposed to that. We want to play possession football and I think the boys are doing a great job of that. When we play possession-based football it's pretty to watch and it's effective."
Dasovic did a little digging and found that teams from B.C. have only won the U15 national title four times in the past 32 years. He's hoping his boys can add to that total and said they've been working hard towards that goal.
"You want to teach a kid to train at maximum, every time they come on the field. That's been one of my mantras since I've come," said Dasovic. "There's been no motivational problems these last six weeks because the kids know what they're getting, what's ahead of them. Practices have been very, very bright, nice and sharp. They've worked really hard. We'll do whatever we need to do to get them ready for that final in Alberta."
No matter what happens, Dasovic said his No. 1 goal is not just to create good players but to create good citizens as well.
"I want people to say that they can tell this is a Mountain group because of the way they are respectful, well behaved, and play some really good football."