Amongst First Nations players the game of lacrosse, known as the Creator's Game because it was given to them by the creator for his amusement, also goes by the name Medicine Game.
This is no mere title – it's a prescription.
Lacrosse was "used when a member of the Nation was ill," according to an article posted by the Native North American Travelling College. "The medicine people would prepare the remedies and administer them to the sick, and then they would call for a game of lacrosse to be played. The game would be played to draw the powers of Mother Earth. The game was played to show the Creator that they had not forgotten him or his teachings."
There was no major sickness to be healed for the members of the North Shore Indians Intermediate B lacrosse team this season, but there was a lot of pain.
The team of North Shore teens – 24 boys and one girl, a mix of First Nations and non-First Nations players – put together a miracle season this year, making the provincial championships for the first time in 20 years when no one expected them to win a single game. But those around the team say there was more to it than wins and losses, that something special happened this year, a positive force emerging out of tragedy.
"Lacrosse is a medicine game. They use it to heal," said James Manalo, the team's head coach as well as a youth worker with the Squamish Nation. "It helped a lot of these boys heal through the grieving process."
Sometimes sport is more than just a game.
• • •
Justin Nordlund was a popular figure around the Squamish Nation Reserve and at Carson Graham Secondary where he played on the football and rugby teams. He died April 10, 2017. The B.C. Coroners Service has not yet determined an official cause of death. Nordlund's body was found near Lions Gate Bridge, on Squamish Nation territory. He was 16 years old.
The Chief Joe Mathias Centre was packed for the funeral service, including many friends and teammates of the boy they called Jnords. Some of the boys started talking about ways they could honour their friend.
The topic of lacrosse came up. Nordlund counted the game amongst his many team sports, although he hadn't played in a while. Many of his friends did, however, and at the time of his death they were preparing for the start of the season with the North Shore Indians Intermediate B squad. The prospects for the 2017 season were not looking good. The team had been resurrected by manager Ron Nahanee in 2016 after a few off years, and it did not go well. They won once and tied once, losing all the rest. They struggled to field enough players to complete a full line, let alone a complete lineup, and lost some games by massively lopsided scores.
"I played on the team last year and we had like six or seven guys coming out to each game," said goalie Brodie Jacobs. "We didn't win a lot, we didn't have a good team."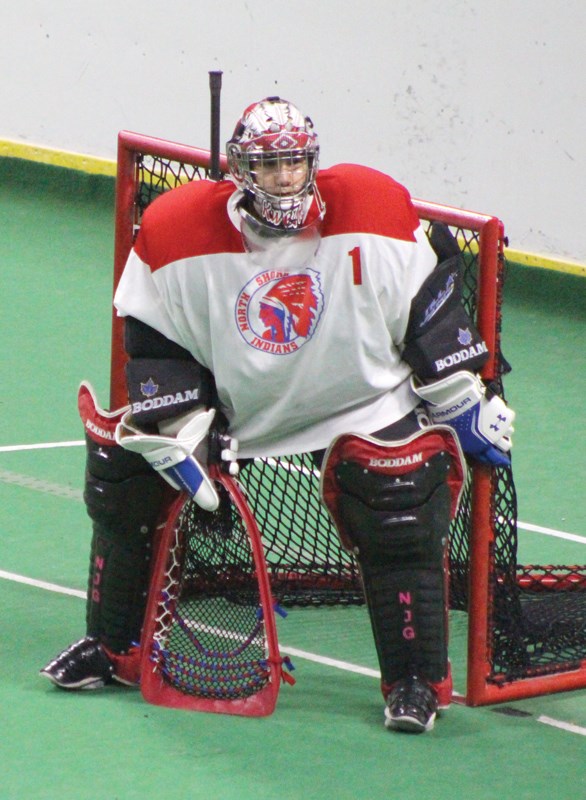 The year 2016 was the first for Manalo as head coach and it was rough. He was worried that 2017 was shaping up to be the same.
"It was looking kind of the same at the start of the season," he said, "(with) no players motivated to come out and play."
Players and staff from the team were talking about that very thing following Nordlund's funeral.
"We were talking. … How are we going to get a lacrosse team?" said team manager Tamara McMinn. "All of a sudden a couple of the boys who played rugby and football with (Justin) said 'we'll try it.'"
These were boys who'd never touched a lacrosse stick in their lives. But they signed up, ready to give it a shot. Then a couple more signed up. Soon enough, six of Nordlund's friends from other sports – football, rugby, hockey, basketball – who had never played lacrosse before were members of the North Shore Indians.
Suddenly the team had enough bodies to field a team. They also now had something important to play for.
"A lot of these boys were still sad about it," said Manalo. "I had a talk with them – maybe they need an outlet for them to escape and do something for Justin and his family, something special."
Sean George, who had been friends with Nordlund since they first met while playing for the same GSL football team in Grade 6, was one of those new players picking up a lacrosse stick for the first time.
"(Justin) used to play, and I was friends with all the guys on the team and so I decided to start," he said. "I just heard from a couple of friends that they needed some guys to play."
Team staff, with the help of members of the Squamish Nation, scrambled to find equipment for all of the new players, not wanting them to have to pay for a full set of gear for what likely would be their one and only season of lacrosse.
By the start of the season they were ready to go. Well, sort of. The rookies looked understandably raw in their first few practices and games.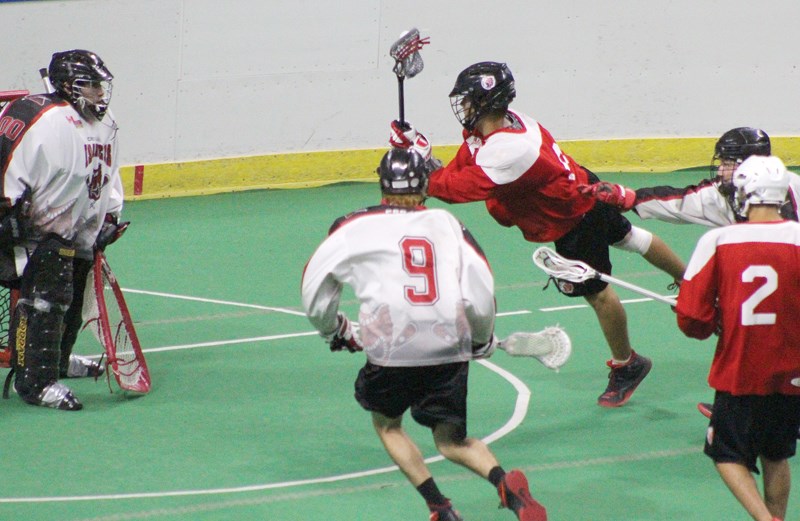 "At the start of the season they were awful, if I'm being honest," said team captain Nick Baker with a laugh. "None of them could catch, none of them could pick up a ball – one of them still can't pick up a ball. But they were good athletes so they could throw their bodies around, get some hits going, play some defence."
They lost their first game 9-5, their second game 11-2. They lost their third game 7-2, their fourth game 12-2. They lost their fifth game too, although it was a tight one, 9-8.
Everyone noticed how quickly the team was improving, particularly the new guys. They weren't yet lacrosse players, but they were strong athletes and it showed. Many of the new guys, transfers from other hard-hitting contact sports, were especially keen on the physical side of the game. While the stick skills of lacrosse were much different than anything they'd encountered, the physicality was not: there were some transferable skills from football and rugby.
"Oh yeah," said assistant coach Dennis Joseph with a laugh. "You've just got to be crazy."
They hit hard, and not always properly, and some spent a lot of time in the penalty box.
"In the beginning the new guys were the ones just throwing the body and willing to do anything to get the ball," said Jacobs.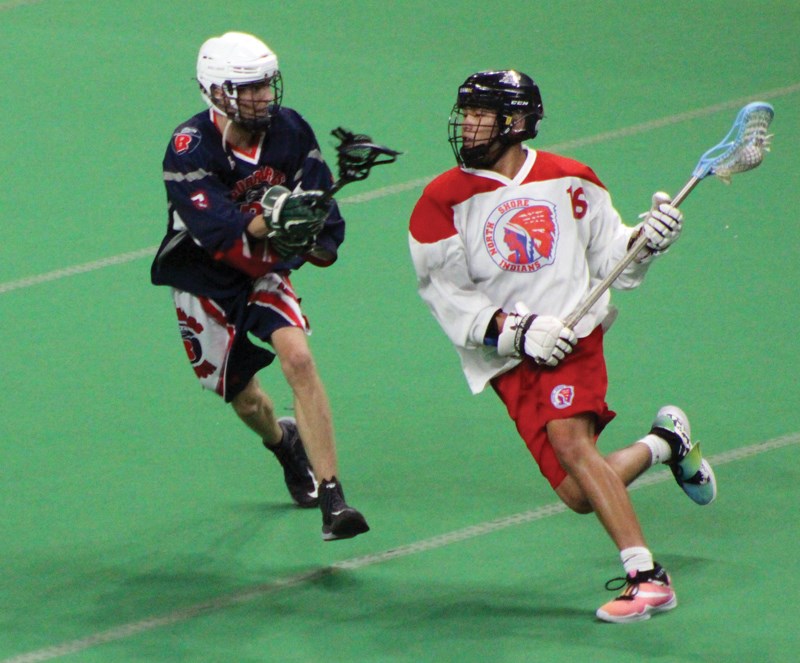 As the season progressed, however, the other skills came along quickly. Most around the team credit Manalo and his coaching staff with getting them into game shape, but Manalo deflects that back onto the players
"Their progression was really quick, because they were putting in their own time and effort," he said. "The first practice was hard with the hand-eye co-ordination using the sticks, but they put in the effort. We would have practice once a week and one or two games a week, but in between those they would go out as friends just to pass around and shoot. It was on them to get onboard with their skills."
Their sixth game, they won, 13-2.
"As the season went on they became some of our best players," said Baker about the new recruits.
Many of them started to excel on defence, where their athleticism shone and their stick skills weren't as important. From his spot in goal, Jacobs saw the players quickly picking up the game.
"I saw the new guys picking up the defence really well," he said. "At the beginning of the year they didn't really understand any of the concepts of defence for lacrosse, but as the season went on they became really great defenders."
From then on they didn't win all their games, but they didn't lose all of them either. Some teams that had beaten them soundly early in the season were surprised to get taken down by the Indians later in the year.
The season came down to a three-game playoff series against the New Westminster Salmonbellies, with the winner earning a berth in the provincial championships. The North Shore team hadn't been to provincials since 1997, when they won it all.
This year's series started with a high-scoring 14-11 win for the North Shore July 26 at Harry Jerome rec centre, followed by a 16-11 home win for New West three days later. The season was down to one winner-take-all game.
With about two minutes left in Game 3, played in front of a near capacity crowd Aug. 2 at Harry Jerome, the score was tied 5-5 when junior call-up Jaden Sealey fired in the go-ahead goal for the Indians. The Salmonbellies fought back, however, and with 20 seconds left in the game they were coming at the North Shore goal in full force. The Indians were in full defensive mode, with some of those new recruits on the floor as the clock ticked down.  
"That last 20 seconds was really tight, they were on us the whole time," said George.
As the final seconds ticked down, the crowd got louder and louder, the sound of drums echoing throughout the arena.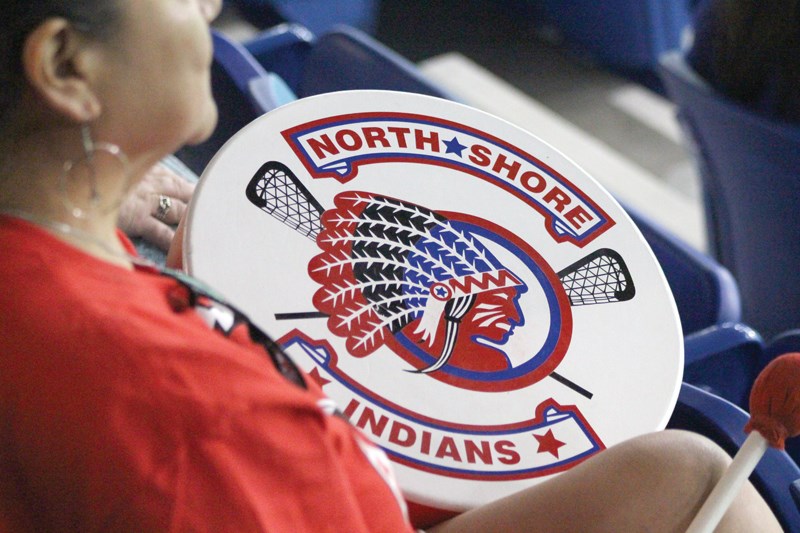 Baker, who plays on the offensive side, was on the bench, unable to watch as the drama unfolded. The seconds ticked down, and then came the roar.
"Our defence held it together," said Baker. "The crowd went wild."
"It was absolutely incredible. The fans were just crazy," added Manalo. "The whole place was just rumbling, and all I see is just my players jumping off the bench, charging our goalie. That moment was just really special for the community. We had one goal and we completed that goal.
"For me it was quite emotional. Just from the roller-coaster ride of my first year of being head coach to this year, it was special."
• • •
United by tragedy to start the season, the North Shore Indians became closer and closer as the year went on. Squamish Nation lent them a bus for all of their away games, and the team's stylish arrivals at opposition arenas became the envy of the league. Those bus rides also helped them form powerful bonds, according to those who watched the team grow and change.
The one thing that remained constant was the drive they all felt to honour their fallen friend.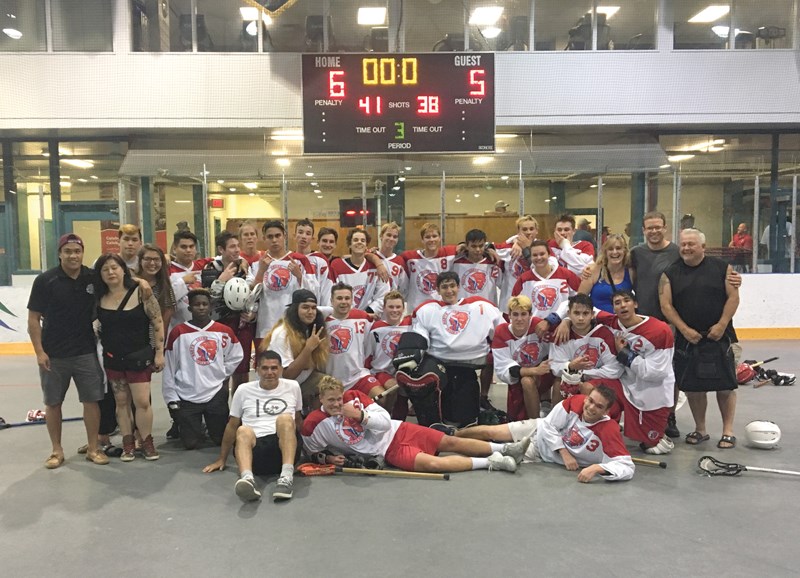 "We kind of just did everything for him," said George. "One of our chants was 'Jnords.' We'd say that name before our games. We were all just close to him so we'd play our games for him."
The season helped the team honour their fallen friend, while also just enjoy the camaraderie of being on a tight team, added Manalo.
"The team chemistry is amazing. They love each other, they had one goal and it was to do it for Justin. To have fun, to be a youth – that's what sports is all about, to make bonds and friendships and to do it for each other. Each player worked hard so they could be an asset to the team."
There was no Hollywood ending though. The team played well at provincials, winning their first game before falling in their next three, including a loss in the bronze medal game. They left the Langley Events Centre without medals, but they were not empty handed.
"Lacrosse is such a big part of this nation," said Manalo. "When (Justin) passed away his family gave all the boys a lacrosse stick necklace. A lot of the boys wore that throughout the season, every game, every practice. He was with us."  
The boys could feel it, all season.
"The entire community was with us," said Baker. "Justin was with us. We did everything for him."