It's minutes before the North Van Wolf Pack home opener is set to begin on a Saturday night at Harry Jerome arena and Dean Samson – the team's part owner, CEO and elder statesman – is rushing around the rink trying to fix the Internet connection.
It's an important task because there's a volunteer film crew and announcers from BCIT on site to do their regular online broadcast. You can't really have an online broadcast if you can't get online. It's also important because of the significance of the night: it's the first regular season game since the Wolf Pack won their first ever title in the junior B Pacific Junior Hockey League. Several star grads from that championship team are back in the building and they'll be on the ice in a few minutes to accept the trophies and banners.
The only problem is that Samson admits he knows next to nothing about the technological wizardry needed to get the Internet connection fired up again.
"We prepped for everything except that," he says. "That's on me. I'm getting older, I don't always remember everything I need to do. ... It's all the little details outside of the hockey itself that stress you out after a while."
There is one other factor adding stress to the situation. There's a man miles away in Merritt, B.C., someone very important to the franchise, sitting in front of his computer trying to catch the broadcast. He really wanted to be there in person but the online broadcast would be the next best thing. If, of course, they can get the dang Internet hooked up again.
• • •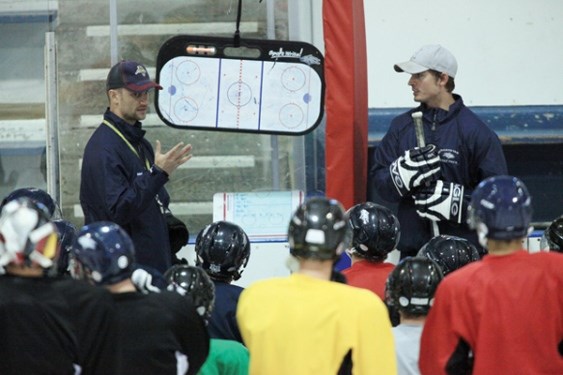 There's a lot that goes into running a junior hockey franchise. The Wolf Pack emerged out of the dreams of a young man named Matt Samson, a hockey player himself who after finishing his career at NCAA Div. 3 Buffalo State College in New York came home to the West Coast and started looking for work. One option was coaching, and as a 24-year-old he was approached to lead a team in what was known as an "outlaw league," a junior circuit that was not aligned with Hockey Canada.
"I literally knew nothing about it. I thought it sounded cool at the time," Matt says.
He ended up with a team called the Squamish Cougars. The coaching was cool. The league – not so much.
"The second year was just a mess and everything kind of fell apart financially. Rinks weren't getting paid and I didn't get paid – it was just a disaster."
But Matt was hooked. The Cougars faded away but Matt wanted to keep coaching, and he wanted it to be legit. That's when he got the idea: he'd start his own junior hockey team.
He was, however, still just a mid-20s recent college grad with no money and no connections. He knew someone who did have those things though: his father, Dean.
Dean Samson has always had a strong connection to sports, having played high-level football and baseball. The Winnipeg native was inducted into the Manitoba Sports Hall of Fame as a member of the University of Manitoba team that won the Vanier Cup in 1969 and 1970.
Later employed as a customs broker, Dean had an epiphany during one of the bitter Manitoba winters in the early 1980s.
"We used to come (to the West Coast) for our vacations and I thought what are we doing? Let's move."
Matt grew up on the West Coast with Dean coaching him in hockey and baseball. When Matt came back to him with a plan to start his own junior hockey team, Dean was again happy to help.
"I loved team sports, I got so much out of it," Dean says. "You don't realize until you get a bit older how many people are doing something to give you that opportunity. I played in three national championships in various sports. I never thought a thing about it. You realize later all the organization that has to happen to get you there."
Matt needed Dean, needed his money, and needed his friends with money. On top of all the funds needed to equip and run a team, there was also a $50,000 fee to buy a new franchise. Dean headed up a group of 10 local investors who paid for the team, most of whom are still on board. It took some convincing, however, to get the league based mainly in the Lower Mainland and Fraser Valley to expand up the Sea-to-Sky highway.
"They didn't want to drive to Squamish," says Matt. "I think there were a few people who didn't want us in the league, but at the end of the day they were happy to take our money."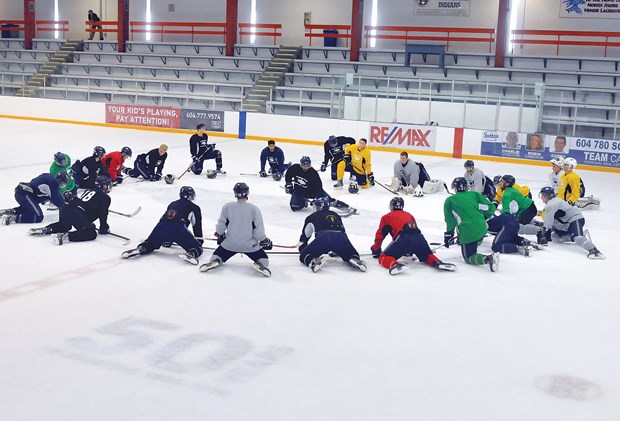 The Squamish Wolf Pack began play in the 2008-'09 season with 26-year-old Matt Samson as their coach and general manager. The team would soon find out, however, that the doubters might have been right. Squamish was a tough place for a junior hockey team. Local support was good, but the travel was not.
"We were chartering a bus so every road game was like $1,500 or $1,700 on the bus. That's just insane," says Matt.
"We made a lot of mistakes in the first year," adds Dean. "We might as well have just burned the money."
Recruiting players also proved to be a huge challenge. For the most part, players at the junior B level know they're not likely headed to the NHL so they are happy to play for teams located close to home. They weren't so happy, it turns out, to drive the extra miles to Squamish.
"We were kind of like going to Siberia as a junior B player in the Lower Mainland," says Matt. "It's like, 'Oh my God, I got traded to Squamish. What the hell? Am I going to report?' It was option 10 on every PJHL player's list of places to play…. It was easier for us to get a kid from Denver or California than it was to get a kid from Burnaby or even North Van."
By year three things were getting bleak – the team played 46 games and was outscored 251-122. They won six times.
• • •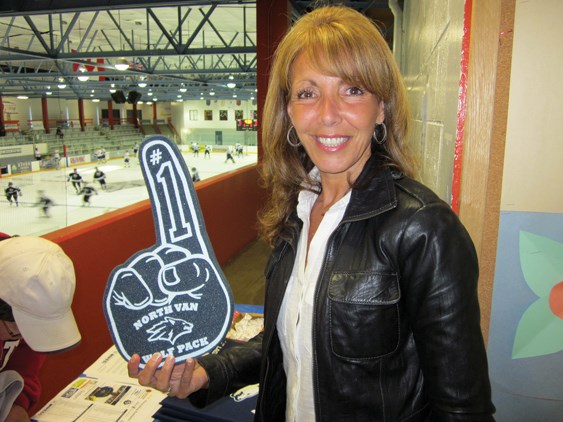 The summer following the six-win season the Samsons pulled off a manoeuvre that turned the team around completely, moving the franchise from Squamish to the family's adopted West Coast hometown of North Vancouver. The Wolf Pack's future brightened immediately.
The team was now drawing players from around the Lower Mainland, particularly the North Shore's four strong associations: North Van, West Van, Hollyburn and the Winter Club. The first year in North Van the team made the playoffs for the first time ever.
Their point totals rose in each of the first four seasons, from 43 in 2011-'12 all the way up to 67 last season, a total that won the Wolf Pack their first ever regular season title.
The team was recruiting better players and – more importantly, the Samsons say – helping them move on to play on junior or college teams and hopefully get an education.
"I'm not in it to make money," says Dean. "None of our (owners) are in it to make money. They all want the same thing. One of our guys died two years ago – his biggest thrill was to know that kids who started with us were going to college."
Things were definitely going much better for the Wolf Pack since the move to North Van, but the team still had to deal with all sorts of minor (and major) annoyances that come with operating a fairly small business in a highly public environment.
Sponsors have come on board, and fans of the team – including the players' families – pay admission to the games. But the money that comes in – approximately $30,000 at the gate for the entire year – is never much different from the money that goes out. Each home game costs about $850 for referees, ice time and support staff. The players pay to play too, with an $800 fee to the league as well as team fees.
With all those costs, the team is always looking for creative ways to make some money. Each game the winner of a puck toss gets a chance to shoot through a small hole into the net, winning a $50 gift certificate for Popeye's Vitamins if they hit the mark. One day Dean came up with the idea to raise the stakes on the old shoot-to-win contest.
"Genius that I am I thought, you know what we should do to generate more interest and sell more pucks? We'll make a $500 prize if you shoot it through there," Dean recalls. The first night they ran the contest they sold a ton of pucks. 'I am a damn genius,' Samson thought to himself.
"The next night the kid who won was an ex-hockey player. He came out and hit it first try. You know what I didn't do? I forgot to make the hole smaller. It was still the same size to win Popeye's $50. The whole building goes crazy, the kid is jumping up and down, our mascot is jumping up and down, our kids come running out to see what's going on."
As he tells the story, Dean buries his face into his hands, adding that he was the only one in the building not happy to see a young man win $500. His $500.
"F--- am I stupid," says Dean.
"500 bucks down the drain," adds Matt.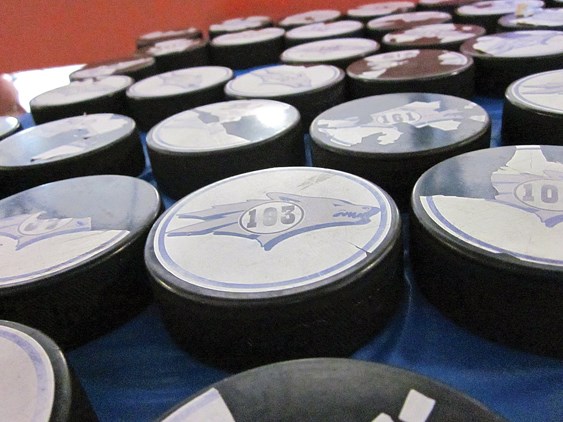 Another night, former leading scorer Quin Buckellew blasted a shot that shattered the glass behind the net. There was no one on staff at the rec centre who knew what to do and there was no replacement glass available anyway.
"We were panicking," remembers Matt. "My dad was out there and we had a couple of parents out there with tools from our dressing room. They ended up just putting up a board to support it. We obviously didn't want anybody to get hurt but we wanted to finish the game. It was one of those things, like 'what could happen next. What could go wrong?'"
They finished the game with a piece of plywood replacing one of the panes of glass. When they came back the next week the board was still there.
Things got really messy last season in a first-round playoff game against the Delta Ice Hawks. With the Pack leading 5-1 after two periods the two teams came back out for the third only to discover that the ice resurfacer, driven by an inexperienced employee, had chopped up a big chunk of the ice, leaving a potentially dangerous surface.
Coaches, managers, players, league officials and the referees waited, debated, and then waited some more – nearly two hours – until finally deciding that they'd patched it up well enough to finish the game.
"That was a long night, and frustrating," says Matt. "I felt bad for the (ice resurfacer) guy – he'd never done it. ... We know we're not going to make $1,000 at the gate, but we don't want to drive people away because they come and something is broken or doesn't work and they have to wait an hour. That hurts our product on the ice. We want people to be able to come out and enjoy themselves."
Wolf Pack fans were certainly enjoying themselves a month later when the team scored a 3-2 victory over the Mission City Outlaws to win the championship series four games to two.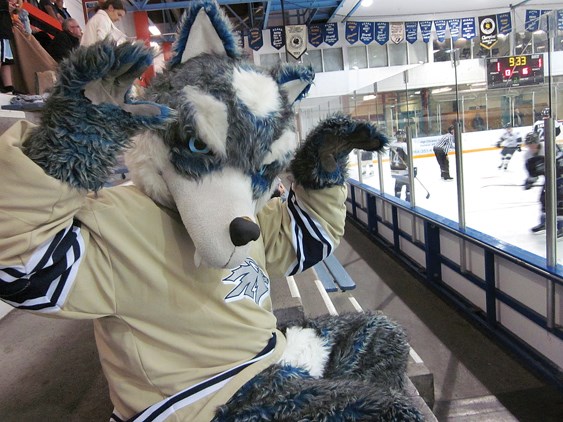 The memory that sticks out the most for Matt is seeing his players, including several talented 20-year-olds in their final season of junior hockey, celebrating with their families on the ice at the Mission Leisure Centre.
"These guys in their last year – that was the way we talked about them ending their careers," says Matt. "I kind of thought back to where we started from. To think three years later from when we had a horrible losing season to really flip everything and go from worst overall and win the whole thing – it was worth it and it felt rewarding. And then to know I've had the support of my dad along the way, a great coaching staff and volunteers and so many people. It was pretty rewarding."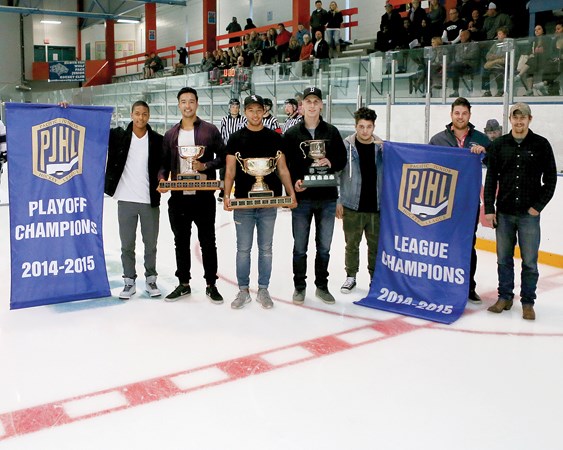 • • •
It's opening night of the 2015-'16 season and the Internet is finally up and running. Dean didn't figure it out. It was one of his volunteers, a kind lady in her 60s who recently decided she wanted to learn about computers, who rigged up a workaround on her laptop to get the broadcast going again.
The Wolf Pack has a small army of volunteers led by Leanne Taylor, former president of the North Vancouver Minor Hockey Association. "You get nowhere here without volunteers. And we have the best volunteers in the league," says Dean.
Sadly, the man in Merritt isn't able to catch the pregame ceremony on the online broadcast.
Who is it?
It's Matt Samson.
The BCHL's junior A Merritt Centennials took notice of his work with the Wolf Pack and hired him as an assistant coach this summer.
"It's definitely a weird feeling," Matt says of starting this season on a different team, saying goodbye to the franchise he started from scratch. "It's tough for me to even think about leaving because the Wolf Pack were so much a part of me."
In the end, everyone was on board with the move and the team has moved on smoothly, promoting veteran coach Bayne Koen, a longtime friend of the Samsons who joined the Pack as an assistant last season, to the head coach position and making Elias Godoy, another good friend of the family who has been with the team as an assistant coach for four years, the new GM.
Dean has stayed on as CEO, in fact getting more involved than ever to help smooth the transition from Matt to Koen and Godoy.
The team didn't just lose Matt in the offseason – nearly all of the stars of their championship run graduated or moved on to a higher level. They lost on opening night at Harry Jerome, 5-2 against the Abbotsford Pilots, but have rebounded since, posting a 5-3 record to move into second place in the PJHL's tough Tom Shaw conference. Although many of the names have changed, the Samsons have built the franchise for long-term success, says Koen.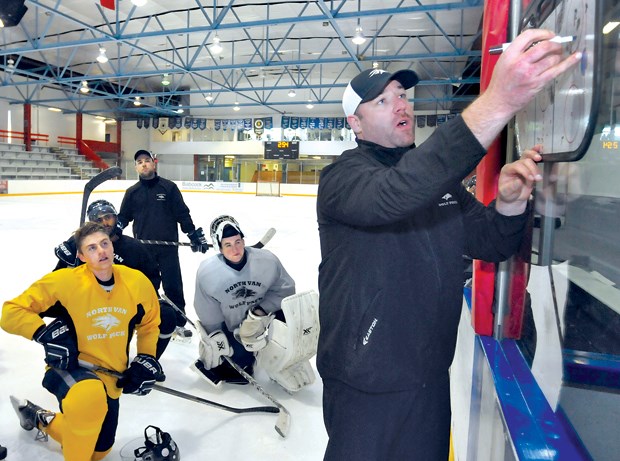 "I think it's a great combination," he says of the father-son duo. "They brought a successful mindset to North Vancouver, getting people excited about our team. ... They put a lot of hard work into doing everyday things that sometimes we don't see as coaches and GMs – making sure that the players are treated first class and able to come in and do their jobs at 100 per cent and not have to worry about the little things outside,"
Koen marvels at the things the team was able to accomplish last season.
"The team we had is probably one of the tightest teams I've been around in hockey in a long time. It was our veteran guys really paving the way for our younger guys, and everyone cared."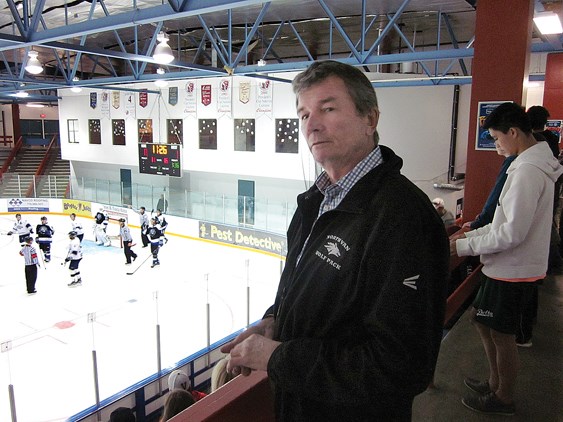 His son may be gone, but Dean thinks the Wolf Pack can get back to that championship level. He's not worried about the hockey side of things. What bugs him the most is that he and his wife Cheryl won't get to see their son, daughter-in-law Erin and, most especially, 14-month-old granddaughter Sydney as much anymore.
Sydney just took her first steps, Dean says as he turns his attention back to the ice on opening night. He wasn't there to see it.
That, however, is just another part of being involved in a business where moving is always on the table, where young men can be traded away to faraway towns, where everyone is chasing the same dreams. It can be a tough game.
"I wouldn't change anything," says Matt. "Squamish was a good experience and it got us to North Van. And now I'm getting a chance to coach in the B.C. Hockey League and we'll see where that goes. At the end of the day I could always come back and be back with the Wolf Pack one day. I don't know if that'll ever happen but it's nice that I'll always feel a part of it."
Connecting with the community is a core goal for the Wolf Pack, says CEO Dean Samson, and the team will partner with Family Services of the North Shore for a Family Hockey Night Oct. 17 at Harry Jerome. The evening will include a player meet and greet at 5:30 p.m. followed by a 7 p.m. game against an old rival, the Richmond Sockeyes. Tickets are $10 for adults, everyone under the age of 18 is free. The team hopes to raise $5,000 to fund play therapy sessions for 50 North Shore children through Family Services.