The Windsor Dukes won the Subway Bowl B.C. High School Football Championship junior AA title on Saturday, putting in yet another resilient effort to prove once again that they are a plucky program fully prepared to punch well above their weight class.
The Dukes defeated Parksville's Ballenas Whalers 25-14 to win the junior provincial title, kicking off a full slate of championship games Saturday at BC Place. It was a fight for Windsor, however, as the Dukes battled through some tough moments that could have easily derailed their championship push.
The challenges included a fumble inside their opponent's five-yard line as the Dukes appeared ready to score, as well as a tipped pass that was intercepted by the Whalers and returned 90 yards for a pick-six touchdown. With those missed opportunities, the Dukes trailed 14-13 heading into the fourth quarter, but the final frame was all Windsor as they fought their way to a championship win.
"It's a bunch of gutsy kids that get together that all really care for each other, rather than a bunch of superstars here and there with egos," said Windsor head coach Ian Sinclair about his team. "They really embrace the team-first attitude, very unselfish to a man. … Our motto all year was next play, next play. We tried to instill in the young guys that you can't worry about something that just happened. You've got a 40-second shot clock, you've got to worry about the next play and being successful on that. And they really were able to put stuff like that behind them and persevere through."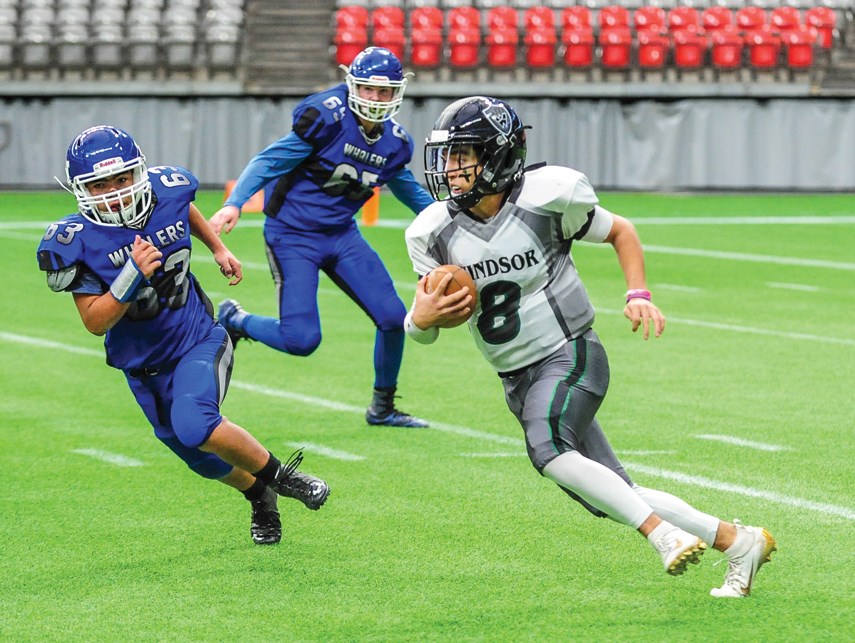 Windsor quarterback Alek Giragosian was named the game's MVP, finishing with two rushing touchdowns and one through the air. Giragosian opened the scoring with a 49-yard run in the first two minutes of the game, and then sealed the deal with a short touchdown run with less than four minutes left in the fourth. In between he hooked up with receiver Adam Murray for a 55-yard touchdown pass. Giragosian, a Grade 10 who also played quarterback for Windsor's senior team, is developing a well-rounded game, said Sinclair.
"He really is learning how to manage a game and to throw the ball a lot more," he said. "It's always great when the quarterback has some good legs under him, but it's also important that he learns the game from the quarterback position, which is extremely difficult for anybody, really, and especially a guy of his age. So his progress this year was phenomenal. We throw the ball a lot for a high school team, and he really blossomed in that area."
Running back Jacob Groves scored the winning points on a touchdown run in the fourth quarter. Sinclair also noted strong performances from lineman Hunter Brown and Thomas Sinclair, linebacker Lucas Herman as well as skill players Aidan Melnyk, Marcus MacEachern and Simon Capabianco, with most of the key players on the relatively small Windsor roster hitting the field for both offence and defence.
"We're kind of like an overachieving bunch of guys," said Sinclair. "We were getting better and better and better every game, which is all you can ask for. And we're adding more and the kids were just soaking it up and really, really concentrated well. … It was really rewarding for me just to see how far they've come."
The will to battle through adversity wasn't just built in one game for many of the players, but rather over an entire year. Many of these Dukes were on the team that made it to last year's junior provincial final where they lost 69-27 against Chilliwack's G.W. Graham Grizzlies. That experience stuck with them as they battled to get back to this year's championship game, said Sinclair.
"That chip on your shoulder, that edge, it sure sits there and it maybe gave them a little more focus going into the last week, you know, that they haven't done it all yet," he said. "You don't want to go all this way and not get there. They were talking about it, it was on their minds. They certainly didn't forget about it."
The Dukes got a shot at redemption in this year's playoff semifinal, facing those same G.W. Graham Grizzlies Nov. 20 at Burnaby Lake Sports Complex. This year Windsor got their revenge, defeating the Grizzlies 50-34.
"It seems to be coming down to the fact that you're gonna have to beat [G.W. Graham] to get anywhere," said Sinclair. "That's been my experience almost since I've been here. They always have a great team out there that is well coached."
With the Grizzlies defeated, the Dukes then went on to finish the job against the Whalers and grab the provincial banner.  
"They really banded together and all did their jobs and all really contributed a lot," said Sinclair. "They all did what they were supposed to do and that made it all come together and run like a well-oiled machine. It was easy for me to just stick them in the right direction and let them do their thing, because they were all doing it. We didn't have to hide anything, we didn't trick anybody, we just really executed well and played disciplined defence, so kudos to them."