NOTE: This story has been updated to include North Vancouver's Carter Berger, who was omitted from the original article. Congrats Carter! And apologies for the omission.  
Four North Vancouver players were picked in the NHL draft held right here in Vancouver over the weekend, led by a pair of defencemen, Gianni Fairbrother and Layton Ahac, who both went in the third round. Two more blue-liners went soon after, with Carter Berger going in the fourth round and Cole Moberg coming off the board in the seventh round.
For Fairbrother, draft day involved getting a call from one of the most storied franchises in the world, the Montreal Canadiens. Montreal picked Fairbrother 77th overall in the draft.
"It's really cool being from North Van – it's a really cool feeling for me and my family," he said about getting drafted at an event held in Vancouver, adding that he was pleased to end up going to Montreal. "I wasn't too sure what to expect. Obviously I was hoping to end up being picked at some point, but for it to be in this spot, I'm really happy and it's a really cool feeling."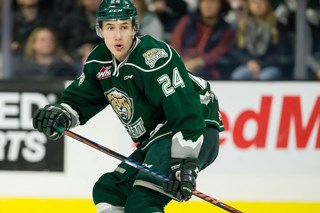 The six-foot defenceman spent the past two seasons with the Western Hockey League's Everett Silvertips. In 2017-18 his first full campaign with the Silvertips was cut short by a separated shoulder he suffered in an on-ice fight. This past season he notched 10 goals and 26 points in 64 regular season games while also racking up 83 penalty minutes. Fairbrother played minor hockey with the Burnaby Winter Club and spent the 2016-17 season playing for the North Vancouver/Burnaby-based Vancouver Northwest Giants of the B.C. Major Midget League.
Ahac was picked nine spots after Fairbrother, 84th overall, by the Las Vegas Golden Knights.
"That was just so much fun, I'm going to remember that for the rest of my life and I'm excited to get going in Vegas," said Ahac, from his home in North Vancouver, where he was packing his bags for a week-long trip to Nevada for the Golden Knights' development camp. "You never know where you're going to go until you get picked so you're just trying to stay with it and not worry about it too much and just soak it in. But it's pretty hard to do that. It's just complete relief, so much joy and excitement and your mind is rushing, it's just a great feeling."
The 6-2 defenceman spent the past two seasons playing with the BCHL's Prince George Spruce Kings. He put up 32 points in 53 regular season games this season, then blossomed in the playoffs, scoring five goals and notching 12 assists in 17 games.
Ahac played with the North Shore Winter Club and West Van Academy before heading to Prince George. He has committed to Ohio State to play NCAA hockey for the 2019-20 season.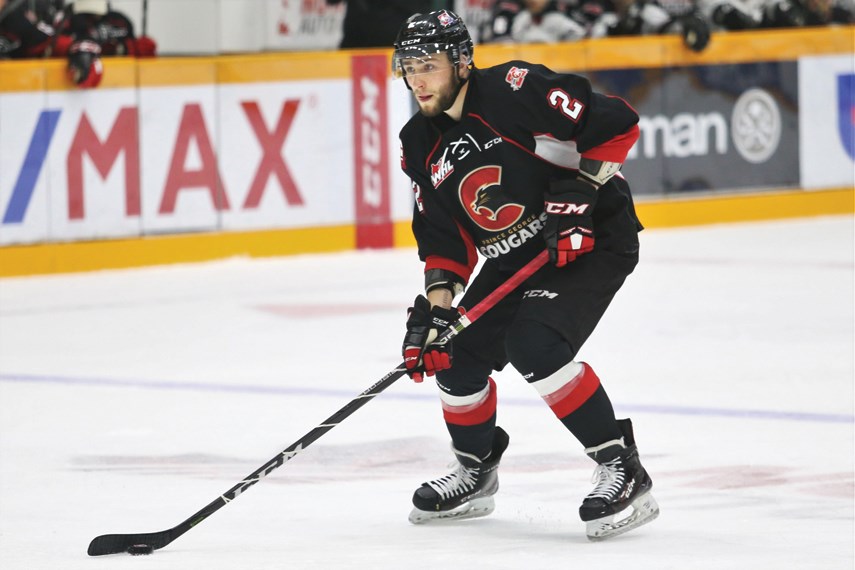 Carter Berger was the third North Van defenceman picked, going 106th overall to the Florida Panthers. 
"I grew up here, born and raised," Berger said about getting drafted in Vancouver. "To get picked here, it's really special."
Berger played minor hockey for the North Shore Winter Club before moving to the BCHL's Victoria Grizzlies. The six-foot defenceman played three seasons for the Grizzlies, putting up massive numbers in 2018-19 with 27 goals and 36 assists for 63 points in 54 games to lead all BCHL defencemen in points. He is committed to the NCAA's University of Connecticut for the 2019-20 season.  
Cole Moberg was the fourth North Vancouver defencemen picked in the draft, going 194th overall to the Chicago Blackhawks.
"Honestly, I don't think it's really sunk in yet, I'm so happy to be able to go to such an exceptional organization," said Moberg. "To be going to an Original Six team, I can't even put it into words right now."
The 6-3 defenceman has played two full seasons with the WHL's Prince George Cougars, blossoming this year as their top-scoring defenceman with 13 goals and 27 assists for 40 points in 61 games. Moberg played minor hockey with the North Shore Winter Club and also spent a season with the Northwest Giants.
– with files from Ted Clarke, Prince George Citizen