The Buchanan Bowl may not have started the way the Carson Graham Eagles wanted it to but they sure were pleased with the way it finished.
The Eagles turned the ball over three times in the first quarter, helping the Handsworth Royals to a 7-6 lead at the end of the opening frame. But once Carson Graham stopped dropping the ball they started to pick up major points, building a 20-7 lead at halftime before running away with the Bowl by piling on 41 points in the second half on their way to a 61-21 win. It may have been just an exhibition game on the official schedule, but winning the Buchanan Bowl for the first time since 2014 will be one of the highlights of the season for his Eagles, said Carson head coach Brian Brady.
"It's a really important win for our kids," he said. "They play North Shore soccer with kids that go to Handsworth, they play baseball with them and basketball and GSL – it's not something that's just starting with Handsworth-Carson, it's been going for a long time where they've been going against each other. … Knowing who you're playing against definitely adds an element to the competition."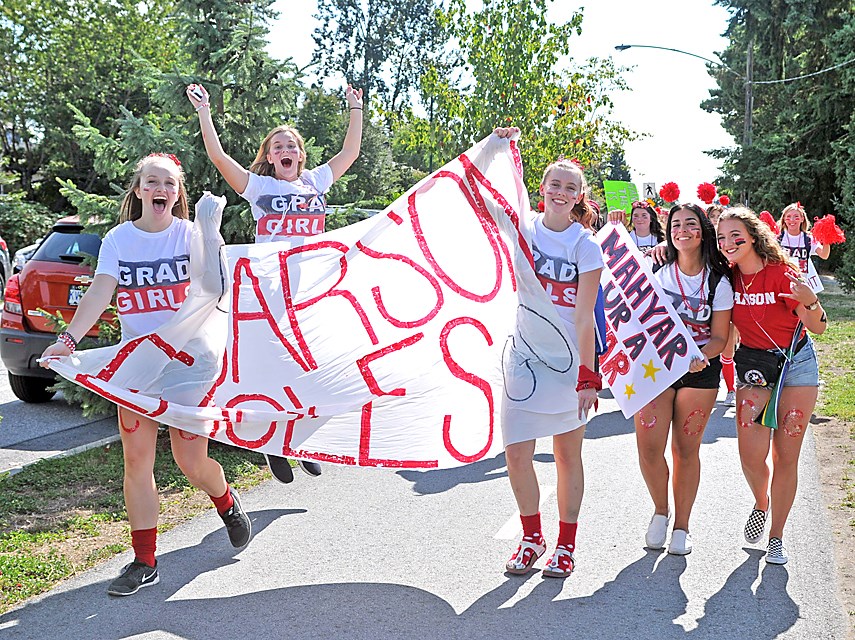 The Eagles were led by Grade 11 quarterback Charlie McMillan, who committed three turnovers of his own in the first half, losing two fumbles and one interception, but bounced back to post a big stat line, completing 25 of 34 passes with three touchdowns.
"He really rebounded from a start that I'm sure he didn't want to have," said Brady. "I think part of that was Buchanan Bowl nerves. It's uncharacteristic for him. He's a guy that we really require to be a coach and a leader on the field. He had a slow start but he was really able to show character by turning it around and having a strong second half."
The Eagles also got big contributions from Grade 11 all-purpose player Liam Scott, who swung the momentum back in Carson's favour in the first half with a 90-yard kickoff return touchdown. Scott also had one 55-yard touchdown catch, two rushes for 14 yards and even played a little QB, throwing two passes for 14 yards and a touchdown.
Three Carson receivers had big days with Nick Rich making eight catches for 95 yards and a touchdown, Joseph Spooner catching eight for 74 yards, and Adam Larisch gaining 40 yards on two catches, both for touchdowns. Running back Simon Kim had 10 carries for 68 yards and two touchdowns while Liam Clark rushed 12 times for 64 yards and a touchdown. The defence was led by Mahyar Hosseini with six tackles, one sack and one interception while Parker Henderson had eight tackles and three sacks.
Handsworth was led by Keelan White who scored all three of their touchdowns, making seven catches for 196 yards and two scores while picking up another touchdown with a 75-yard interception return.
The win moved the Eagles to 3-0 in preseason play, including a victory in Renton, Wash., to start the season followed by a 49-25 win over Abbotsford's W.J. Mouat Sept. 8. That puts Carson Graham already ahead of their win total for last season when they went 2-7. 
"I think the culture of the team is definitely different than last year," said Brady, whose team is entering their second season in the tough AAA Western Conference after playing for several years at the AA level. "I feel like last year was a stepping stone into AAA. The competition was really stiff last year, and just acclimating to that was part of our learning process. I think we're learning from what we did last year in our preparation and how we approach the game. The Grade 11s who were on the team last year have really taken a leadership role in maintaining our team's focus. They're taking what we learned last year and putting it into this year."
The schedule, however, isn't any easier this season as the Eagles are set to take on some of the top teams in the country again in the Western Conference. The conference contains six of the top eight-ranked AAA teams in the province, including South Delta, New West, Mt. Douglas, Seaquam, Vancouver College and Notre Dame. The fun starts this Saturday with a road game against South Delta and their highly touted quarterback Michael Calvert.
"That will really tell the tale of what type of team we have overall," said Brady. "They're probably one of the best teams in Canada. Anytime you get a chance to play against a team that's ranked that well, you can get excited. I think there's an excitement right now with our team of just getting a chance to measure up against some strong competition."
The Eagles may not have scored many victories against the top dogs last year, but they weren't blown out in many games either. This year the team is hoping that some of those tough losses will turn into wins, although Brady said they won't spend their whole season staring at the standings and the tough names on the upcoming schedule.
"Really the only team that we're competing with is ourselves," he said. "If we have a consistent attitude and effort, that's what we can control."
Brady likes what he's seen so far, with McMillan leading a balanced attack that gets several talented receivers and running backs involved throughout the game.
"We feel we are a balanced team with both our receivers and running backs, and that's because everyone knows what they're supposed to be doing because we had offseason sessions and everyone was committed," said Brady. "There's a lot of selflessness on this team where we're celebrating what we're doing as a team and not what we're doing individually. Where we might not have one or two game-breakers, I really feel confident in our team chemistry as a whole."
• • •
The Buchanan Bowl festivities kicked off with a game between the Handsworth and Carson Graham junior teams. The Royals scored the win in the junior division, topping the Eagles 37-34.
Elsewhere in senior action the Windsor Dukes scored a big win in AA action, going on the road to beat Pitt Meadows 53-7 Friday. The AA Argyle Pipers, meanwhile, dropped a 35-12 decision against G.W. Graham at William Griffin Friday.
At the AAA, level the West Vancouver Highlanders picked up their second win of the season, topping W.J. Mouat 34-23 on the road Friday.
Upcoming North Shore games:
Robert Batemam at West Van, 3 p.m. Sept. 22.
Abbotsford at Windsor, 3:45 p.m. Sept. 22.
Valleyview at Argyle, 1 p.m. Sept. 23.