The Collingwood Cavaliers are three-peat champions in senior girls field hockey, the first team to take three straight provincial AA titles since … the Collingwood Cavaliers.
The Cavs claimed their third straight title with a 2-0 win over Shawnigan Lake School Friday in Victoria. The last time a field hockey team won three AA titles in a row was Collingwood back in 1997-99.
"This year's team was one of the best we have ever had," said Ashleigh Gold, who co-coaches the team with Sara Bruner and Catherine Underwood. "They wanted to win from the start of the season – that was their goal – and pretty much every game that they played, they played with that desire in mind. Always as a team, always looking for opportunities. It didn't matter who scored, it didn't matter who played the ball to whom – they were all one. That was really neat to see."
Collingwood was loaded with experienced senior talent this year – they sent 10 Grade 12 players to provincials – but they still had some serious fights on their hands on their way to the title. The biggest scare came in the semifinals when York House pushed the Cavaliers right to the finish. Collingwood went up 2-0 on goals by Kaiden Stanley and Bronwyn Bird in the first half but York House scored early in the second to make a game of it.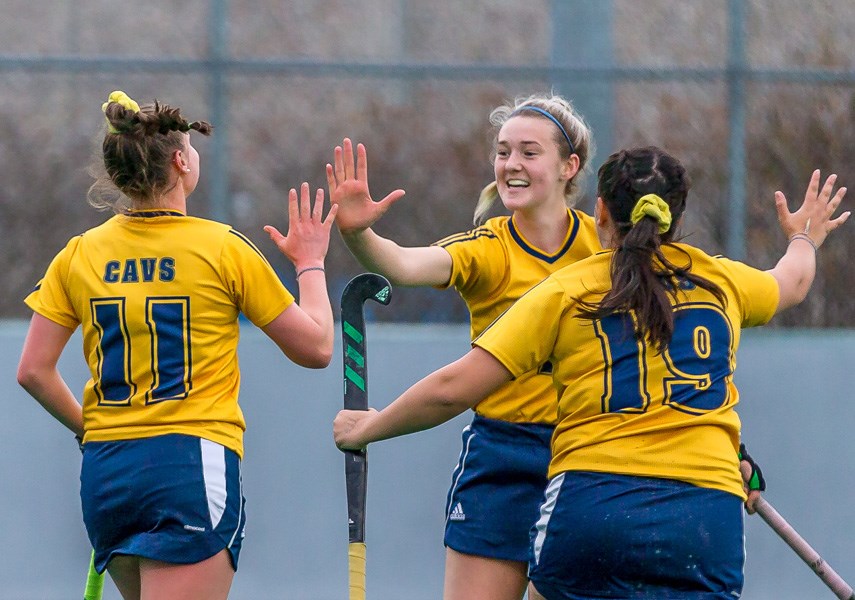 "We were getting lots of shots off, but their goalie was phenomenal," said Gold. "York House has a really young, excellent team. They're really well coached. Their goalie played phenomenally and it was a really close game. There was lots of energy on the field."
The Cavs hung on for the win, and then took on a defensive-minded Shawnigan Lake squad in the final.
"It took us a long time to score because they had 10 players in the defensive end at all times, and then when we'd go inside the 25 they'd move them back there too, so it was very crowded," said Gold, adding that she was pleased with how her senior players handled the blockade they faced in the final. "Sometimes it goes very wrong with Grade 12s because they get frustrated and they become individuals, but this team did not go individual – they played very much as a team. And you have to playing in a game like that, because you have to move the defence as a group and not go down by yourself."
McKinley Kennedy scored both goals for Collingwood as the Cavaliers controlled much of the game on the way to the championship win. The win sent six of the team's departing Grade 12 players away with three gold medals – Kennedy, Stanley, Bird, Devon Litherland, Stephanie Gillies and Maisie Hastings all won three straight titles. Other Grade 12 players on this year's team included Madeline Augustus, Jamie Borthwick, Lilah Sawers, and Gabi Villamil.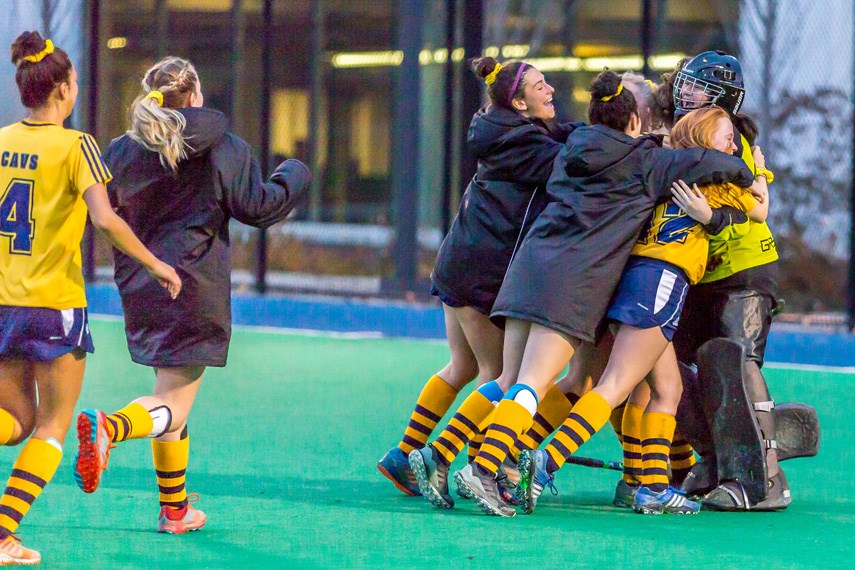 The only team Collingwood lost to this year was Handsworth, favoured to win this week's AAA championship tournament. Gold credited her Cavaliers with fully committing to the program.
"We've always known that we have a strong program, but to win three in a row is a really unique thing in sports," she said. "It comes down to the program as a whole from Grade 8 to Grade 12, not just when we get the girls (on the senior team). There has to be excellent development on the junior team, and we've had that through the years. There has to be players that still want to be devoted to field hockey and want to play on the senior team when academics become extremely hard. They need to be committed. It takes certain types of individuals that will play from Grade 8 through Grade 12 in a program. It also takes them to learn the right skills throughout the program in order to be successful in Grade 11 and 12. And I think it comes down to their passion."
The win is also a testament to the trio that has been coaching the Cavaliers for more than a decade. Gold and Underwood started coaching at Collingwood in 2001, and Bruner has been there since 2008.
"We love coaching together, we're great friends and I think that shines through when we coach. We're all enjoying it, we're enjoying each other and we're enjoying the team," said Gold. "It took us a long time to rebuild the program at Collingwood from its glory days back in the '90s, and this was a really unique year and amazing time to show the province that we have a program that is sustainable and a program that is competitive year in and year out. That is exciting for the three of us."