Many winning plays have been drawn up in the Capilano Sportsplex over the years, but few have had results as positive as the one pulled off Friday night.
Capilano men's basketball coach Cassidy Kannemeyer had a vague plan that involved somehow tricking his partner, Vancouver-Mount Pleasant MLA Melanie Mark, to get her onto the court before a game against the Vancouver Island Mariners so that he could ask her an important question.
Kannemeyer, however, realized his plan needed some work, and that's where Milt Williams and Chris Raeside of the Capilano athletic department jumped in with the winning strategy. Williams, Capilano's athletic director, would invite Mark onto the court and present her with a gift to congratulate her on becoming the first ever First Nations woman appointed to a cabinet position in the provincial government. Williams played his part perfectly, and then passed the mic over for the big shot.
"Coach Kannemeyer would like to give you something as well," Williams told Mark. That's when Kannemeyer did what millions of coaches and athletes have done before him: he took a knee.
The answer from Mark came quickly and joyfully as she kneeled to join Kannemeyer and sprang into an embrace.
Congratulations @CoachKannemeyer! Coach Kannemeyer drops a knee and the Honorable Melanie Mark says YES! pic.twitter.com/x629GS8eg7

— Capilano Blues (@CapilanoBlues) January 13, 2018
That's when Raeside put on the final touch, pressing play and cranking the volume on the perfect song. Here's how Coach Kannemeyer broke down the play after reviewing the film. 
"Chris Raeside's execution of 'Don't Stop Believing' by Journey was outstanding. He cut it himself, he knew exactly when to put it on. I thought he did a perfect job of that. I think Milt's speech was excellent. I didn't massage it or manufacture it in any way, he put his own touches to it and knew exactly what to do with it and performed it admirably. Putting that plan together and the follow through of that I thought was done perfectly. I wouldn't have asked for it any other way."
Kannemeyer told the North Shore News afterwards that no matter how they all executed their plan, he had little doubt about the final outcome.
"She's my soulmate – we're definitely meant to be together," he said. "There's just something about our connection that is inexplicable."
So how did a basketball coach win the heart of an MLA? The two met through mutual friends in 2015, before Mark was elected as a member of the NDP, and a thought popped into Kannemeyer's mind immediately: "I would love to take that woman out for dinner."
"I swooped her up, charmed her," he said with a laugh. "I think what bonded us together at first is we were both athletes. She played rugby, I played everything. We're both from East Vancouver, we grew up about a mile and a half from each other. She went to Van Tech, I went to Templeton."
The only blemish for the Capilano crew came later that evening when VIU finished off a 96-73 win over the Blues. The Mariners, ranked No. 2 in the country, won again the following night, 90-76, improving their record to 10-0 in PacWest play while dropping the Blues to 5-5 to sit in fourth place in the league.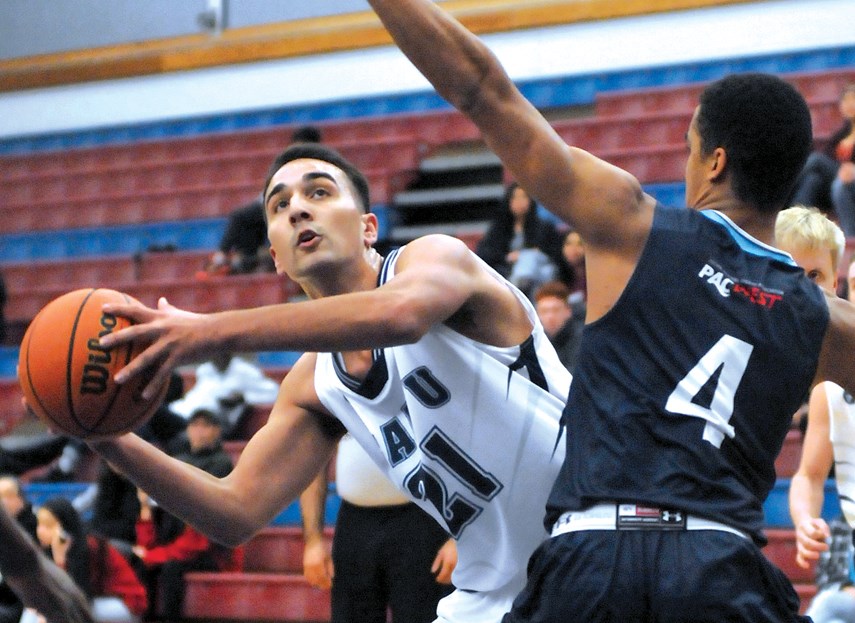 "They're just better than us right now," said Kannemeyer. "They're ranked No. 2 for a reason. They're so athletic, excellent in terms of their communication and organization."
The Blues still have a lot of work to do, but Kannemeyer said they're on track to be playing their best basketball at the championship tournament in late February.
"I think we're trending in the right direction," said Kannemeyer. "We're ascending. We're an ascending team, not quite where I thought we'd be, but close. … My goal is to be peaking going into playoffs, to be the hardest working team in the league going into playoffs."
At least one thing is certain heading into the season's final stretch: in life's biggest moments, Coach Kannemeyer knows how to bring people together to execute a perfect plan.