West Vancouver's Harry Jones had his fingerprints all over everything, including the championship trophy, as Canada's men's sevens team won its first ever HSBC World Rugby Sevens Series title Sunday in Singapore.
Canada claimed a piece of history with a 26-19 victory over the United States, finally winning a Sevens Series title after 140 tournaments on the circuit.
"It's huge," Jones said after the match. "We're still a developing country in rugby. It's massive for the little kids watching. … It's huge for Canadian rugby. Those grassroots kids, younger rugby – that's what we need right now."
The Capilano Rugby Club alumni was heavily involved in the win, setting up Canada's first try with a slick pass to Matt Mullins who raced away for a score. Moments later Jones went for a weaving run before passing off to captain John Moonlight, who soon slotted a pass back to Jones who streaked through the defence untouched to give Canada a commanding 12-0 lead. Jones also had a hand in Canada's third try, punching the ball away from an American attacker leading to  Lucas Hammond kicking the free ball into the end zone so that Mike Fuailefau could pounce on it for a commanding 19-0 lead.
The Americans fought back fiercely, scoring three straight tries to tie the game at 19, and appeared ready to take the lead but Jones teamed up with Justin Douglas to stop the United States from scoring the go-ahead try with a great defensive effort on the goal line. Hammond then picked up the winning points with less than two minutes to go, weaving through traffic to score the biggest try in Canadian men's sevens history.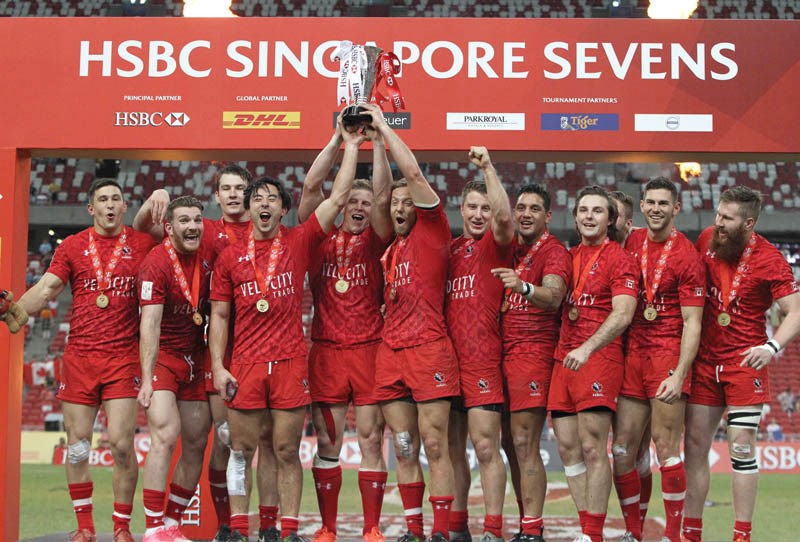 "It's all about possession," said Jones about the team's tactics in the win. "We've shown that we can be deadly with the ball, we just need to get it."
Jones, who acted as captain earlier this season when Moonlight was out with injury, hoisted the trophy along with Moonlight and Man of the Match Nathan Hirayama. 
"It feels great," said Jones. "I don't think it's really sunk in yet, but to do that here against a rival like the States – they're playing so well too – we made it interesting there but I'm so proud of the boys right now."
Canada scored big wins over Russia and Hong Kong on Day 1 of the tournament before getting blown out 35-7 against Fiji. They did enough, however, to get into the championship playoff draw, and they lit up Day 2, beating New Zealand 26-14 and England 17-5 to make the final. The win over the United States gave them victories over three of the top-five ranked countries in the world on one day.
With the tournament win Canada moved to seventh in the World Sevens Series standings through eight events, with only Paris (May 13-14) and London (May 20-21) left on the 10-event schedule.