The Capilano Blues men's soccer team is playing pick your poison with the rest of the PacWest league, and it's a couple of North Vancouver players who are administering the lethal injections.
Seycove grad Keith Jackson and Sutherland grad Kristian Yli-Hietanen are second and third in the league in scoring, helping the Blues open up a lead at the top of the standings with six wins and one tie through seven games.
Jackson started the season scoring goals and hasn't stopped since, potting six markers through seven games. Meanwhile Yli-Hietanen, getting a lot of attention as the reigning PacWest MVP, battled through a small scoring drought to start the season but exploded for four goals in a pair of wins last weekend to push his total to five for the year. With the double dragons leading the way, the Blues have outscored opponents 22-3 in regular season action.
"I think teams know now that we're a force to be reckoned with," said Jackson. "They're going to be looking out for us."
The success both scorers have had has opened up more space for the Blues attack, said head coach Paul Dailly.
"I think early on they were keying on Kristian, which kind of opened up space for Keith," he said. "And now that Keith got his share of goals in the first couple of games I think they are focussed on him a bit more, which gave more room for Kristian."
Part of the problem for opposing defences is that the two players come at them in very similar ways – hard, fast, and relentlessly.
"I think we're pretty much the same player," said Yli-Hietanen. "We both work hard and that's what we're best at. We're not the most skillful players out on the field, we both just give it 110 every game and it works for us."
They even look kind of similar on the pitch – both clock in at about six-foot-one, with short, curly hair.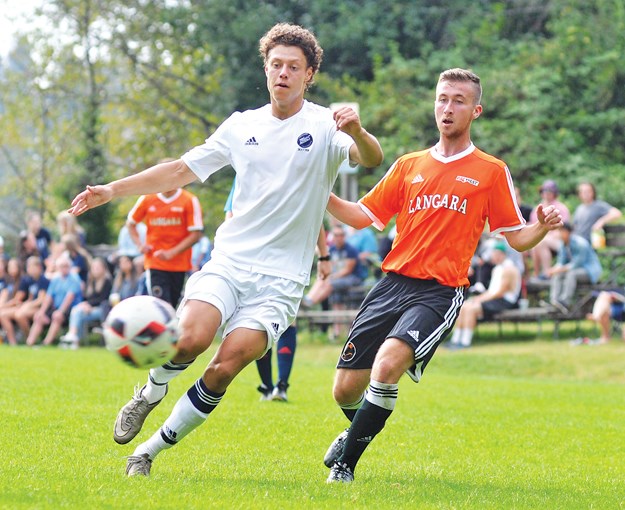 "They're tall and lean. Both similar builds as well," said Dailly. "They're full of run and they don't stop. They're quick too, so when they get defenders one-on-one they have the speed to get past them and make things happen in the final third."
Dailly agrees, however, that the best attribute for each player is the work ethic.
"They absolutely give you everything they have, every day – practice, games, whatever the situation, their work rate is unbelievable. They put defenders under pressure, and they've been able to capitalize when they get chances."
Jackson is in his third year with the Blues, having played two seasons before taking last year off to work and take a backpacking trip through Central America. The time down south seems to have done wonders for his game, as Jackson's scoring rate is way up over his first two years in the league.
"He's not only matured as a person, but as a player as well," said Dailly. "He's far more clinical in front of goal now than he was in the past."
Yli-Hietanen, meanwhile, nearly left for SFU after earning PacWest Rookie of the Year and MVP honours in his first season with the Blues, but ultimately ended up back at Capilano for at least one more season. He was flying last weekend, scoring a diving header in a 2-0 win over the second-place Vancouver Island Mariners Saturday before exploding for a hat trick in the first half of play in a 6-0 win over Douglas College Sunday. 
"He was unbelievable," said Dailly.
"He's an amazing player," added Jackson. "Immediately when I saw him I knew what an impact he would have on our team. … It's been amazing playing with him – we've set each other up on a few goals so far this year, and I'm sure there's going to be more in the games to come. I'm excited for it."
The similarities between the two extend off the field as well, according to Jackson, who said they didn't know each other before this season but have quickly bonded as a pair of prototypical "North Van Boys."
Yli-Hietanen agreed, although neither player could offer a concrete definition of what a North Van Boy is besides a throw-away reference to hanging out and the occasional game of beer pong.
"We're definitely both North Van Boys," said Yli-Hietanen with a laugh. "It's hard to describe. … You know it when you see it."
The two players also find themselves in close quarters atop the league leaderboard, trailing only VIU's Bill Bagiopoulos who has notched seven goals in six games. They'll likely be battling it out for a scoring title over the last five games of the season, but both players said the only race they care about is the race for a national championship.
"We're just looking to help each other out," said Jackson. "We're both in it for the win."
Jackson, Yli-Hietanen and Dailly all emphatically added that it is by no means a two-man team. Goalkeeper Hudson Nelles has a 0.44 goals against average, which is more than one point better than the next best keeper. Nelles headlines a defensive group that has been air tight, said Dailly.
"Our back five have been great all season long. Very consistent, and the guys in front of them are doing a good job as well. Our forwards, our midfielders – everyone has to defend as a unit, and they're definitely doing a good job for us."
The whole team is shooting for a Canadian championship – the Blues won the PacWest title last year and made it all the way to the CCAA national final before losing in a shootout. This year they intend to take that one final step.
"Winning nationals is the goal for us, not just making it," said Jackson.
"We can go back to the final and win it this year, easily, in my opinion," said Yli-Hietanen. "As long as we keep playing like we're playing right now, we'll be in the final come November."
• • •
The Blues will play their final regular season home game Saturday against Quest University. The action starts with the women playing at noon followed by the men at 2:30 p.m.