For the first time this century, the NDP splashed some orange on the North Shore in the provincial election as a North Vancouver swing riding helped propel the party to Green-supported power.
We saw the demise of a piece of affordable housing, the persistence of traffic, and a sickening mixture of greed and brutality in the British Properties. But we also saw acts of charity and bravery, we glimpsed a bit of pioneering history in the backcountry while Lions Gate Hospital made a little pioneering history in treating mental health and addiction. But through all of 2017, no story hit home quite like housing.

January
Assessments soar to 'lunatic' levels
Property assessments leaped like scalded kangaroos as single family lots across the North Shore rose in value by 30 to 50 per cent on top of the 15-25 per cent increases of 2016.
"I called them lunatics," recalled Anand Jain, whose British Properties home rose in value by 52 per cent.
The rising tide nudged three West Vancouver homes over the $30-million mark and pushed the provincial government to raise the threshold on the homeowners grant from $1.2 to $1.6 million – enabling 12,791 North Shore homeowners to keep their tax break.
The federal government allocated but withheld $11 billion for affordable housing pending the completion of their national housing strategy.
"I think we're going to see the same old misery," predicted Community Housing Action Committee chairman Don Peters.
Nearly half of North Shore renters are spending more than 30 per cent of gross income on shelter. Rents climbed 45 per cent in the City of North Van, 42 per cent in the District of North Van and 36 per cent in West Vancouver.

No peace on Trans Mountain pipeline
Premier Christy Clark had barely finished saying "fair deal for B.C." when the Tsleil-Waututh and Squamish nations launched three lawsuits alleging the government's economic information was outdated and its spill risk was understated.
"This is our Standing Rock," said Coldwater Indian Band Chief Lee Spahan.
Later in the year, Kinder Morgan prepared to expand its Westridge oil terminal by installing a floating construction fence topped with razor wire about 350 metres into Burrard Inlet.
"It's all very militaristic and sinister," said Deep Cove Kayak co-owner Bob Putnam.

Light-industrial territory lost in space
The North Shore's supply of light-industrial space went from low to "dangerously low," as commercial leasing firm Avison Young's 2016 report revealed a 0.4 per cent vacancy rate – down from 0.8 per cent in 2015.

Land ho! Delbrook plans advance
The site once occupied by the Delbrook Community Centre was tentatively slated to become home to at least 80 units of below-market rental in a five-storey building.
The district would forego an estimated $6 million land sale, instead leasing the 1.7-hectare parcel to a non-profit.
"I don't know of another site in the entirety of the district where we have this big of an opportunity," said Coun. Mathew Bond.
The estimated cost to district taxpayers is $9 million.

Seymour's second pump renamed Tim Jones Peak
Three years after the death of North Shore Rescue leader Tim Jones, the volunteer was memorialized in the mountains as the province christened Tim Jones Peak on Mount Seymour.
While he would be unbelievably proud of the honour, Jones would also be "a little annoyed with us NSR members for spending so much time honouring him and that much less time out improving trails, educating the public ... or most importantly: advocating for sustainable funding for search and rescue," said his son and NSR member Curtis Jones.
For his role in rescuing 1,600 backcountry misadventurers, Premier Christy Clark lauded Tim Jones as a "real British Columbia hero."

A ray of sunshine: friends remember homicide victim
Friends were saddened and confused when the charred body found at Bridgman Park picnic shelter turned out to be mother of two and welder Lisa Dawn MacPherson. She was 41.
Raised in a cul-de-sac near Lynn Creek, MacPherson's downward slide began when she started taking methamphetamine, according to friend and former co-worker Jimmy Webster.
MacPherson was in and out of the North Shore homeless shelter, sometimes sleeping outside, but remained "a bright ray of sunshine," according to Elizabeth Patriquin.
 
The Cut gets express lanes; commuters express frustration
Work began on a $198-million traffic infrastructure project including a pair of two-lane bridges over Lynn Creek.
"We've been stuck in this forever and we're finally going to fix it," announced North Vancouver-Seymour MLA Jane Thornthwaite.
The number of workers commuting to the North Shore rose nine per cent since 2011. At least 41.4 per cent of the North Shore's workforce cross a body of water to get here.
Housing prices are likely fuelling traffic jams, according to District of North Vancouver Mayor Richard Walton, who noted the prohibitive cost of entry level housing.
 "It's not the disease. It's the symptom," Walton said.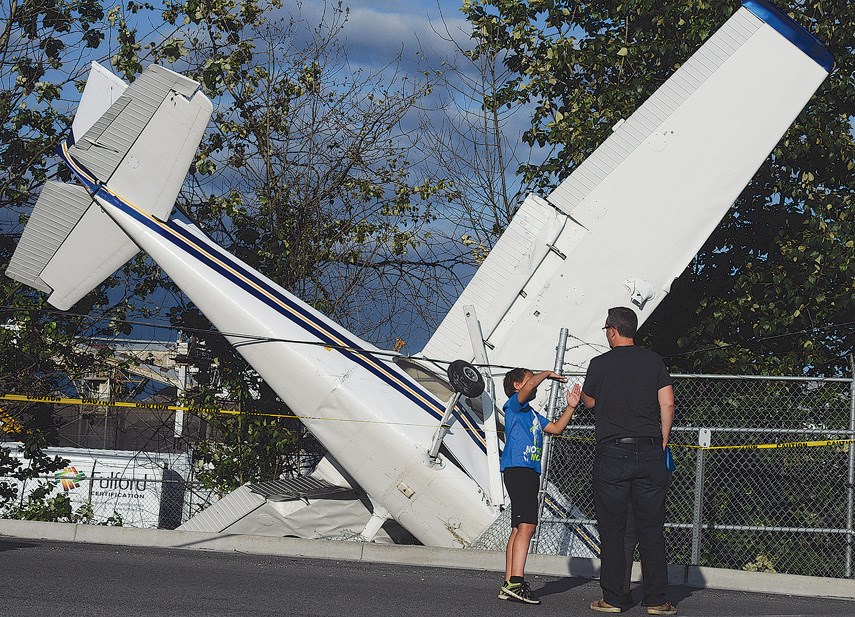 February
Squamish language revived
A cohort of students finished their first year at Temstl'i7 ta Sníchim language immersion class, adding 15 voices to a nearly silenced language.
Squamish elders worried generosity and compassion were being lost with the language, noted activist and educator Khelsilem, who led the SFU program.
"They felt that was because our language had started to disappear," he said. "If the language came back, those values would come back."
Learning the language offers a feeling of pride, said first-year graduate Charlene George.
"As small as that may seem, that's a huge thing for our people."

West Van man sentenced for role in extortion killing
A 24-year-old West Vancouver man was sentenced to 14 years in prison for helping lure a young man to a North Vancouver house where he was eventually killed.
Tian Yi "Eddie" Zhang pled guilty to manslaughter and unlawful confinement in the death of Peng Sun.
After saying they were going to a party, Zhang took Sun to a room covered in plastic where others were waiting with tasers, zap straps and handcuffs. They confined Sun while Zhang made ransom calls; threatening to cut off Sun's fingers and demanding $2.5 million.
Sun died of strangulation caused by a zap strap being fastened around his neck.
In a victim impact statement Sun's mother wrote, "My heart is filled with pain and sorrow every day."
While not physically responsible, the judge ruled Zhang used his personal relationship to deliver Sun to his killers.

West Van's pop. flat
Approximately 221 West Vancouverites left the affluent hamlet between 2011 and 2016 as West Vancouver contracted by 0.5 per cent.
The City of North Vancouver grew nearly 10 per cent over the same period, gaining 4,702 residents. The District of North Vancouver collected 1,523 new residents, growing by 1.8 per cent.
The North Shore's population has risen 3.3 per cent since 2011, according to Statistics Canada.
"We're going to lose our young families," said West Van Mayor Michael Smith. "The last policeman I swore in (as chairman of the West Vancouver police board) lives in Chilliwack. It's a real problem."

Historic Grouse chalet lost to late night blaze
Firefighters followed smoke to find a three-storey log home engulfed in flames in the woods at the crest of Skyline Drive.
The lodge was built in 1948 as the Bavarian Arms Café to serve Grouse Mountain skiers but became a private home when the chairlift was replaced in the 1950s.

A chicken in every pot and three homes on every lot
City of North Vancouver council unanimously passed a bylaw to allow a coach house and a secondary suite on every single-family lot in the city.
While the bylaw generated parking concerns, Mayor Darrell Mussatto was more concerned with the city's 0.3 per cent vacancy rate.
"Maybe we can look at housing people as a priority as opposed to housing our cars."

March
Subdivided, the 'grand dame' stands
City of North Vancouver council unanimously approved a three-lot subdivision to save a 107-year-old home on Grand Boulevard, much to the displeasure of neighbour Warren Ash.
The developer held the Tudor Revival-style home "as a hostage," according to Ash.
Coun. Holly Back differed, suggesting the smaller lots would allow for starter homes.
"This is retaining a grand old dame on Grand Boulevard," agreed Coun. Linda Buchanan.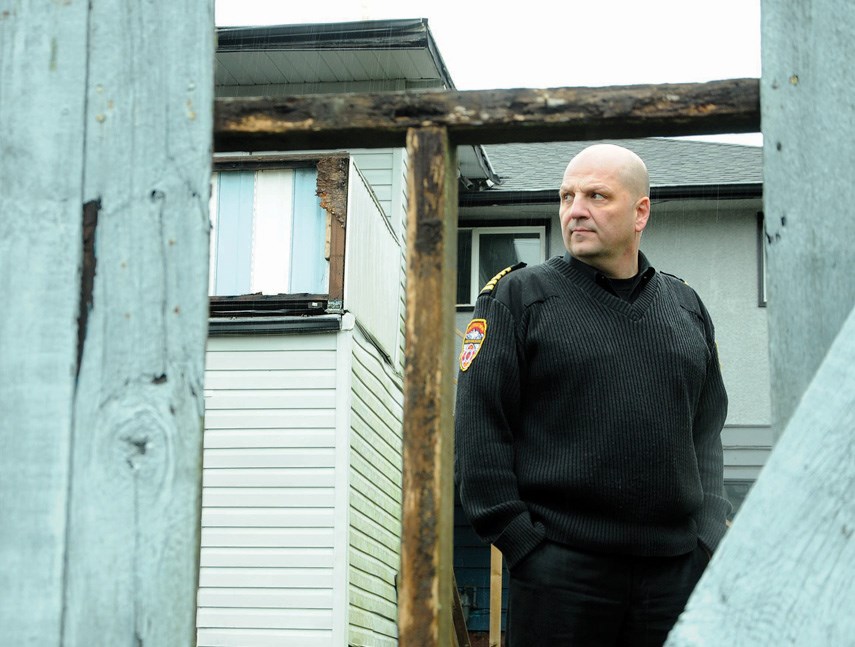 Samaritans save skier from avalanche
A 67-year-old man buried under two metres of snow escaped Hollyburn Mountain with his life thanks to North Shore Rescue and a quintet of passersby who followed scattered ski gear to a lone figure frantically digging.
The skiers formed a digging conveyor belt.
The man's moaning became audible as they cleared snow, recalled Julian Stoddart.
As rescue volunteers scrambled to the scene, the skiers shared body heat with the hypothermic man.
Those six men were "the key to saving this guy's life," said North Shore Rescue team leader Mike Danks.

Province funds sewage plant, North Shore flush with cash
The province pledged $193 million toward the North Shore's new $700-million wastewater treatment plant.
The amount – which leaves the North Shore paying about $147 million – is a bit less than the North Shore mayors had hoped for but City of North Vancouver Mayor Darrell Mussatto said he was "thrilled."
The cost – which pays for the effluent pipeline and the secondary stage of sewage treatment – will be borrowed and paid back largely through sewer levies.
"The hit will be felt on the local utilities bill," confirmed Kelly Sinoski with Metro Vancouver.

Snow plows through budgets
A crackling cold snap popped municipal budgets as the District of North Vancouver was forced to spend $1.8 million on snow removal, tripling their budget.
The City of North Vancouver shelled out $930,000 and West Vancouver spent $1.15 million.

10-bed youth mental health unit opens
Lions Gate Hospital became home to Western Canada's first youth facility designed to concurrently treat mental health and substance abuse problems.
West Van philanthropists Jack and Leone Carlile donated $2 million to kick start fundraising for the facility.

April
Shipyards ahoy!
The city broke ground on the 1.6-acre Shipyards site intended to include an outdoor ice rink, a water play area, and 60,000 square feet of commercial space.
Quay Property Management is slated to pay $35 million to develop and lease the space from the city.
The development is the "first step of the last phase" of a waterfront vision Mayor Darrell Mussatto said he's had since 1993.

Demovicted Mountain Court tenants move out
Two years after District of North Vancouver council approved its rezoning, the last 10 tenants of the affordable Lynn Valley rental complex moved out.
Residents received two months of free rent and an average of $4,310.
The building is set to be replaced by a 246-strata and 75-rental unit.
More than two thirds of the families who lived there were able to stay on the North Shore.
Terry Dial, a 23-year Mountain Court resident, blamed district council for forcing him to move to an "older than Methuselah," one-bedroom apartment on Lonsdale Avenue for $1,080 a month.
"All they care about is the millions of dollars they're getting in permits and fees. . . . They don't care about people."

Lost Japanese logging camp commemorated
The provincial government commemorated a former logging camp as one of 56 significant provincial sites for British Columbians of Japanese descent.
The camp, located about halfway between Rice Lake and the Seymour Dam, was at risk of being forgotten forever when Capilano University professor and archaeologist Bob Muckle led an excavation.
He found sake bottles, Meiji-era coins and the foundations of 12 buildings including a communal bath house and what may have been a Shinto shrine.
"There's pretty good evidence that they had sort of a secret occupation there ... probably until they were interned for World War Two," Muckle said.

West Van woman admits to $30-million Ponzi scheme
Between 2011 and 2015, Virginia Tan raised at least $30 million from investors who thought their money was going toward short-term financing. Instead, Tan paid her investors with the money from new investors until the arrangement collapsed.
Besides being banned from the stock market, Tan agreed to pay $3 million to B.C. Securities Commission.

May
Murdered millionaire trial commences; lawsuits fly
Li Zhao, a 56-year-old West Vancouver man, was put on trial for the brutal murder of his wife's cousin, 42-year-old Gang Yuan.
In a videotaped statement played in court, Zhao said he shot the millionaire after Yuan offered Zhao 50 per cent of a company if he could marry Zhao's daughter.
Zhao is also charged with interfering with human remains by chopping up Yuan's body into more than 100 pieces.
A civil lawsuit was also filed by Zhao alleging he was owed more than $1 million by Yuan's estate. Yuan's mother also filed a lawsuit alleging she was owed $5 million from the estate.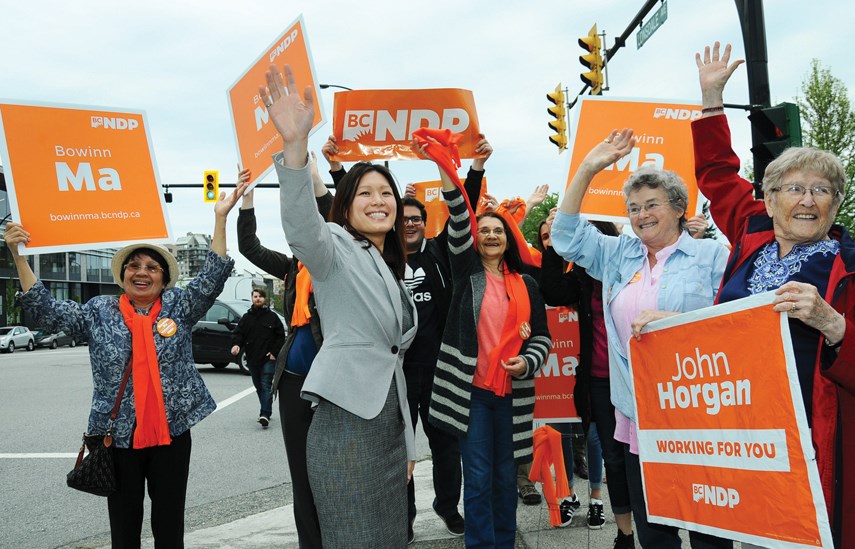 Ma swings North Van for NDP
Bowinn Ma became the NDP's first successful North Shore candidate in more than two decades as the engineer edged Liberal incumbent Naomi Yamamoto in the crucial North Vancouver-Lonsdale riding.
Liberals Jordan Sturdy and Jane Thornthwaite triumphed in West Van-Sea to Sky and North Vancouver-Seymour, respectively. At the tender age of 83, Liberal Ralph Sultan won his fifth term in West Van-Capilano.
"I like to think it's my charm and intelligence . . . but it's very much driven by demographics of the riding itself," Sultan said.
An inconclusive election night left the NDP and Liberals each courting Green Party Leader Andrew Weaver, who eventually supported the NDP.

Students, schools clash over Gotcha
The North Vancouver School District warned its grad classes against playing Gotcha, a game that includes a $20 buy-in, elements of tag and students possibly stripping nude to stay in the game.
The game is "alarming, inappropriate, illegal," according to a statement from district principal Brad Baker.
Organizer Chris Small disagreed.
"Everyone's just having fun. That's what the game is for."

June
Metro sues Glenmore couple over park pavilion
A "reckless, self-interested, high handed" West Vancouver couple built an entertainment pavilion that encroaches on public parkland, according to a Metro Vancouver lawsuit.
Homeowners John and Janice Campbell sought to improve the value of their Deep Dene Road property by taking down trees and building structures occupying more than 9,000 square feet, according to the suit.
The couple said they thought the property belonged to them and the trees they removed were "dead or dying."
"It would be unconscionable to permit the plaintiffs to assert their strict legal rights in the circumstances," they stated.

Plane that crashed ran out of fuel: TSB
A pilot attempted an emergency landing in the industrial area south of First Street after the Cesna 172 Skyhawk he was flying lost power.
The plane – likely running out of fuel according to the Transportation Safety Board – clipped the Philip Avenue overpass guardrail, hit a chain link fence, power lines and a tree.
The pilot and three passengers made it out on their own, although one passenger was taken to the hospital with a broken arm.
They were all clearly in a state of "100 per cent shock," reported witness Bruce Johnstone, adding that the pilot was laughing.
"I think he was laughing because he was so happy he survived."
Part two of the News' Year in Review will appear in the Sunday, Dec. 24 edition