West Vancouver could be looking at an exodus of many of its longtime residents in the years ahead.
That's one of the takeaways from the latest Vital Signs report by  West Vancouver Community Foundation released this week.
Over the last year, the group has held numerous focus groups, taken hundreds of individual written comments, and conducted a survey that netted 650 respondents. The intent is to identify challenges for West Vancouver's livability and inclusivity as a community and spur action.
"As a community foundation, we're really all about trying to improve the quality of life for everyone and make sure that the community is vibrant and resilient," said Barbara McMillan, Vital Signs team lead.
Sense of belonging and contribution, diversity and inclusion, and housing diversity and attainability were the major themes in this year's report.
One-third of residents said they plan to move from their current home within five years. More than half of those surveyed, however, said they were pessimistic they would be able to find the right housing in West Vancouver, either due to cost or due to lack of housing forms most appropriate for them. And 37 per cent reported having friends or family who have had to move from the community due to a lack of housing options already. Cost was the primary motivator for those under 65.
One of those West Van lifers preparing her exit is Gabrielle Loren, president of the West Vancouver Chamber of Commerce. Loren has purchased a condo now under construction in Lower Lonsdale, although it was somewhat painful for her.
"I'm a West Vancouverite through and through. The idea of not having a West Van address really irks me more than anything," she said.
Loren said she and her husband compared the specs on their new unit to a number of new condominium developments West Vancouver council has approved in recent years, but none of them offered as much value or neighbourhood amenities in walking distance as they could get in LoLo.
It seems to be part of a trend. Listing agent Grace Kwok estimated between 30 and 40 per cent of the buyers in Pinnacle's Cascade building in Lower Lonsdale are West Vancouver downsizers.
And the 2016 census revealed West Vancouver was one of the only municipalities in the Lower Mainland that has a shrinking population.
West Vancouver has a high concentration of seniors in neighbourhoods with few amenities within walking distance, the report noted, and more than a quarter of seniors over the age of 65 live alone, which contributes to social isolation.
A survey of major employers and business groups found 90 per cent of people who work in West Vancouver but live elsewhere drive to work each day. Only 10 per cent take transit. The commute to work takes more than an hour for one in four employees. Eighty-five per cent cited affordability as the primary factor preventing them from living closer to their work.
The report's authors say it's urgent for West Vancouver to increase density and diversity of housing stock including secondary suites, coach houses, in-fill housing, purpose-built rentals, as well as subsidized housing. The goal should be to get more people living within a 20-minute walk or bike ride to their shopping or other frequent destinations.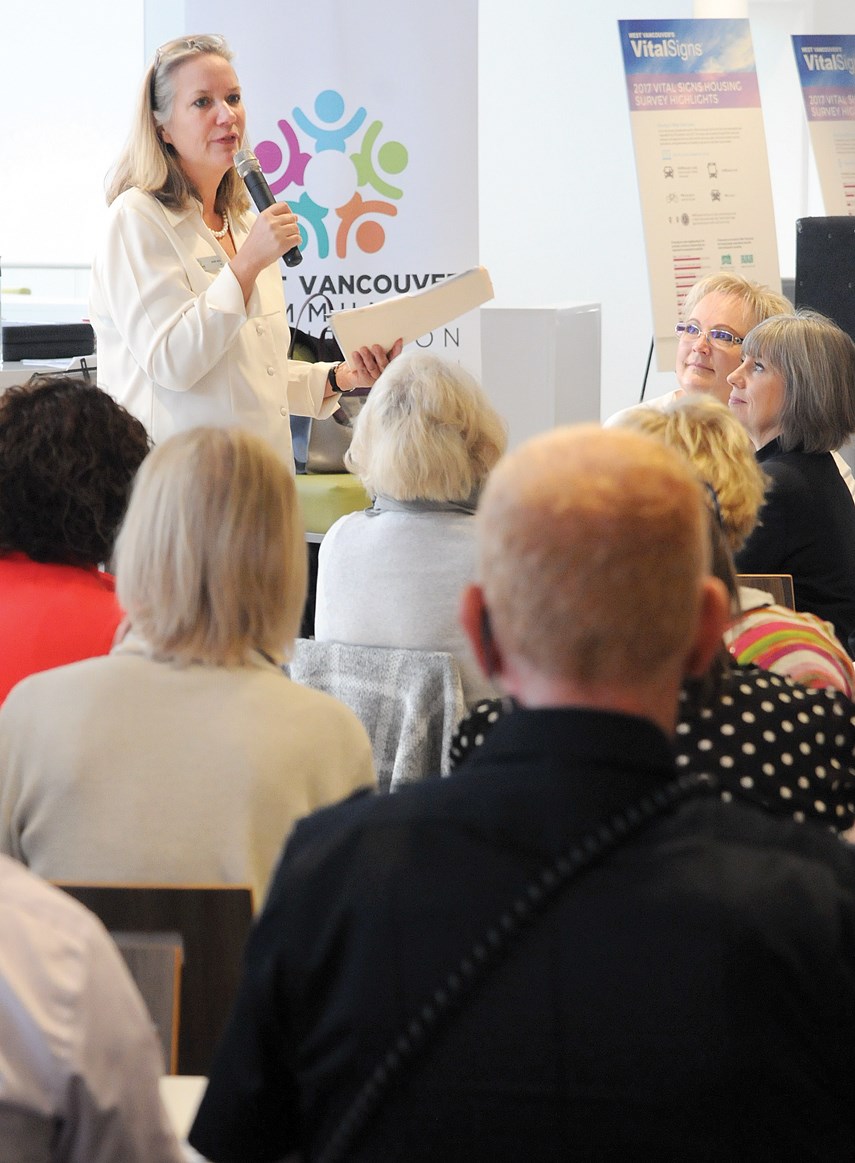 Not everyone will welcome the ideas in the report, McMillan acknowledged, but, she said, it's time to "shift from NIMBY to YIMBY – yes in my backyard."
"I think people are recognizing that there needs to be some changes. What we're trying to frame for people is that those changes can happen in ways that will strengthen community," she said, noting that having housing stock attainable by people in a range of ages and would be good for West Vancouver.
"Those are all really important elements of a vibrant, healthy community. We've all seen the demographic data. West Vancouver's population has not been growing," she said.
Loren acknowledged West Vancouver's efforts at revitalization and to become a more walkable community but said the effort is moving at just too slow a pace.
"Everything takes so bloody long that I just don't want to wait until I'm 66 before I'm into a vibrant area," she said. "We still wanted to have life around us and that is not what West Vancouver has. West Vancouver is a great sleepy hollow. Lord help you if you want to do anything past 10 p.m."
All told, more than 1,000 people contributed to the final report. The survey had a margin of error of plus or minus 6.2 per cent, 19 times out of 20.