A young hiker is lucky to be alive after being rescued from the Hanes Valley by some Good Samaritans and North Shore Rescue late Saturday night.
Local searchers were first notified of a problem as dark was setting in around 6 p.m., said Allan McMordie, search manager for North Shore Rescue.
McMordie said the call came from another hiker, who encountered the young man, an international student in his early 20s, in the Hanes Valley boulder field. The man was "moving really slowly" and with dark falling, appeared to be in trouble, said McMordie. The other hiker tried to convince the man to turn around, but the man insisted on continuing on the trail.
The second hiker eventually decided to hike ahead and called for help as soon as he was in an area where he could get cellphone reception, said McMordie.
North Shore Rescue dispatched two teams – one from Grouse Mountain to head down the trail and one from Lynn Headwaters to head up the trail.
In the meantime, the first Good Samaritan encountered two other hikers heading down the trail and told them to look out for the young man. They eventually crossed paths with the man and convinced him to walk back out to Lynn Headwaters with their assistance. All three met up with rescuers on the trail, where the young man was given some food and a warming vest.
McMordie said the young hiker was very lucky he was found. "I told him he would have died," he said.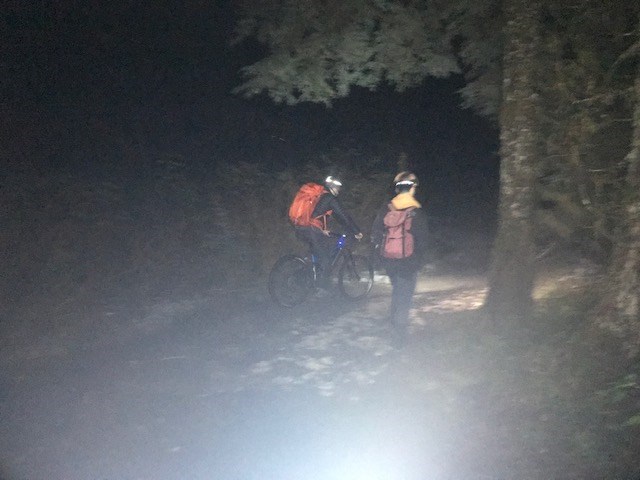 The rescue Saturday happened in the same boulder field where a couple from Toronto spent a cold, wet night outside in the elements one week earlier. When rescuers found them the next morning, "they were freezing and soaking wet," said McMordie.
On Monday, Metro Vancouver announced it has closed all backcountry areas of Lynn Headwaters Regional Park beyond Norvan Falls including Hanes Valley, Coliseum Mountain and Lynn Lake as well as routes in the Grouse subalpine north of Dam Mountain, due to treacherous conditions.
The Grouse Grind was also closed Monday due to icy conditions.
McMordie said the young man who was rescued Saturday was dressed in running shoes and jeans and had only a light extra layer of clothing with him, with no raingear or headlamp. He also had no food besides a can of Pringles potato chips and some water. "He was totally unprepared for this kind of hike," said the search manager.
Like the couple who spent the night in the boulder field a week before, the young hiker had started out late. "This is a hike that will take you somewhere between seven or eight hours if you're a good hiker," he said.
Especially in the Hanes Valley, "it gets very cold and dark very quickly these days," he added.
McMordie said inexperienced hikers often run into trouble on that trail because the first six or seven kilometres of the hike is relatively easy. "The whole hike starts about four hours in," he said. "Then you still have 1,200 metres of elevation to gain."
Making a mistake has the potential to be deadly, said McMordie.
Several years ago, another hiker who got caught in the boulder field crawled under a rock for shelter and died there. "We didn't find him for two months," said McMordie. "This is not a nice place to be in running shoes."
McMordie warned that anyone heading into the mountains now needs to be prepared for winter conditions including early darkness, snow and ice.
Click here for the 10 essentials North Shore Rescue recommends all backcountry adventurers carry with them.