Members of Tsleil-Waututh First Nation opposed to the Trans Mountain pipeline expansion have built a permanent cedar watch house in the pipeline's path, which they say symbolizes the nation's intent to stand guard against the project.
"I've been asked by my elders and my spiritual leaders to do this,"said Will George, a Tsleil-Waututh Nation member who was one of those who built the longhouse-style structure in Burnaby's Forest Grove Park near to Kinder Morgan's terminal operation.
"We always had these structures strategically located to watch out for threats,"said George, who added he intends to continue occupying the longhouse for "as long as it takes."
"It's not protesting, it's protecting,"he said. It's in my traditional territory."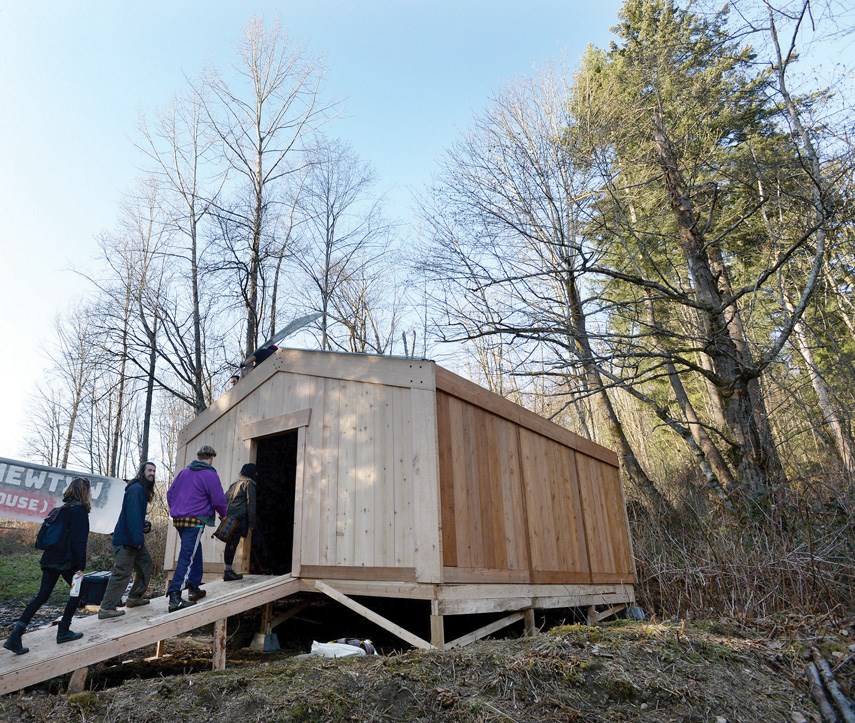 The watch house is built of cedar planks created from one tree and is 20 by 20 feet. It's positioned near the south eastern corner of Kinder Morgan's property line and on top of the existing pipeline. A few metres away from structure, notices hung in plastic bags along the fence following last week's BC Supreme Court injunction in favour of Kinder Morgan, which prevents protestors from setting up blockades and interfering with construction.
George said he's putting the call out for others to come and join him at the watch house.
"We're going to stop Kinder Morgan. We're going to stop the Trans Mountain pipeline," he said. "We're continuing to send that message that we're not going to allow this pipeline to be built."
Just south of the building, thousands gathered in Burnaby on Saturday after marching past the Trans Mountain pipeline's Burnaby terminal. Protesters carried signs, chanting, beating drums and singing as they marched in opposition to the pipeline expansion.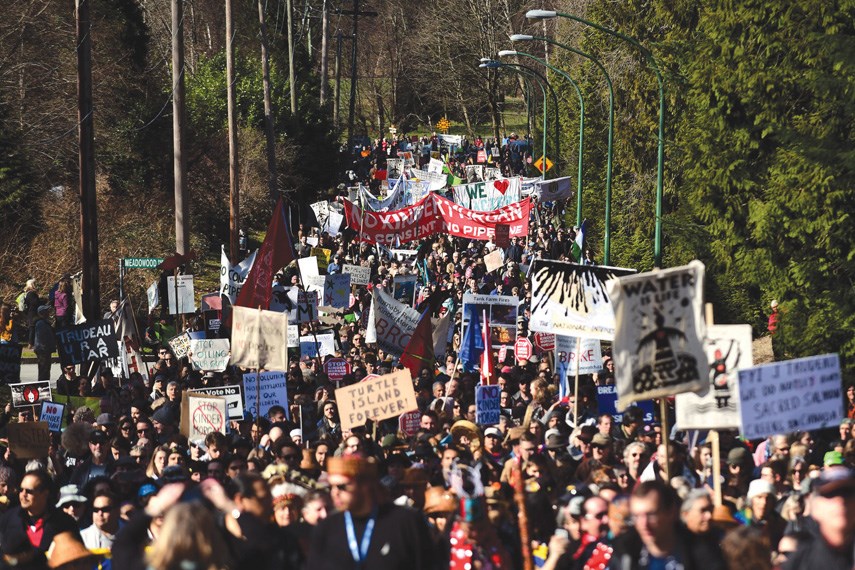 Reuben George of Tsleil-Waututh Nation said in a speech before the march that demonstrating is how they will affect change.
"Members of Tsleil-Waututh can't stand by and watch, while it's in court, [and] watch the development of the pipeline, so we're standing up," he said in an interview.
George told the North Shore News the construction of the watch house represents the elders "claiming the mountain back."
George hinted there will be further protests. "They're going to be training warriors in this community,"he said. "Warriors protect land and water and people."
Chiefs, elders, and members from Indigenous groups across Canada came to support the nations opposed to the pipeline, including the Tsleil-Waututh, Squamish and Musqueam.
Elected Squamish Nation Coun. Dustin Rivers –who also goes by his traditional name Khelsilem - said he hopes the rally leads to further support for opposition to the pipeline.
"I think it's important for us to come together and remind ourselves of our shared values. I think these events are part of the ceremony we do in our contemporary society," he said. 
"They teach and install values in our young people, and it's a way for older generations to pass down values to younger generations."
Both the Tsleil-Waututh and Squamish nations are also fighting the pipeline approval process in court.
More than 8,000 people signed up to attend the protest on the event website, organized by individual members of the Tsleil-Waututh Nation.  Burnaby RCMP estimated a turnout of 5,000 people at the peak of the event, although Rueben George called that a conservative guess. Organizers emphasized that Saturday's protest was meant to be peaceful, but those present were asked if they would be willing to be arrested to stop the pipeline in the future.
Burnaby North-Seymour Liberal MP Terry Beech said in an interview after the event he wasn't surprised by the protest on Saturday. "Our neighbours in Burnaby and North Vancouver have continued to express their concerns about this project since before the last election and since before the decision was made,"he said.
Beech said while he couldn't be at Saturday's event because of an already-scheduled commitment, "I regularly attend these gatherings and make sure I hear everybody's voice and take those voices back to the prime minister."
Beech said he'll be doing that again at a caucus meeting next week, adding he's in the process of writing a second report on the issue that will detail actions he's taken recently on the Kinder Morgan pipeline issue.
In response to Saturday's protest, North Vancouver Liberal MP Jonathan Wilkinson, who is also the parliamentary secretary to the minister of environment and climate change, issued a statement detailing "why I have come to support this project and why our government approved it."
Among those reasons, Wilkinson pointed to the Liberal government's $1.5-billion Oceans Protection Plan which includes measures to enhance emergency response in the event of an oil spill.
"The fact is, the Kinder Morgan pipeline already exists –it has been delivering oil to the port of Vancouver safely for over 60 years, and carrying diluted bitumen for three decades. This project would simply add capacity to the existing pipeline, and we've set 157 binding conditions to ensure it can be constructed and operated safely,"said Wilkinson in the statement.
He added the pipeline project would generate $46.7 billion for government over the next 20 years. B.C.'s share would be $5.7 billion, he said.